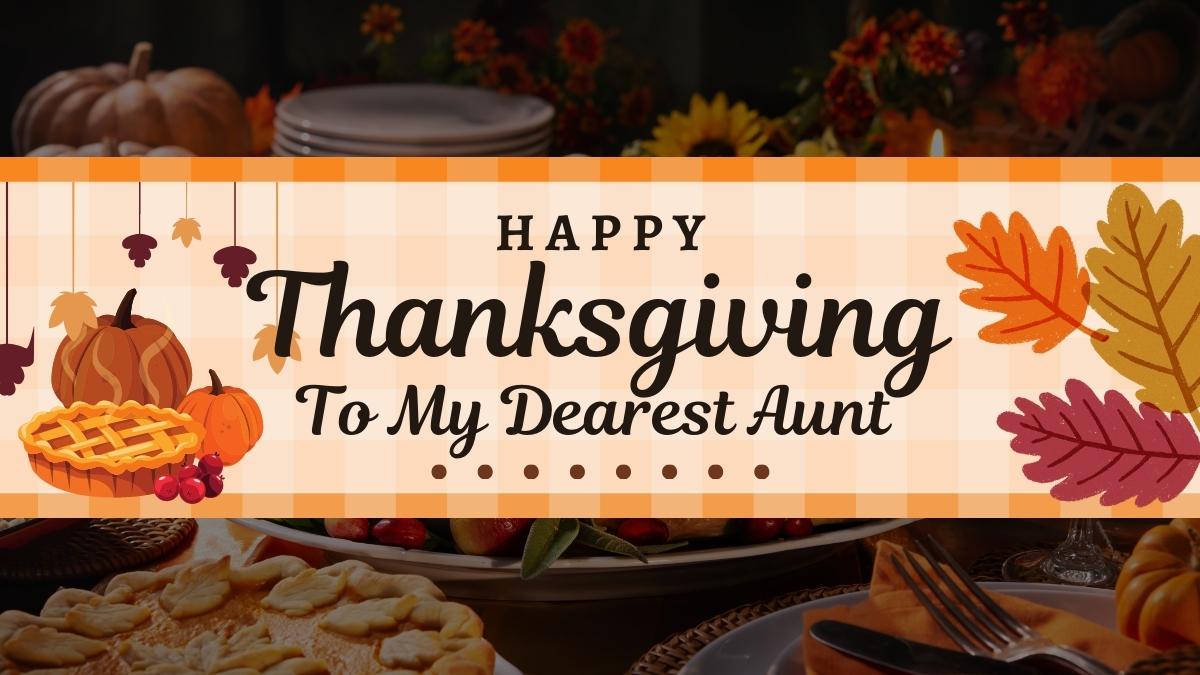 Happy Thanksgiving Aunt Messages: Sending meaningful and touching thanksgiving greetings to your aunt on thanksgiving is a wonderful gesture as well as one fine way to payback for all the lovely things you aunt have done for you till yet. Are you struggling to carve perfect thanksgiving wishes for your aunt? Do you want to impress your aunt with thanksgiving greetings in one go and make your wishes stand apart from the rest? If yes, our below stated compilation of thanksgiving quotes for aunt is more than exemplary to express your feelings to your aunt on thanksgiving.
Thanksgiving Wishes for Aunt
I'd want to wish the world's best and the most beautiful aunt a very mirthful and hopeful Thanksgiving. I will always be grateful that I have you in my life and for what you have done.
I am more than thrilled to wish my really fantastic and extremely talented aunt a wildly happy Thanksgiving. May this Thanksgiving celebration turns out to  be so incredibly wonderful that you will never forget it, dear aunt.
Related Post: Thanksgiving Gifs For Texting
Thanksgiving greetings to the quirkiest aunt ever! I'm hoping that the purest form of joy fills your huge heart throughout the whole year, not just today. God is very kind to me as he made me your niece.
On thanksgiving, I'm grateful for a lot of things today including the fact that I and your beloved niece. My beloved aunt, happy Thanksgiving and god bless you with endless divinity and blessings.
Related Post: Religious Thanksgiving Messages
In this world, every nephew and niece deserves an amazing and loving aunt like you who knows when to pamper and when to spoil. I am grateful to god that you are mine aunt. Happy Thanksgiving, aunt.
I sincerely hope that your Thanksgiving celebration turns out to be as magnificent and memorable as you want it to be. Happy thanksgiving to my forever stunning art. Please make my favorite pumpkin pie on thanksgiving!
Related Post: Thanksgiving Family Memes
Dear Aunt, I genuinely wish you have an absolutely wonderful and electrifying Thanksgiving celebration. I appreciate you constantly providing me with immense reasons to be joyful and grateful towards life. Thank you for instilling attitude of gratitude in me.
I hope you have a splendid and alluring thanksgiving with your family, my dearest and darling aunt. Every single memory that you and I have had throughout the years is I treasure the most. God bless you with everything wonderful life has to offer.
Related Post: 100+ Funny Thanksgiving Quotes
I don't know about others but I am quite grateful on this pious occasion of thanksgiving for having such a loving, dependable, and talented aunt. I am more than delighted to wish a very merry Thanksgiving to you and your family, aunt!
Thanksgiving is the only holiday I observe because you make it a special occasion, and I know you will go above and beyond to make me happy as you always do. Dearest aunt, I love you and happy thanksgiving.