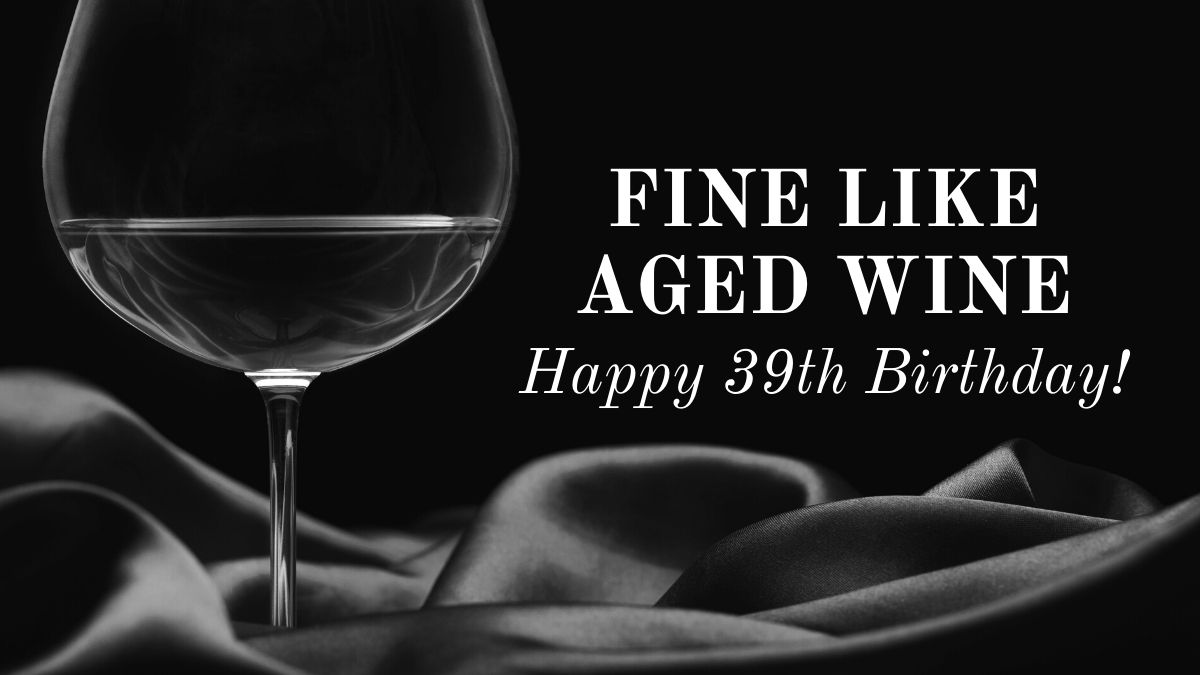 39th Birthday Wishes: Life seems not so exciting and lively when you are on the verge of turning 40. You have a monotonous well paying job that you do unwillingly to feed your family. You have no time to pursue passions. You have little and lovely kids to nurture well. In a nutshell, an existential crisis is on your head, and you can't do anything about it. However, the best part is you can still spare some moments to celebrate the big day of your life and create some moments of friskiness. If you have someone turning 39, we have compiled a regal collection of happy 39th birthday wishes, happy 39th birthday images for everyone that will help you out to send well-written and brimming with emotions, birthday wishes.
Happy 39th Birthday Wishes With Images
Hey brother, heartiest congratulations on turning 39 today and getting ready to welcome bundles of responsibilities, mid-life crisis, and unrequited physical problems. Happy 39th birthday and god bless you with good health and immeasurable wealth!
Dear sister, slowly and steadily, you are approaching an age where all you have to do is sit back comfortably on a sofa, grab some popcorn, and flip television channels. Be ready to say goodbye to your thirties and welcome your forties. Happy 39th birthday to my lovely sister!
My sweetest father, time flew so quickly that only one year is remaining only for you to complete the 4 decades of your life. You must have experienced and learned a lot. May you continue to relish every moment of life to the fullest. Happy 39th birthday, father!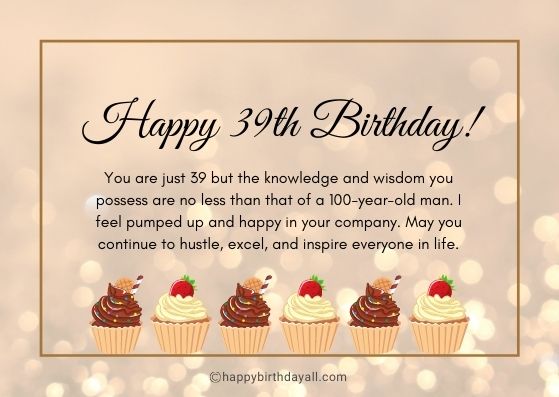 Hey friend, I won't give you a single gift on your 39th birthday because life has already planned umpteen surprise gifts like wrinkles, job loss, more kids, and debits for you. Be kind enough to embrace them and live with them. Jokes apart, happy 39th birthday to my best buddy!
The white hairs on your head and a big smile on your face tell that you have hustled a lot in life and you have great people as well to support you all the time. For me, you are a person synonymous with high hopes and positivity. May lord's grace be pouring on you always. Have a cheerful 39th birthday!
Turning 39 is not that bad if you have a high-paying job, a stunning and supporting wife, little mushy kids, and impeccable health. My brother, it seems like you have all in your kitty and are quite hungry to achieve more. Happy 39th birthday to the most successful 39 years old I know.
You are just 39 but the knowledge and wisdom you possess are no less than that of a 100-year-old man. I feel pumped up and happy in your company. May you continue to hustle, excel, and inspire everyone in life. I am happy to be an integral part of your 39th birthday celebration!
No matter whether you are 9, 39, or 69, you have an inquisitive and rebellious child inside you that keeps you young and passionate all the time. I hope you maintain that spirit and spark inside you till the end. Happy 39th birthday to you!
The age of 39 is the age of making significant life decisions and ensuring the well-being and safety of your family members. Count all the blessings you have in life and pray to God to make you capable enough to fulfill all their wishes. Congratulations and happy 39th birthday!
On your happy 39th birthday, you must thank god for giving you a luxurious and enchanting 4 decades of life. Be humble in nature, be respectful towards everyone, and be open to grabbing all the opportunities. God bless you and happy 39th birthday!
Also see: Religious Birthday Wishes
Funny 39th Birthday Wishes
The thirties birthday celebrations are all about thinking very little and drinking as much as you can. May you get more tipsy and successful on your 39th birthday. God bless you with conscience, cake, and the right choices.
Finally comes the big day when your turn 39 but not ready to accept the fact that you have completed almost 4 decades. Just to give you some consolation, you are an 18-year-old with 21 years of monumental experience. Wishing a mirthful 39 birthday to my best buddy!
Congratulations to my dearest for getting one more step close to mid-life crisis and senior citizenship. May you look as awesome at 59 as you are looking at 39. God bless you with fine wines and raunchy babes!
Looking that bad and unsuccessful at 39 must require some special talents and hard work. Jokes apart, happy 39th birthday to one of the sassiest and classiest men I know. Have a feral birthday celebration!
Hey buddy, I am already extremely sorry for making some amusing age-related jokes but without them, birthday celebrations seem incomplete. May you get bald, fat, quickly old, and impotent. Happy 39th birthday and have a blasting celebration!
Also see: Funny Birthday Wishes For Boyfriend
Happy 39th Birthday Wishes for Daughter
The blessing of having a daughter can't be counted or measured with anything while it can only be felt which is in itself feel so deep. Wishing happy 39th birthday my lovely daughter! I wish you find a path and direction to aim to.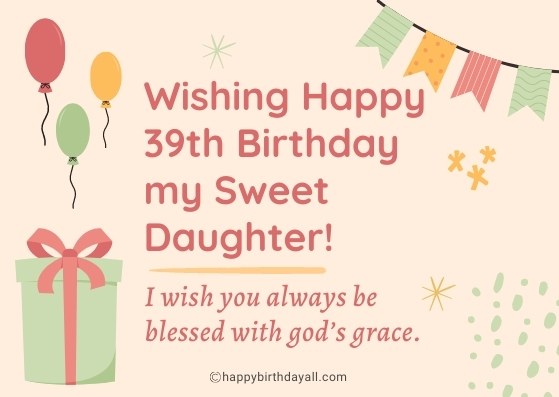 Woman in every way makes a man life beautiful, and so soothingly is being a father of a good daughter. Since you are born your smile has kept me alive for years. I wish my daughter you never get worn out of your smile. Wishing happy 39th birthday my good daughter!
Daughters are fathers' best friend. And having you as m friend has really impacted my life. You have settled me emotionally after your mother's departure. I wish you always be blessed with god's grace. Wishing happy 39th birthday my sweet daughter!
For you I always feel I can do anything and I want to. My life's aim is to keep you happy. Your sadness often makes worried. I pray you never get sad in your life. Wishing happy 39th birthday my beautiful daughter!
Being your father I always want to see as a bride getting married to a good man. I pray you will get to and in every step of your life you take, you be confident about it never getting for even a minute dwindled. Happy 39th birthday my courageous daughter!
Also see: Heartwarming Birthday Wishes For Daughter
Happy 39th Birthday Wishes for Son
My son you are like my friend but I could not express my emotions for so long but today on your birthday. Wishing happy 39th birthday dear son and I wish you get successful in life and go so high that you fly beyond clouds.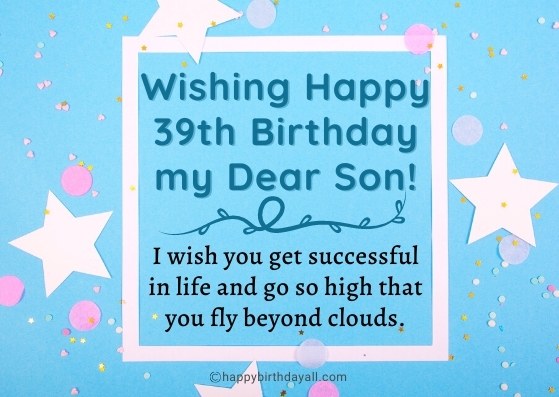 Being your father I always wish and pray for your well being. I want you to be settled with good life. And I wish and pray may you soon be. Wishing happy 39th birthday my obedient son! May none make you weep in your life except emotions of love!
You know having seen you born and growing up you feel to me like magic that I have done and today it has grown up. Seeing you I feel proud every moment. I pray to god that you have confidence, courage and truth for yourself. Wishing happy 39th birthday my strong son!
Since your childhood you have been so determined. What you want you always try to get until you get it. I like this quality in you. I wish and pray may you never get stuck in life by anything and anyone. Life is about moving on continuously. May you always make progress! Wishing happy 39th birthday my determined son!
It is a wish and dream of every mother seeing his son getting married to a beautiful girl. On your birthday I wish may you soon get married! But later you don't blame for me for this! Wishing happy 39th birthday my good boy!
Also see: Birthday Wishes for son
Happy 39th Birthday to Me Quotes
You should never expect anything from anyone even wishes on your birthday. Wish yourself first before others wish you. I wish myself 39th birthday with all grandeur and marvelousness that surround me. May I be every day become best version of myself!
You must be your own friend and judge. I wish myself 39th birthday for becoming me as I want to be successful and big. I wish may my all desires and dreams come true. Happy birthday to me and myself! Always moving forward in life!
Nothing is important for yourself than you. I thank myself that I clear every hurdle and difficulty that got laid for me. I thank my enemies for making me strong like unshattering. Wishing myself happy 39th birthday!
Always consider yourself the best because you are. Never let down yourself from others' opinions. I have won every battle with my strength and logic. I thank me and my god to be so intelligent at everything. I will always get ahead in life. Wishing myself happy 39th birthday! I am not less than a rock star.
You must be always truthful to yourself. Truth sets you free. I am a kind and humble being. I help others too in need. And it is best of me that how I am improving. Wishing myself with all love and gestures happy 39th birthday!
You May Also See: