Here is a blog post dedicated to happy birthday wishes for principal sir with images.

In a school, if there is one person who can send shivers into the mind of students merely by his voice, it's the principal. Yes, we are talking about the most feared yet the most caring person of any school. A principal is the cornerstone of any educational institution. He is the person behind the rules and regulations, carving fine academic curriculum and extra co-curricular activities, representing the school on a local and global map, and the list of the duties goes on.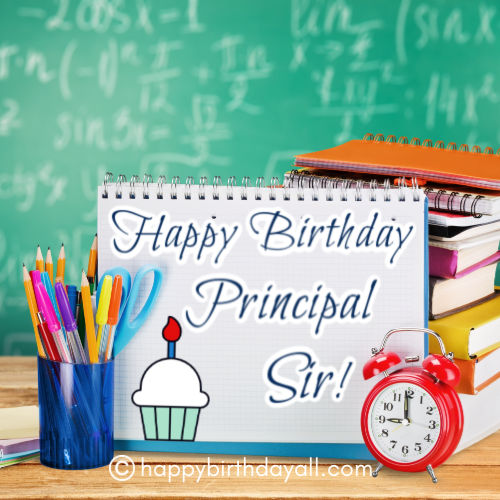 An educational institution without a formidable principal cannot survive for long. A principal makes sure that the teachers impart the best of the knowledge in students. He meticulously observes the growth of every student and renders helping hands to the needy ones. In a nutshell, a principal is the most respected and the most responsible authority in an educational institution. The best way to pay homage to your principal sir is to send happy birthday wishes for principal on his birthday.

Below, we have jotted down the most inspiring and formal birthday wishes for principal sir that you can send to your school's principal and induce a ray of happiness in his busy life.

Best Happy Birthday Wishes for Principal
You taught us the meaning of education and how to live a complete life in a gentle way. Happy birthday sir! God bless you.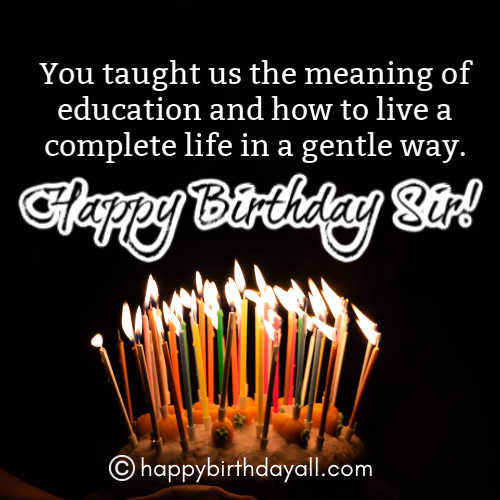 Hello sir, thank you so much for teaching me the value of hard work, discipline, and determination to succeed in life. Happy birthday to the best principal ever.
The very first day you saw me in school, you told my parents that I am destined to do great things. Thank you, principal sir, for believing in me. Happiest birthday and have a great birthday celebration!
You have always been a great source of inspiration for me. Your knowledge, wisdom, and affection for students are second to none. I wish you a very happy birthday, principal sir.
May you live a long life full of zestful moments, great learning, and gargantuan wealth. Happy birthday to the best principal sir!
During school times, your strong voice was sufficient enough to bring notorious students to discipline. I highly admire your leadership trait and the notion of relentless learning. Happiest birthday sir!
I have yet to find a principal who is cooler and dashing than you. You are and will always be my ideal. Happiest birthday principal sir!
Hello sir, every year I wish you virtually on your birthday. However, this year I am going to give a visit to you and take your priceless blessings on your birthday. Happy birthday, principal sir! I wish you a lifetime of happiness.
Not only you are an excellent teacher but also a person with unmatched leadership skills. For years, you are running one of the finest schools in the country with no sign of fatigue. Thank you for your tireless service. Happy birthday, principal sir!
My school life and education would be utterly incomplete without your imparted knowledge and teachings. Happy birthday sir and have a blast!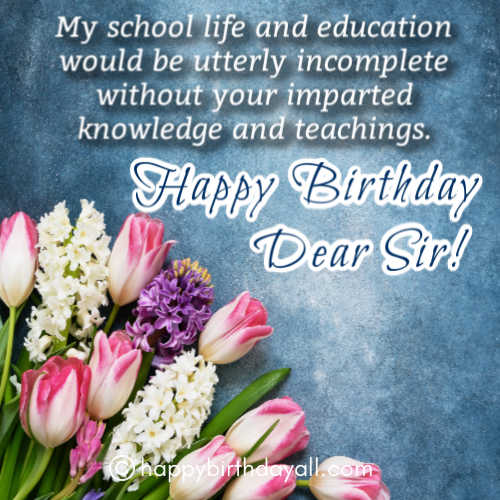 Formal Happy Birthday Messages for Principal with Images
The big name of our school on the global map is all because of your sir. We are so proud to be called your students. Happy birthday, sir!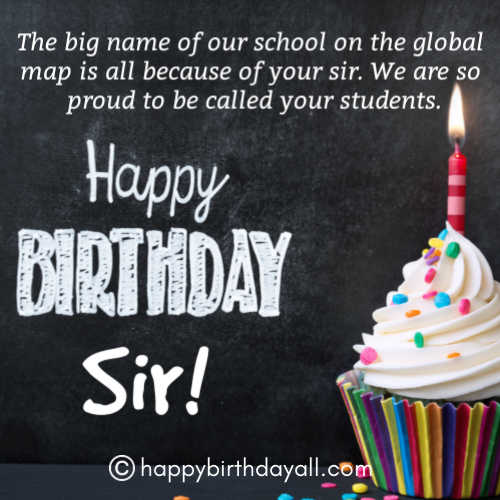 It's because of you, our school became a center for educational excellence. We can never repay for what you have done for us. Thank you sir and happy birthday!
I am more than blessed to have a principal sir whose wisdom is as glittering as sunshine and as sharp as a razor. Happiest birthday to the best teacher in the world.
Blessed are those students who get the blessings of the principal sir even after the school is over. Thank you so much for nurturing me under your shadow. Happy Birthday!
Any amount of hard work is futile when the direction is wrong. You showed us the right path and paved the way for success. I owe you sir for a lifetime. Happiest birthday to the finest principal sir in the world.
Being the principal of one of the finest institutions of this country is such a daunting and thankless. Yet, you do it with such grace and smile on your face. Happy birthday to the legendary personality.
On your birthday, I wish you spend at least one day doing what you do. You have already done a lot for us, sir. Happy birthday!
I hope you have an unforgettable time while celebrating your birthday. You work enormously hard sir, now is you time to relish. Happy birthday to the best principal ever!
Most of the students, teachers, and parents don't understand what it's like being a principal. It's like walking on the broken glasses without any support. You have a great influence on my life. Have a great birthday celebration sir.
A great principle, an unparalleled mentor, an enthusiastic teacher, a visionary. You have played all the roles with the utmost perfection. Happy birthday, principal sir!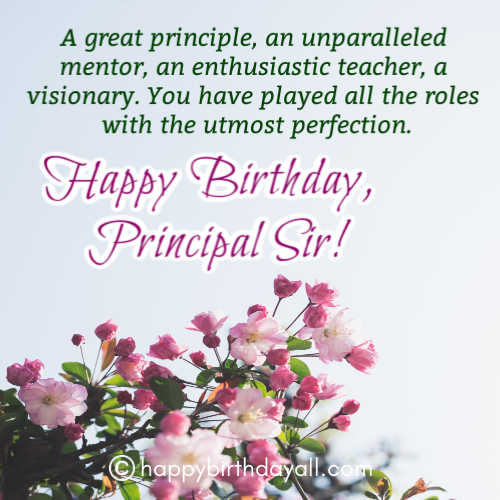 Top Happy Birthday Quotes for Principal
I have yet to find a person like you who do the job so passionately and enthusiastically. It seems like your job of the principal is a playful thing for you. Happy birthday, sir!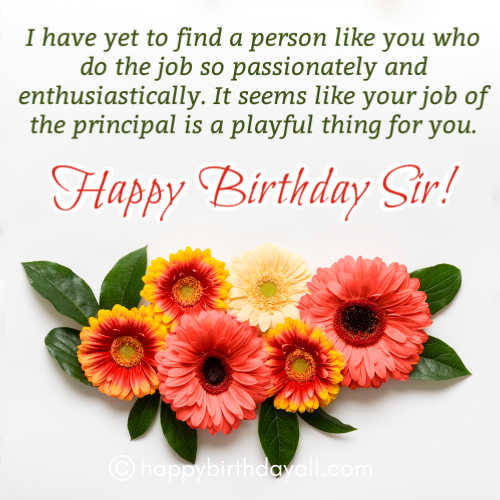 Whatever little I have learned from you has improved my life by leaps and bounds. Thank you sir for being my torchbearer and happiest birthday with blessings!
Harsh in the school, gentle off the school. This is the best statement to describe you. Happiest birthday to the most intelligent and disciplined person I know.
Your unflinching commitment and dedication to making the students excel in every domain of life are remarkable. You are unquestionably the best principal ever. Happy birthday!
Your larger than life personality is very influential and inspiring. I would love to be your student for a lifetime. Happy birthday, principal sir!
From managing internal school activities to representing the school at the global level, you have done everything so perfectly and professionally. Thank you for making us proud. Happy birthday to the best principal ever.
Principals like you are rare to find who is keen to discuss every little thing with students and solve their problems immediately. Your mere presence is a great blessing for us. Happy birthday, sir!
If there is a competition between principals of the best schools in the country, you will surely win the competition by miles. I wish you a joyous birthday!
Your voice timid me but your motivating words soothe me like nothing else. Thank you sir for molding me into a great human being. Happy birthday!
You rectified my mistakes when I was too adamant to accept them, you injected inspiration in me when I was hopeless, you consolidated my faith when I was full of doubts. Happy birthday, principal sir.
You are a man with great character. On your birthday, I wish you continue to inspire generations. May God bestow you great health and wealth. Happy birthday to the coolest principal!