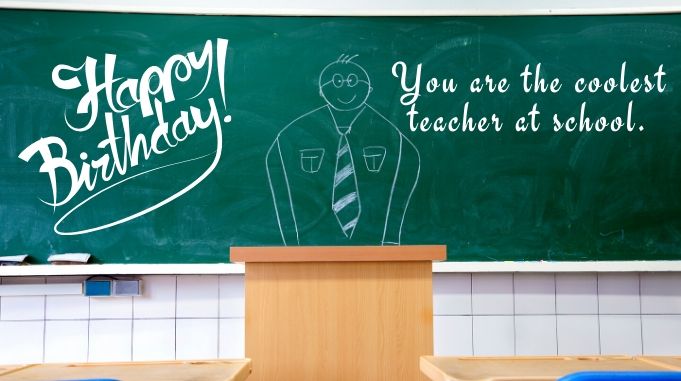 Birthday Wishes for Teacher: A student's life is incomplete without a good teacher's memories. Some teachers we like some we don't. Yet they think of us of our well in all their thoughts. In this post, we have written heart touching birthday wishes for teacher that you can send, tag and share for your favorite teacher or any teacher you like. A teacher or a guru is considered more above than God in Sanatan Dharma. They are given the highest respect wherever they go, and somewhere still is. When today's generation talks about teachers, they only talk about in the terms of subject teachers like Mathematics teacher, English teacher or others.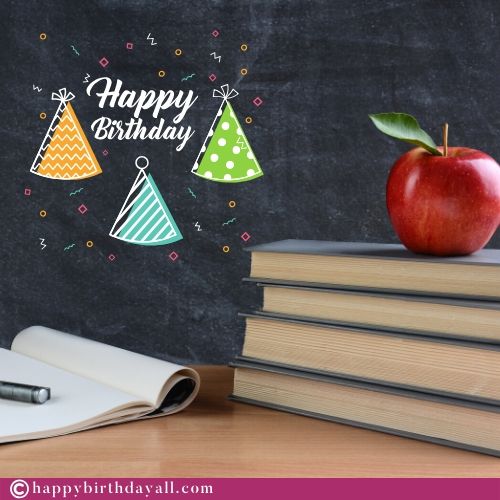 While it is more in broad perspective. A teacher just not only there for teaching us subjects, while they teach us values, virtues and ethics and most importantly how to deal with failures and despair. Though the role of a teacher is wider than here we are saying. Here we are taking view of ancient India's time gurus and modern time's teacher, which with time has immensely changed. Although, we can't describe our all thoughts here in this post but we have given you the bits of it. Just think about it. Here are all the lovely happy birthday wishes for teacher. Send, share and post on your social media for your best teacher.
Best Birthday Wishes for Teacher
Respected teacher, thank you for teaching the most valuable life lessons and thank you for providing the direction and meaning to my life. Happy birthday teacher with heaps of blessings and best wishes!
Happy birthday to one of the finest instructors and mentors in the world. My career and lie wouldn't be same without your imparted lessons. As you did for us, I pray that many blessings fall down upon you.
I am forever grateful and always thankful to you, my teacher, for all your advice, determination and efforts to make us quality human beings. I am more than delighted to wish you a cheerful birthday, teacher!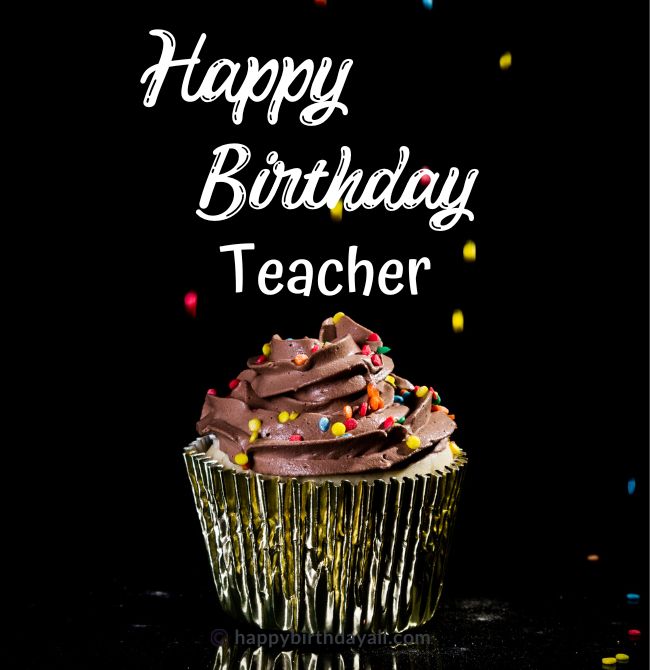 Dear madam, I immensely appreciate all of your smart advice, embrace your teachings, and respect generosity. May God continue to bless you with inexhaustible energy so that you can transform millions lives. Happy birthday to the best teacher ever!
With your knowledge, your ideas, dedication, and your miraculous thoughts, you have impacted countless people. I wish you a thousand more years to illuminate the world with your wisdom. Wishing happy birthday to the most respected teacher!
Dear sir, I appreciate your support, efforts, and hard work in helping me becoming the fine person I am today. I owe you a lot and I can never repay your debt. Happy birthday teacher and god bless you!
You are not just our teacher; you are also our best guide and the forever mentor. I'm wishing you a very happy birthday with oodles of best wishes. Many happy returns, teacher!
Respected teacher, You have always encouraged me to improve as a person. You are to thank for everything I have accomplished in life. Wishing happy birthday to the person who will forever live in my heart!
It's always been an enormous privilege to learn from the supreme teacher like you. You are an excellent instructor who is well-versed in all subjects. I hope you celebrate 1000 more birthdays and live a long time to spread your fantastic knowledge!
You showed us how to approach every challenge in life with a big smile on face and attitude in heart. We can't thank god enough for giving us wonderful teacher and father like you. Please accept our heartwarming Birthday greetings!
You are a treasure trove of knowledge. Your knowledge is unmatched and unfathomable. We appreciate your relentlessness to spread your diamond like knowledge to everyone. Happy birthday to the finest teacher!
Wishing my forever favorite and endearing teacher a very happy birthday. May you spend the rest of your life with the pride and smile on your face.
Dear sir, Thank you for imparting the most precious and gem lessons in our minds. You are not only my favourite teacher, but also my mentor and life coach, so I want to thank you for that. Happy birthday, sir!
Birthday Wishes for Teacher Female
Respected Ma'am, happy birthday and god bless you today and forever! I keenly listen to you and appreciate your advice. I hope you continue to teach us for many years and transform uncountable lives!
To the most amazing and beloved Ma'am, happy birthday! We adore you so much, and we find inspiration in your words. I hope you have a wonderful birthday celebration with your loved ones!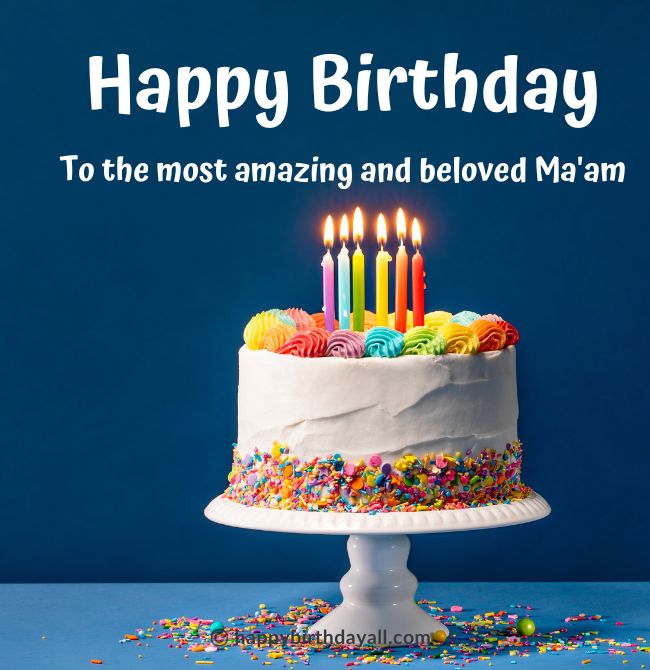 Your teaching style is quite distinctive and intriguing. I value how you instruct us and make sure every fiber of the lesson. It makes learning everything seem so easy. Wishing mirthful birthday to the finest instructors ever!
Dear mam, None of your classes are monotonous because your teaching style is so ingenious and engulfing. I genuinely like the way you teach us and augment our knowledge. Ma'am, happy birthday to you!
Very happy birthday to the pride our school, our principal ma! You truly are the epitome of elusive knowledge, and you make studying seem so simple. I appreciate you sharing your expertise and life lessons to everyone.
I wish my favourite instructor and the role model I idolize like a crazy a happy birthday! I appreciate you giving my life meaning. Best wishes to you on your birthday!
Respected Mam, happy birthday to you and may you have the best birthday celebration of your life! You'll always be my favourite instructor, no matter what. I consider school to be my second-happiest place after my home all thanks to you.
You correct me as my mother does, and you obviously also love me like she does. I appreciate the way you teach and careof every single students. To the best female teacher ever, happy birthday with heaps of love and best wishes!
Happy birthday, mam! I hope all of your favourite things fill your days and makes it extraordinary. I wish you success in all areas of life and in future endeavors.
I want to express my gratitude to you for handling things with such elegance and sensibility. You actually helped to mould my life and that too effortlessly. Wishing happy birthday to my forever favorite female teacher
On your birthday, I am more than thrilled to wish my dearest ma'am a joyous and exuberant birthday celebration. I send you my best wishes for upcoming endeavors as well as birthday greetings. You truly are one of history's greatest teachers.
Also See: Religious Birthday Wishes
Birthday Wishes for Sir Teacher
Respected sir, I sincerely hope you can continue to teach students with your vast expertise and knowledge in the coming year with same fervor and zing. Happy birthday, beloved sir.
Since you are the finest instructor of this entire organization, you deserve the best of everything on your special day. I appreciate your thoughtfulness, kindness, and assistance. Happy birthday sir and god bless you!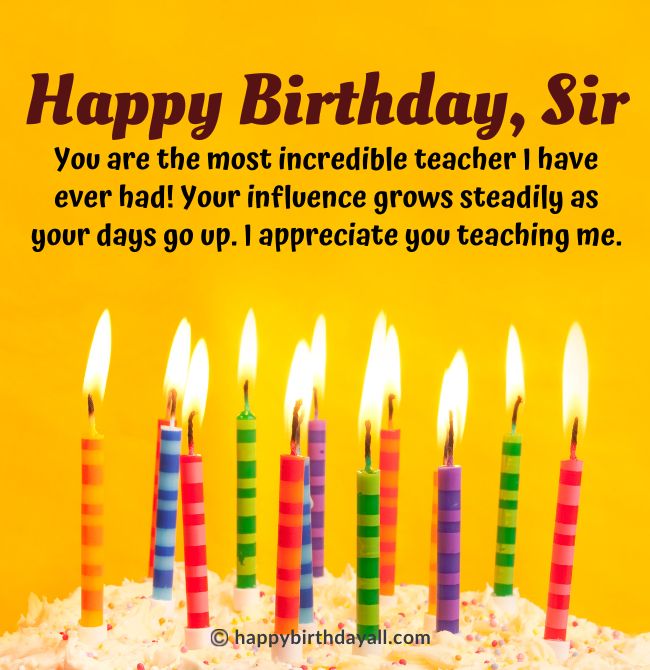 Dear sir, You are always ready to give your time and energy for the betterment of students. Your dedication is commendable and I appreciate how good of a teacher you are. Many blessings to you on your happy birthday.
Happy birthday from the bottom of my heart, Sir. You are the most incredible teacher I have ever had! Your influence grows steadily as your days go up. I appreciate you teaching me. Birthday greetings.
May You have the classiest and the most magnificent happy birthday celebration of all time, sir! God bless you and be your forever companion! I thank lord for choosing you as my teacher. God is really kind!
I truly appreciate the interesting learning suggestions you always give to us. I'm hoping that your birthday celebration turns out to be as you want it to be. Happy birthday to the most intriguing teacher ever!
I hope that this great day in your life is filled with many amazing things for you that touch your heart. Sending best birthday Greetings on your birthday, best teacher!
We appreciate all that you do to help us become the responsible citizen and contribute meaningfully to the upliftment and growth of the society. Greetings on your birthday, dearest teacher!
You are such a committed and forever hustling educator. We appreciate you motivating and pointing us in the correct direction. Happy birthday to our beloved sir! May good health and acknowledgement never leave your side
You are the most inspirational and inspiring instructor I have ever encountered and I wish you continue to do your job with such excellence till your last breath. I'm grateful that you inspired me and taught me. Thank you for teaching passionately! Happy birthday sir!
Also see: Happy Birthday Prayers
Birthday Wishes for Principal Mam
Happy birthday to the greatest and the most disciplined principal mam ever! You have improved the atmosphere at our school and the quality of life of every student. We are forever grateful to you!
While kings rule kingdoms and managers run businesses. You are in charge of thousands of troublemakers which makes you more exalted than kings and kingmakers. Dear Wonderful Principal mam, Happy Birthday and stay happy and healthy forever!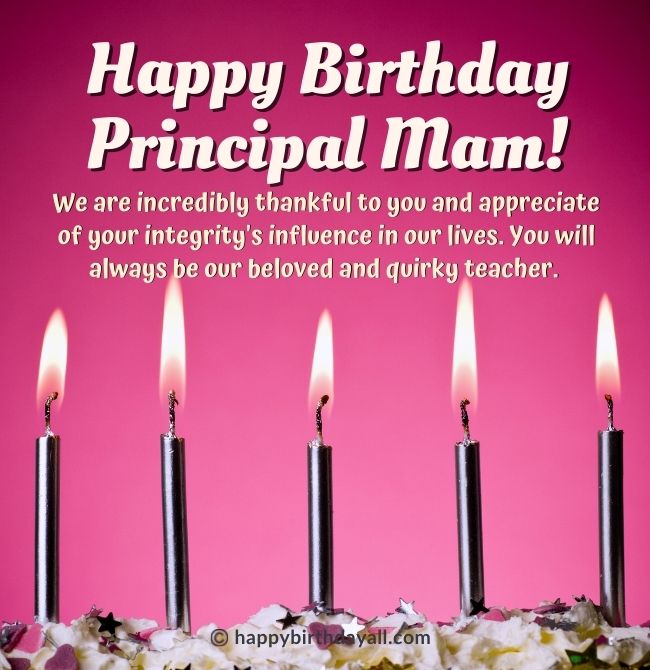 Happy birthday to the most prudent, curious, and cheerful principal mam, who possesses the leadership skills that have been the key to our school's success. May the sky always be the limit for you!
We are incredibly thankful to you and appreciate of your integrity's influence in our lives. You will always be our beloved and quirky teacher. Happy birthday principal mam!
I appreciate and understand your concern for all the students principal mam. I admire you because you are a deserving role model and the only one who can run this humongous educational institution. my most deepest regards are always with you and happy birthday mam!
We appreciate you for being there for us, and we hope you have a wonderful birthday and every other one that comes your way. Have a dazzling birthday celebration, mam!
This school and all its students will forever be grateful to you for taking it to zenith of educational excellence. May your birthday motivate you to reach new heights in life. Wishing happy birthday to the best principal mam ever
Because of the way you have run our school, if there were a prize for finest principal in the world, no one could surpass you. Dear mam, Happy Birthday! We all adore and love you.
It is an enormous honour to thank my principle, who is the foundation of my achievement. my sincere best wishes and birthday wishes are with you!
If school walls could talk, they would extol your fantastic work to all the visitors and students. Sending warmest and heartiest greetings to our principal mam on her special day!
Also see: Happy Birthday Memes
Birthday Wishes for Professor
Hearty Congratulations to our retired professor on beginning a new chapter in your life! Respected Professor, may you ace the new phase like you did the old one and happy birthday!
Sending the most touching and meaningful birthday greetings to our lovely professor on his special day! Thank you for helping us relentlessly in getting excellent exam results.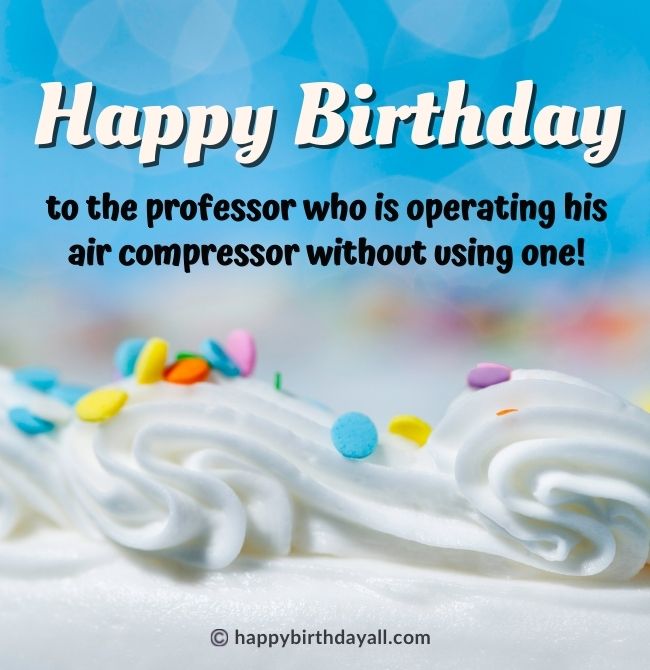 I'd want to use this astounding opportunity to inform you that your taught lessons dripping with wisdom are still fresh in our minds. Happy birthday to the professor cum life coach!
Happy birthday to the professor who is operating his air compressor without using one!
You are a true genius in every sense, a par-excellent visionary, and the beloved professor of every student. We are more than cheered up to wish you a happy birthday with oodles of love and gifts!
Happy birthday to the person who never leaves the side of his students no matter how weak they are. I greatly appreciate your knowledge and humility.
Wishing a wonderful and timeless sagacious professor who enriched my college experience like nothing else a happy birthday. God bless you and always keep you in excellent healthy condition!
I have never had a professor with your level of expertise in all subjects. You are a polymath! To my Guru, a happy birthday and god always be merciful to you!
Happy birthday to my professor, who will always be remembered for his tireless attempts to explain things unless every student understands them. No one can match your level of dedication, when it comes to teaching!
You have a charismatic personality and a warm teaching approach. Throughout the presentation, you never let your pupils become bored. I appreciate all you taught us about the subject and about life in general, professor. Happy birthday professor!
Also see: Happy Birthday Images
Heart Touching Birthday Wishes for Teacher
Patience is your best quality Mam. We have learned from you that. We wish you a great happy birthday and prosperous career!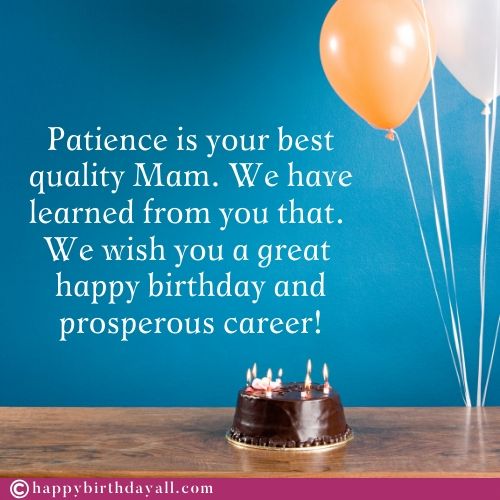 The best thing about you is, that you really are a teacher. Others are just commanders that only command to follow their instructions. You only know the true meaning of being a good teacher. Happy birthday sir!
The real you is really soft inside. We can understand that you want us to perform well in life, that's why you are concern about us. Happy birthday to my best teacher!
May you become the world's best teacher. May you forever better students' life and career. We are privileged to have you as our teacher. Happy birthday sir!
May we wish Mam, that you forever be our teacher and we forever be your students. May our bond of teacher and student never get broken. Happy birthday madam!
The smile of you Madam makes me forget all fears, even of examinations. Such a nice teacher you are. Happy birthday to you!
As mathematics is so complex. You make it simple with your simplicity and easy methods. We never want to lose you Madam. Happy birthday teacher!
The rare quality of you is, that you are a true teacher, not just a master. You never give up on us and always have believed in us. Happy birthday sir! We are lucky to have you as our teacher!
May you find a good wife, sir. May your whole life get filled with true love and happiness. Happy birthday dear sir!
May you live longer. May your teaching spread worldwide. May you be glorious. May you be always our teacher. Happy birthday sir!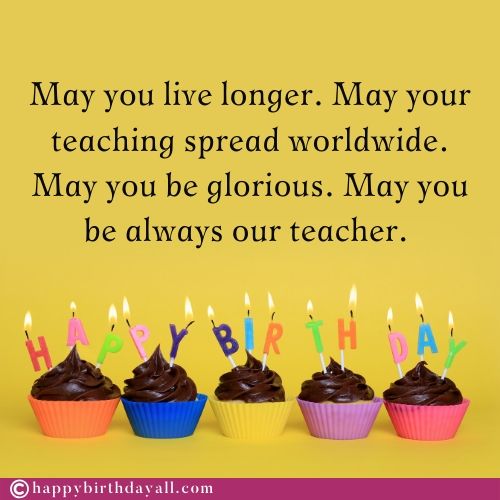 Also see: Birthday Wishes for Principal
Funny Birthday Wishes for Teacher
I wish you always give us good marks when we perform poor. Never take our class tests and promote! Happy birthday sir!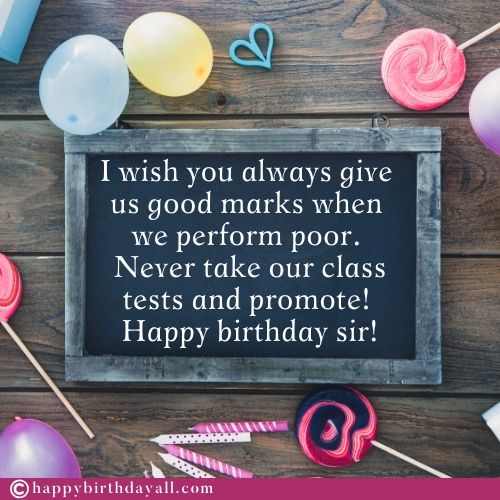 I wish that you always tick right mark on my attendance whether I attend the classes or not. I wish you take this swear on your birthday! Happy birthday sir!
May your class period always go vacant. May whenever you come to teach us, we do fun. May you never get angry on us! Happy birthday sir!
May you never complain of us to principal. I wish your all class periods may go game periods! Happy birthday sir!
On your birthday mam, may you grant our wish that whenever we want, you never teach us, and what we want you do for us! Happy birthday to our favorite teacher!
May you sail us through the river of fun and activities. May you teach us how to fly kite and how to play. May you never ask whether we have done our home-work or not. Happy birthday sir!
May we wish for a year you lose your memory and never get to teach us. Happy birthday to our dear teacher!
May your life full of surprises. May you never surprise us with sudden oral exams. May you never ever take our examinations. Happy birthday to our dearest teacher!
Oh dear PT teacher! May you never train us and become idle forever for your life! Happy birthday to our fit PT teacher!
Why you are so cactus, feel like it. We wish you become like pastry? Happy birthday sir!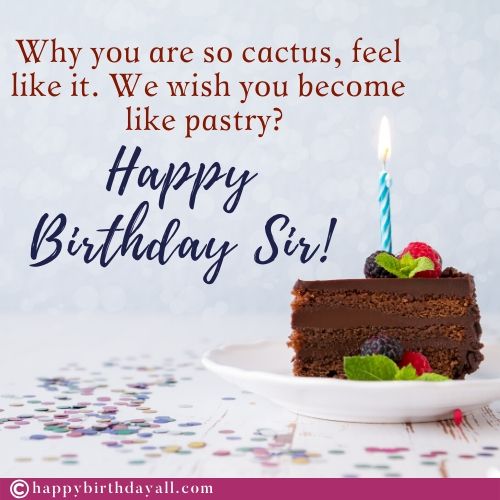 Also see: Belated Birthday Wishes
Happy Birthday Messages for Teacher
A teacher is above than God. And you are really sir. Happy birthday to our one of the best teachers!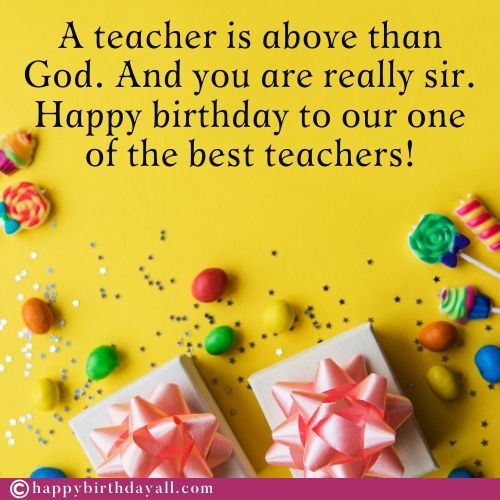 You are more like a friend, which is a fine quality that we have rarely seen any teacher. We wish you a great happy birthday! Love your sir!
You always treat us like we are your children. You are so mother like and yet so strict. We are lucky to have as our teacher. You are our best teacher. Happy birthday mam!
The way you explain us all the things is wonderfully so propelling that we are fan of you. We never want to lose you as our teacher. We wish you an awesome 30th birthday!
You just not only taught us subjects lessons, while you have taught us all the life lessons. Thank your sir and happy 60th birthday to you!
May wealth and health both you have. May you grow and grow manifold. May your teachings spread worldwide and my you become a best teacher in the world. Happy birthday!
The duty of teacher is not just only to teach lessons of various subjects, while to develop students at heart and mind both morally and behaviourally. You've done all. Wishing you happiest birthday of your life!
You are like a hard rock mountain that always protect his students from going towards wrong direction. You are our sun that always guide us. Happy birthday sir!
You have chalked our destiny fruitfully. You have erased all the dust from our life. You are the favorite and best teacher of our life. Wishing you a lovely 40th birthday!
As it is hard to find diamond as it is impossible to find a good and nice teacher like you. Wishing you best 50th birthday!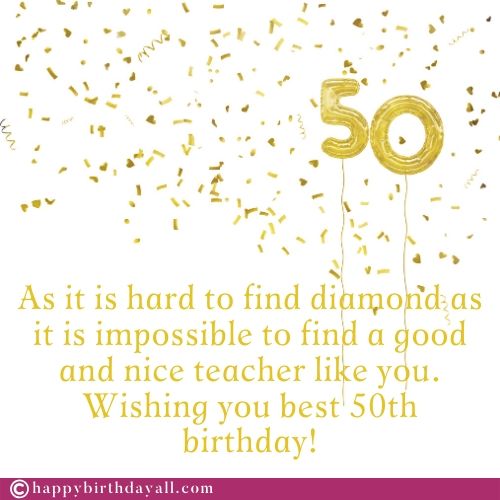 Also see: Advance Birthday Wishes
Happy Birthday Quotes for Teacher
Dust from the hearts of students only a true teacher could erase. Happy birthday to you Mam that you grow us like your children.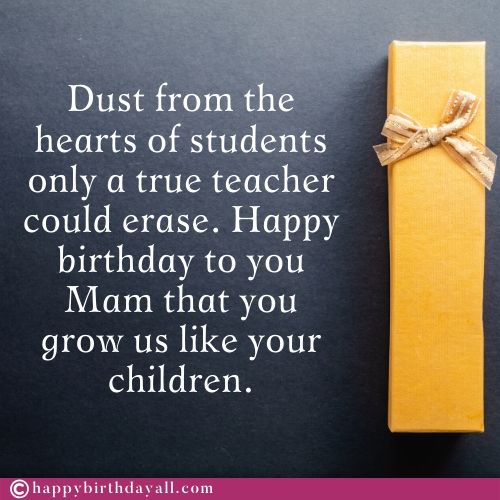 A teacher is more like guiding light that always shows the path of truth and courage. You have done for us Mam. Thank you for being our teacher. Happy birthday to you!
A teacher is more like a friend that genuinely shapes a student's life like an ever glowing glittering star. Love you sir and happy birthday!
As fire burns as a true teacher burns for students turning himself into ashes for betterment of them. Happy birthday madam!
Teachers are the only creature in the world who know how to love disciplinedly. Happy birthday madam!
A teacher you have never punished you have never taught you. Happy birthday to our intelligent teacher!
Some teachers are like dove, patient and calm. Some teachers are like eagle, strict and disciplined. Happy birthday sir!
Teacher instills all the virtues and removes all the vices from students. Happy birthday to our loveliest class teacher!
The most important lesson a true teacher can teach is- How to dream and How to fulfill them. Happy birthday to our awesome teacher!
Teacher is the builder of a nation. Happiest birthday to our kindest teacher.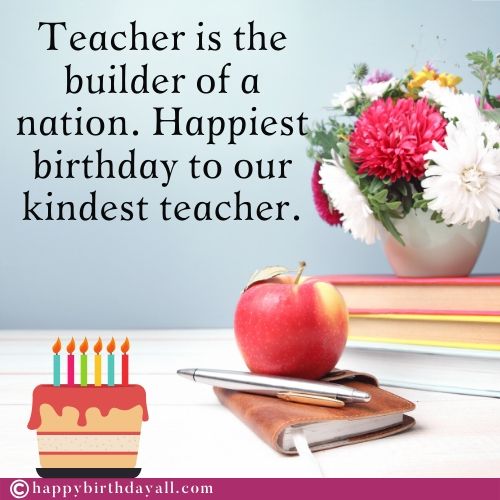 Also see: Thank You Messages for Birthday Wishes
Do you have your any funny and memorable teacher's memory or moments that you want to share with us? If yes, then do share with us in the comment section below. We definitely want to read them all. You can cherish your school time memory and moments with us.
Besides all, we have written for you some of the best and mesmerizing happy birthday wishes for teacher that you can send to your teachers on their birthday. If you do so, it would be so pleasurable and adorable of you towards your teacher that has taught you a lot and given you best lessons of your life. One could never forget his/her best teacher. How can one? On our this website 'Happybirthdayall.com' you always find the original quotes, wishes and messages related to all the happy birthday matters with all the ravishing shareable images. And as our tag line says, 'wishing birthday still matters'. So wish when you want to wish anyone's birthday.