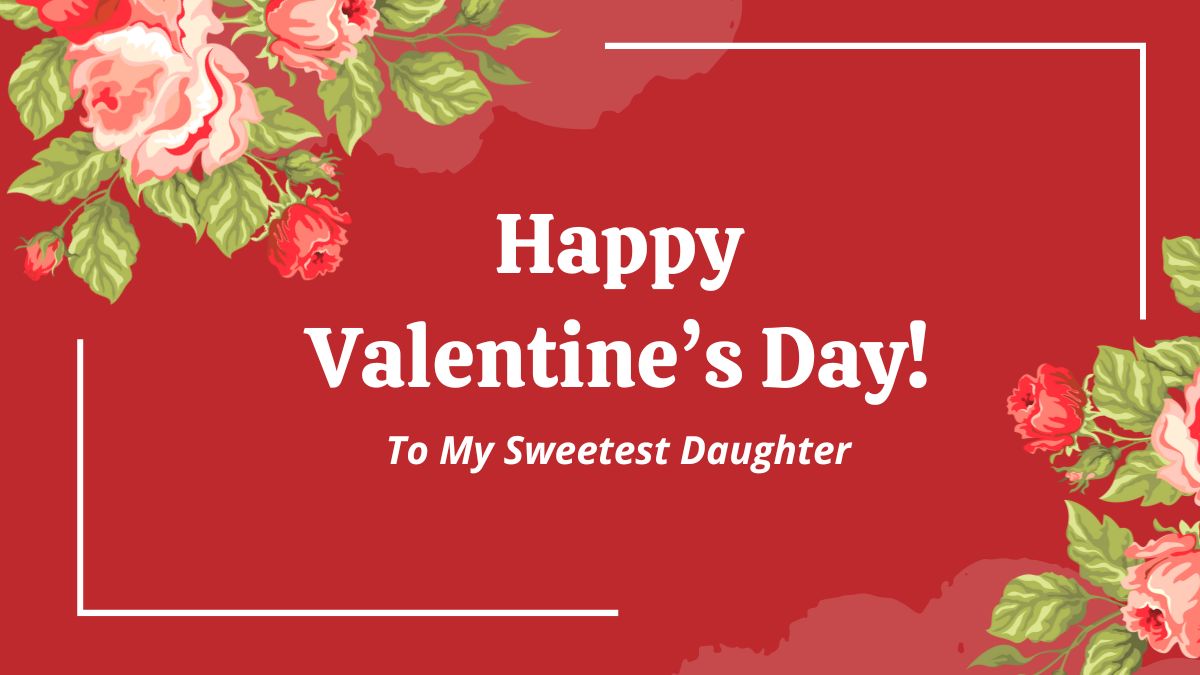 Happy Valentines Day Daughter Wishes: Valentine's day is the entrancing occasion of spreading love, expressing love, and sharing love with all those who matter to you in any way. Confining this day only up to girlfriends and boyfriends would be too preposterous. Love is above all genders, races, and religions. The love between a daughter and her parents surpasses all levels of love. The intensity and depth of love between daughters and parents are indescribable in words and never dwindle a bit. On the much-awaited occasion of valentines day, sway away your daughter in the waves of love and affection by sending her lovely valentine's day wishes for daughter and happy valentine's day daughter quotes that will create a whirlwind of strong emotions in your daughter's heart and make her valentine's day worth remembering for ages.
Valentine's Day Wishes for Daughter
You are the most charming, magical, wonderful and lovely young girl I have ever seen who has given us happiness beyond any comprehension. Dear daughter, You have my sincere affection and best wishes on this Valentine's Day. Happy valentines day daughter!
When someone has a sweet and chirpy daughter like you who needs chocolates and gifts on Valentine's Day? Happy Valentine's Day to the sweetest and the cutest person in our lives!
To my beloved daughter, I am more than titillated to wish you a happy Valentine's Day with oodles of love and affection. My love for you will always be unconditional and unfathomabole!
Sending the most delectable and hearty Greetings on Valentine's Day to my super talented and kind-hearted daughter! Give yourself a treat by watching a love-themed movie and enjoying some delicious chocolates. You don't always need somone to pamper yourself!
Dear daughter, with all the love and concern in my heart, happy Valentine's Day to you! Just see in my eyes and you will get to know how deeply I love you. God bless you with pure love forever!
I am beyond delighted to send love marinated Greetings on Valentine's Day to my drop-dead gorgeous daughter! My sincere Valentine's Day wish for you is to love yourself as much as you can nd never confine your love to a particular person!
My angelic and stubborn daughter, today is the day of expressing and showering love, and I don't want to leave any stone unturned to make your feel heavenly. Happy valentine's day to my dearest daughter and I love you to the moon and back!.
Heartfelt and full of pure love Valentine's Day greetings to my groovy daughter! I'm very proud of you, daughter, for pursuing all of your goals and building a life you enjoy. I wish you a relaxing day as you celebrate your achievements.
Since Valentine's Day is all about sprinkling love everywhere, I am all braced up to pour down all the love in my hear to my notorious little day. Happy valentine's day daughter! May you have an alluring valentine's celebration, my little munchkin.
This Valentine's Day 2023, I hope you feel the purest and the most magical form of love because you deserve it. Happy valentines day to the most caring daughter in the world. May you get undying love from everyone!
Dear daughter, savor every moment of your Valentine's Day because not everyone is lucky enough to have a valentine! He deserves to spoil you, as you deserve it. Happy valentines day daughter and sending heaps of love, hugs, and kisses!
Not the chocolate, gifts, or hopping on to pubs, but Valentine's Day in general, is my most coveted day as It feels good to express my affection for you without any justification. Wishing happy valentines day to my adorable daughter!
The Valentine's Day reminds me of the loveliest blessing I have in my life. You are that blessing my daughter!. My heart is full with utmost love, care and conern for you. Happy valentine's day to the sheer happiness of my life!
Valentine's day is solely dedicated to expressing love blatantly and I will make sure to shower love on you beyond any measure. I'm very glad and pleased to have you in my life. Daughter, happy Valentine's Day!
My lovely daughter, I hope your valentines day turns out to be so mesmerizing that your faith on love bolsters by leaps and bounds. On this= auspicious day, you deserve all the love and joy in the world. Happy valentines day to my daughter, gist of my life!
Today is the most beautiful and meaningful day for my daughter as she is celebrating the first valentine with the love of her life. Sending you a huge Valentine's Day hug and missing you tlike hell!
Valentine's Day Messages for Daughter
Hey daughter, Your smile and all the love and affection on the world you shower on me hare truly enchanting and priceless. Your presence add meaning as well as beauty to my life! I am overjoyed to wish happy valentines day to my adorable daughter!
Dear little mess, You have developed into an inspiring and ambitious woman that we always knew you would become one day. We have known this about you since you were a young child, and we are so happy to see it become true. Daughter, happy Valentine's Day with oodles of love!
My beloved daughter, You are as lovely as inside as you are from outside and I want you to change for none. ,May you find the prince charming of your life pretty soon! Happy Valentine's Day to my sweetheart daughter!
We all clearly know that life is unpredictable and full of change but my love for you and the place you hold in my heart, will never change. Happy Valentine's Day to my pretty little daughter!
Wishing happy valentines day to the most precious and endearing blessing of god to me. On valentine's day, I can't think of a sweeter and lovelier person than my own precious daughter! You deserve all the love of the world!
Dear quirky daughter, without a shadow of a doubt you are the finest thing that has ever occurred to me. Happy Valentine's Day to my lovely, intelligent, and compassionate daughter.
I wish you a most wonderful Valentine's Day, my precious daughter, to the most wonderful miracle in my life, my ray of sunshine, and the only girl who holds my heart in her palm. I adore you so much!
On the intriguing occasion of valentines day and the rest of 364 days of the year, I will continue to love you with every ounce of energy in my body. Happy valentines day to the best daughter of all time and may you have a thumping valentines day celebration!
Dear daughter, You are really special to all of us in many ways, and I adore you like no one else. Therefore, I'm more than thrilled to send heaps of happy valentines day wishes to my daughter with angelic heart!
Because you are our beloved little tot, we are confident in your awesomeness. You'd be the best daughter to us, too, we've always known that! With all the love, delectable chocolates and touching gifts, Happy Valentine's Day daughter!
Happy Valentines Day Daughter Quotes
"A daughter is one of the most beautiful gifts the world has to give." — Laurel Atherton
But, my greatest accomplishment and my greatest pride and joy are my children. They are truly my greatest success." — Catherine Pulsifer
"My son is my son till he gets a wife, but my daughter is my daughter all the days of her life." — Thomas Fuller
"I realized that our daughter needed the same things we lacked in our younger years…wisdom. Without wisdom, we continue to blunder through life repeating the same mistakes." — Laura Alexander
"What I wanted most for my daughter was that she be able to soar confidently in her own sky…" — Helen Claes
"He who has daughters is always a shepherd." — Proverbs
"My daughter, while we have had adversity, we also have had more sweet memories that allow us to overcome the challenges we faced." — Ann Butler
"Words are not enough to express the unconditional love that exists between a mother and a daughter." — Caitlin Houston
"I've never had a moment's doubt. I love you. I believe in you completely. You are my dearest one. My reason for life." — Ian McEwan
"You are my angel, you remind me of the goodness in this world and inspire me to be the greatest version of myself." — Steve Maraboli
"My daughter is my biggest achievement. She is a little start and my life has changed so much for the better since she came along." — Denise Van Outen
"Courage, sacrifice, determination, commitment, toughness, heart, talents, guts. That's what little girls are made of." — Bethany Hamilton
"Having a little girl has been like following an old treasure map with the important paths torn away." — Heather Gudenkauf