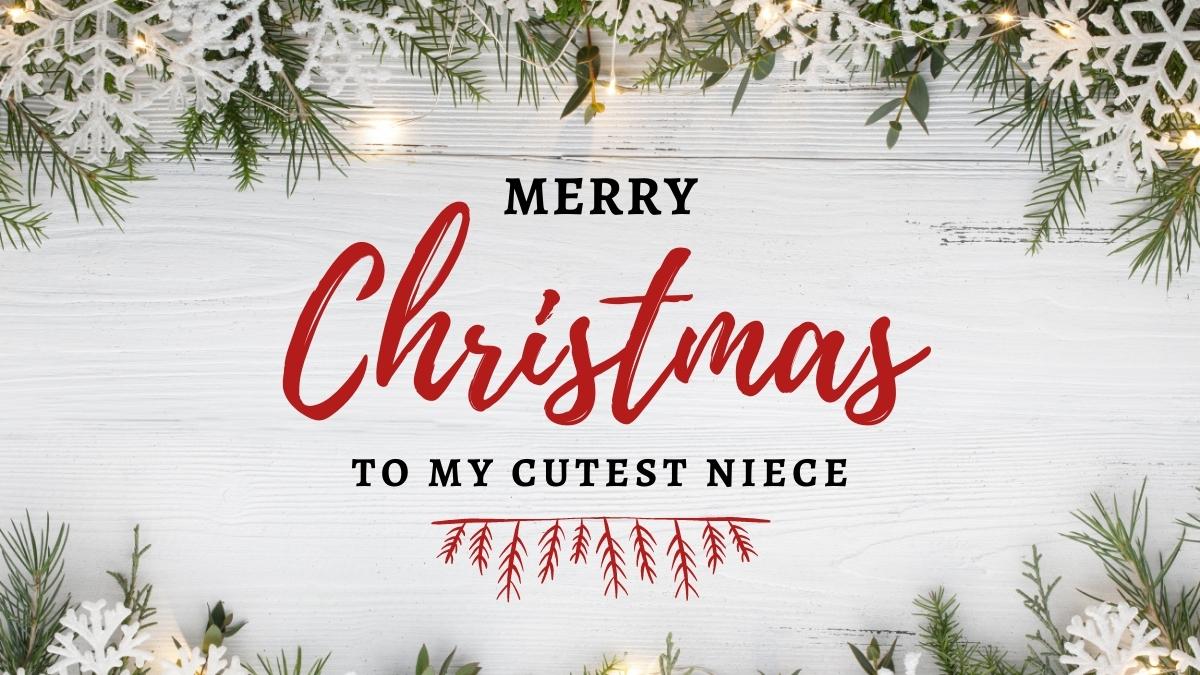 Christmas Messages for Niece: : Nieces are no less than beautiful and good luck spreading angels for their uncles and aunts. Making the Christmas celebration more happening and splendid for your niece is one of the best ways to make a special place in her heart. Now, you must be wondering how to do that. Well, leave that job to us as we have curated the most touching and soothing Christmas wishes for niece and merry christmas quotes for niece as well that make your niece bubble with immense delight and immeasurable love for you.
Merry Christmas Wishes for Niece
To the cutest and the chirpiest niece in the world, may Christmas joy and cheer last throughout your entire life. Happy Holidays and merry Christmas, my darling niece.
May your Christmas celebration be filled with love, joy, and prosperity, making it an even happier occasion for you. Merry Christmas to my beloved niece. God bless you with everything you deserve!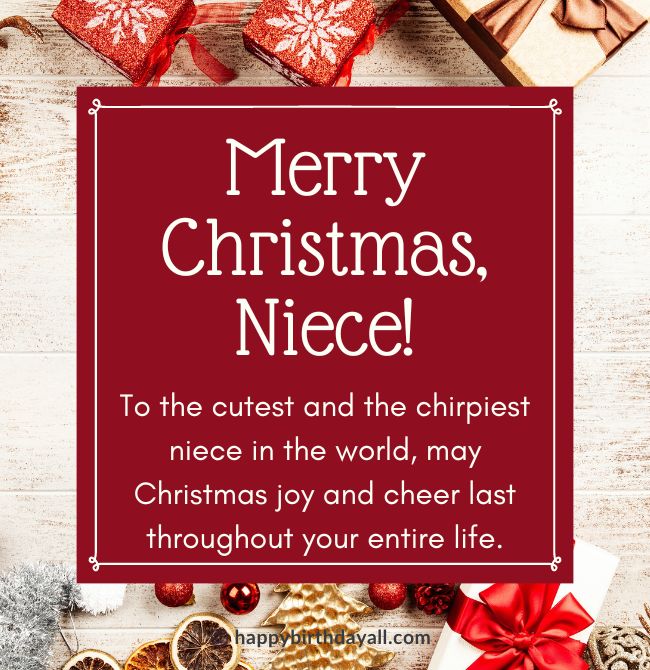 You are one of the Christmas angels to me who extend her wings every year and shower all the happiness and affection of the world to me! Happy Holidays and Merry Christmas to my adorable little niece!
Also see: Merry christmas Gif 2022
You deserve genuine friendship, true love, immense success and a lifetime of happiness, and that is all I desire for you. Happy Christmas niece and have a memorable one!
Happy Holidays to My Lovely Niece and Her crazy but endearing Family. I hope you have a fantastic Christmas celebration filled with all kinds of funky and jovial stuff!
Also see: Christmas Messages For Wife
Wishing you a merry Christmas filled with blessings and love, smiles and laughter, and gifts. May you be forever smiling, thriving, and growing in life. I love you my sweet niece!
May you have the sweetest and fondest memories of this Christmas season with your near and dear ones. I hope you receive many blessings this Christmas but cherish mine forever.
Also see: Merry Christmas Brother Wishes
What else do you need to make this Christmas a special pleasure to remember? Jingle bells sound, lovely gifts wrapped with affection, and the killer smile of my beautiful niece. Merry Christmas to my all time favorite niece!
You are my niece, and I am very grateful to the lord for making you my niece. You really make being an aunt an amusing job! I adore you. Merry Christmas niece!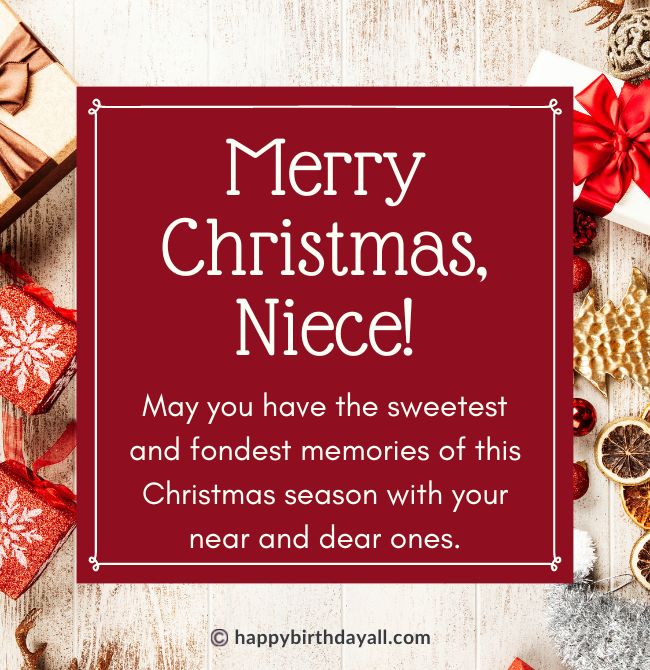 To the most special Niece and Her Husband, a Very Merry Christmas with oodles of love, chocolates, and gifts. I am sending heaps of joy and greetings, and they must be on the way!
I've known there was something unique inside of you ever since you were a young child. I'm so glad it's still there now that you've grown! Sending touching Christmas greetings to my quirky niece!
Also see: Merry Christmas Light Gif
You are as sweet as an icing and as beautiful and delicate like a flower. Your beloved aunt is sending you a big hug and kiss on Christmas along with your favorite gifts and yummy chocolates! Merry Christmas niece!
"Merry Christmas to my favorite niece! I hope this holiday season brings you lots of love, laughter, and all the things you wish for. I'm so grateful to have you in my life."
Also see: Merry Christmas Birthday GIF
"Wishing my dear niece a very Merry Christmas and a happy and healthy new year. May all your dreams and wishes come true, and may you have a festive and joyous holiday season."
"Sending lots of love and festive cheer to my dear niece on this special day. May your Christmas be filled with all the things that make you happy, and may you have a wonderful new year ahead."
Also see: Birthday Wishes for Niece
"Merry Christmas, dear niece! I hope you have a magical holiday season surrounded by loved ones and filled with all the joy and wonder of the season. Here's to many more Christmases together."
"Wishing my dear niece a very Merry Christmas and all the best for the coming year. May you have a holiday season that is filled with love, laughter, and all your favorite things. You are such a special person to me, and I'm so grateful to have you in my life."