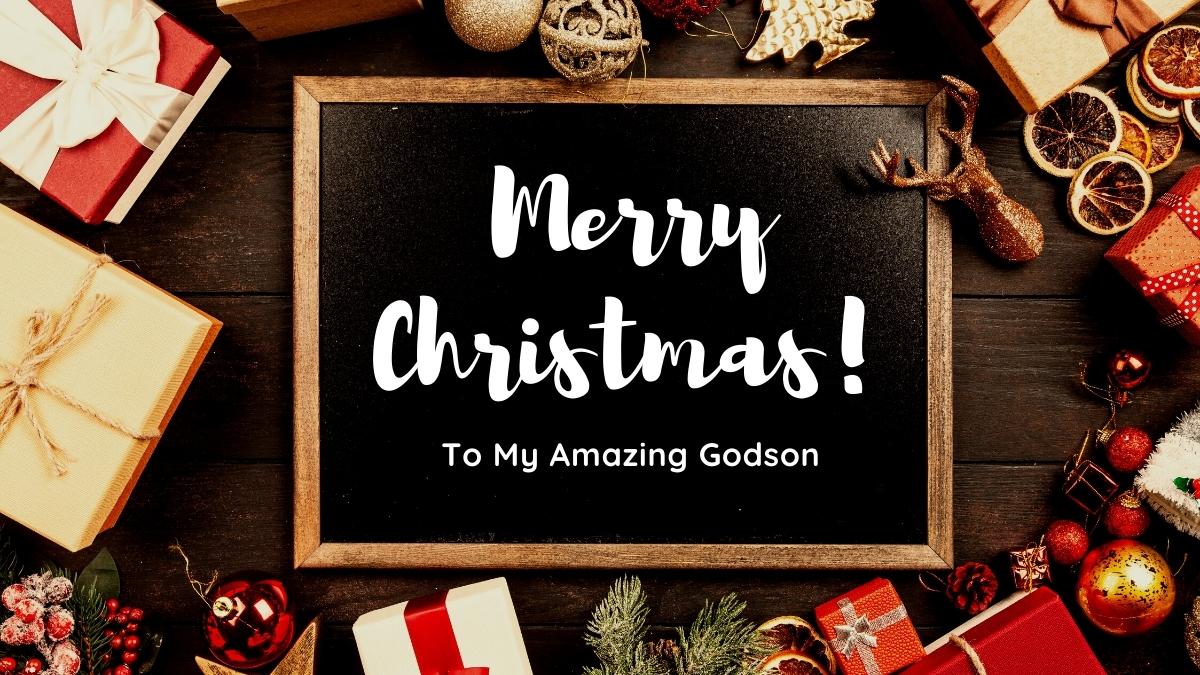 Merry Christmas Godson Wishes: Having a chirpy and quirky godson in life is surely one of the biggest blessings for godparents. If you don't have a son, a godson fulfills his dearth and gives you the privilege of calling someone your own son. Christmas holidays are around the corner and your godson must be working hard to woo his godparents on the eve of the festival. You shouldn't also leave any stone unturned to put a big smile on your godson's face. We have compiled the most jovial merry Christmas wishes for godson that will move him like nothing else and make him respect and love you even more.
Merry Christmas Messages for Godson
Happy Christmas to my kind and loving godson! I hope you have a joyous Christmas season full with thrilling celebrations and amazing gifts.
May your life have a fresh song added by the jingle bells. May the plum cake make tomorrow even sweeter for you. Enjoy your Christmas season to the fullest, my handsome godson!
There is a drumbeat. The stars are shining. Everyone is smiling. Definitely, it's Christmas time! May God's love fill you with joy and the spirit of the season. Merry Christmas Godson.
Favorite ideas were dancing in my thoughts about how to make your Christmas mirthful, Godson, merry Christmas! I hope you got the nicest presents for Christmas ever from everyone!
God bless you, my dear Godson, at Christmas eve and every other day. Merry Christmas godson and may you always be smiling, shining, and flying in life!
I hope that all of your dreams come true at this joyous time of year! Nothing warms my heart more than witnessing my favourite child beaming from ear to ear. Merry Christmas godson!
The presence of you makes life seem blessed. May you always be blessed by God with joy, success, and wealth. Merry Christmas godson and have a Prosperous New Year!
You are such a blessing to have as a godchild. May God continue to bless you and grant you all of your Christmas desires! You are the biggest blessing god has ever showered on me.
I'm thankful for a lot of things, but I especially appreciate having a great godson like you. Happy Christmas son! May you have a splendid Christmas celebration!
If I don't do anything else throughout the Christmas vacations, I'll make sure to express my gratitude to God for giving me, my amazing godchild!
Dear Godson, Santa knows your name and you'll probably be #1 on his list for tons of presents this year! Wishing you the happiest Christmas ever, my cute godson!
I always think about you. I feel giddy within when I see you smile. Happy Holidays, Godchild and be cheerful all the time!
I hope your Christmas season is filled with joy, filled with smiles, and filled with all sorts of delectable food! God bless you always, my sweet godson and merry Christmas.
May the Christmas spirit bring you new hope and unlock a number of doors of alluring opportunities for you! Merry Christmas to the best godson in the world!