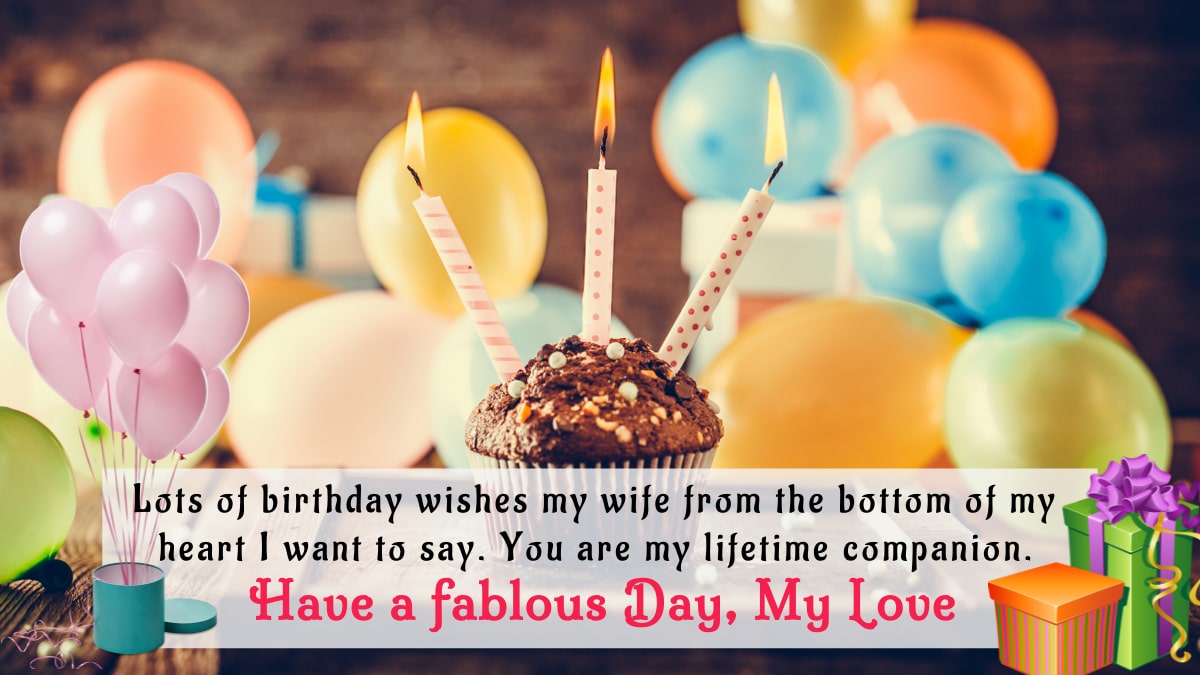 Long Distance Birthday Wishes for Wife: It really hurts a lot when a person who is everything to you is not with you to celebrate the most special event of your life. Yes, we are talking about birthdays. Too much of a long distance can kill the charm and affection of a relationship. And things get even worse when you miss crucial occasions like birthdays and anniversaries. If you and your better half are in a long-distance relationship and cannot participate in the birthday celebration of your spouse, there is nothing better than long distance birthday wishes for wife to tell your wife how sorry you are and how madly you love her and miss her on her birthday.
Long Distance Birthday Wishes for Wife
Hey sweetheart, I know how tough and tiresome it is for you to live without me, manage the things without me, and kick start your day without me. But I promise I will return pretty soon with heaps of surprises, monumental love, and loads of gifts for my sweetheart. I am extremely sorry and happy birthday to the sweetest wife ever!
My gorgeous wife, I guess this is the first time after our marriage I won't be with you to celebrate the most significant day of your life. This fact not only saddens me but also makes me feel guilty for not being with my wife. I hope you understand my circumstances and celebrate your birthday with a band without me. Wishing happy birthday to the best wife ever!
Life and wife both are unpredictable. But this time life is playing with me. Neither I am going to lie to you nor I am gonna make any excuses. I have to go on a business trip and I won't be able to organize and attend your birthday bash. If it was not important, I would have canceled everything. Have an amazing day and happy birthday wife!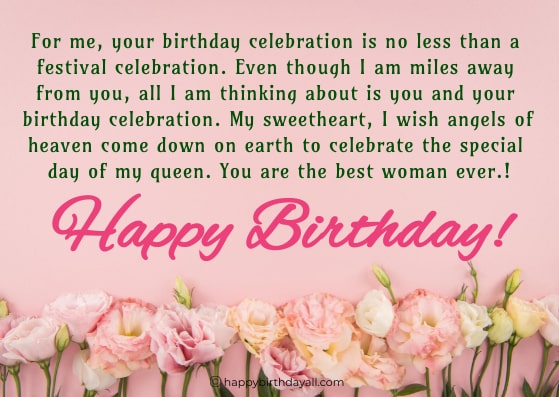 Hey wife, you have taken care of me more than I expected, you have given to me more than I deserve, you have loved me more than my own family. Thank you so much for making my life a sorted and magical affair. So what if I am not with you, my love and best birthday wishes will reach you way before anyone else. Happy birthday to my beautiful wife!
I know you must be bubbling with anger. It's your first birthday after our marriage and I am sitting a thousand miles away and stuck in some stupid project which I can't complete on time. I know it feels so embarrassing to celebrate your birthday without your better half but you are one heck of a woman and you will manage it. I love you, I am sorry, and happy birthday!
For me, your birthday celebration is no less than a festival celebration. Even though I am miles away from you, all I am thinking about is you and your birthday celebration. My sweetheart, I wish angels of heaven come down on earth to celebrate the special day of my queen. You are the best woman ever. Happy birthday!
Any relationship is built on love, trust, and loyalty. I love you unconditionally. I trust you more than my life. And, there is nothing in this world that can flinch my loyalty for you. In your arms, I feel relaxed and spellbound. You mean the whole world to me. Happy birthday to my drop-dead gorgeous wife!
When I am away because of work, you are the one who manages everything from taking kids to school to all the bill payments, shopping, helping mom-dad, and managing your professional life as well. How can you be so good at everything? May you have a blasting and rocking birthday celebration, sweetheart. I will be home soon!
The collection of small moments of happiness makes life a complete journey. I am so sad I wouldn't be a part of your little but significant moment of happiness. I know you must be feeling terrible and jolted but I have to complete the official work first. May God bless you with everything you desire. Wishing a joyous birthday to the best wife ever!
Missing your wife's birthday is like locking horns with the devil. I am not going to apologize or give any excuses because I know damn well how badly you wanted me to be present on your birthday. Baby, please manage this time without me. I promise that won't happen next time. You are the undisputed queen of my life. I love you and happy birthday!
It was an honor for me to marry the most stunning and smartest woman in college. It is my stupidity to not make her feel special on her most awaited day of the year. Darling, you are so perfect and dexterous that I feel jealous sometimes. Thank you for being my lucky charm. Happy birthday, my forever queen!
May the distance right now between us be gargantuan, but our hearts can feel every moment of each other. Maybe I won't be present at your birthday bash, but my soul will be with you till eternity. I am lucky to be your husband and I am proud to call you my better half. Happy birthday to my bubbly wife!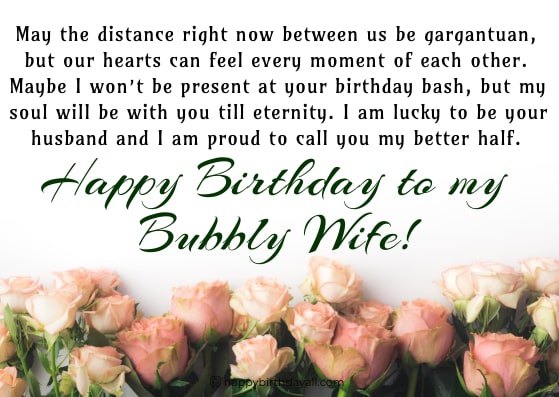 Nothing can fill my absence at your birthday party but if you accept my humble apologies and heartfelt birthday wishes, It will exemplify that you are not angry with me. This is the first as well as the last time I am missing your birthday bash. I promise that won't happen again even in dreams. Happy birthday to the love of my life!
Maybe I have done some extraordinary deeds in the past life that's why I have landed up with such an angel wife. You are the epitome of love, strength, and loyalty. You have never asked for a single thing from me yet you only know how to give. I am beyond grateful to have you in my life. I wish you have a memorable birthday celebration!
The sadness of missing your birthday bash is increasing exponentially. Everyone will be there: family, friends, acquaintances, my favorite birthday cake, flashy lights, my beautiful wife, but not me. However, the most pivotal thing is my wife is getting more beautiful and smart with each passing birthday. Happy birthday wife and God bless you!
For an average man like me, the probability of landing up with a resplendent woman like you is close to zero. However, I guess luck is definitely by my side. I want to thank you from the bottom of my heart for accepting me and my family as the way they are. I am sorry if haven't fulfilled any of my queen's wishes. Happy birthday to my forever sweetheart!
Nothing is more enchanting and satiating than seeing the genuine smile on the face of a person who matters the most. Hey sweetheart, you are the basis of my life. With you, my life ceases to exist. I want to take my last breath with you only. Just spare me this time for my absence from your birthday party. Wishing a jovial birthday to the cutest wife ever!
Our married life has been such a topsy-turvy affair yet we are happy and together we learned to look at each other imperfections a long time ago. It's your special day darling and I am not with you. Sad but I am helpless. You just make a list of what you want as the birthday gifts, your husband will bring everything for you on board. Happy birthday, wife!
I have seen couples fighting outrageously in a long-distance relationship but we barely fight. It's been a month since we have seen each other faces yet the love between us is intact and greater than ever. Everything is sublime in our relationship because you make the most of sacrifices. All thanks to my forever darling. Happy birthday!
Hey wife, first of all – Sorry! Second, I won't be able to hop on to your birthday party because the boss has set up some last minute meeting which is extremely important. My body will be here but my heart is always with you. I hope you understand and forgive me. Happy birthday to the best wife ever!
You May Also See: