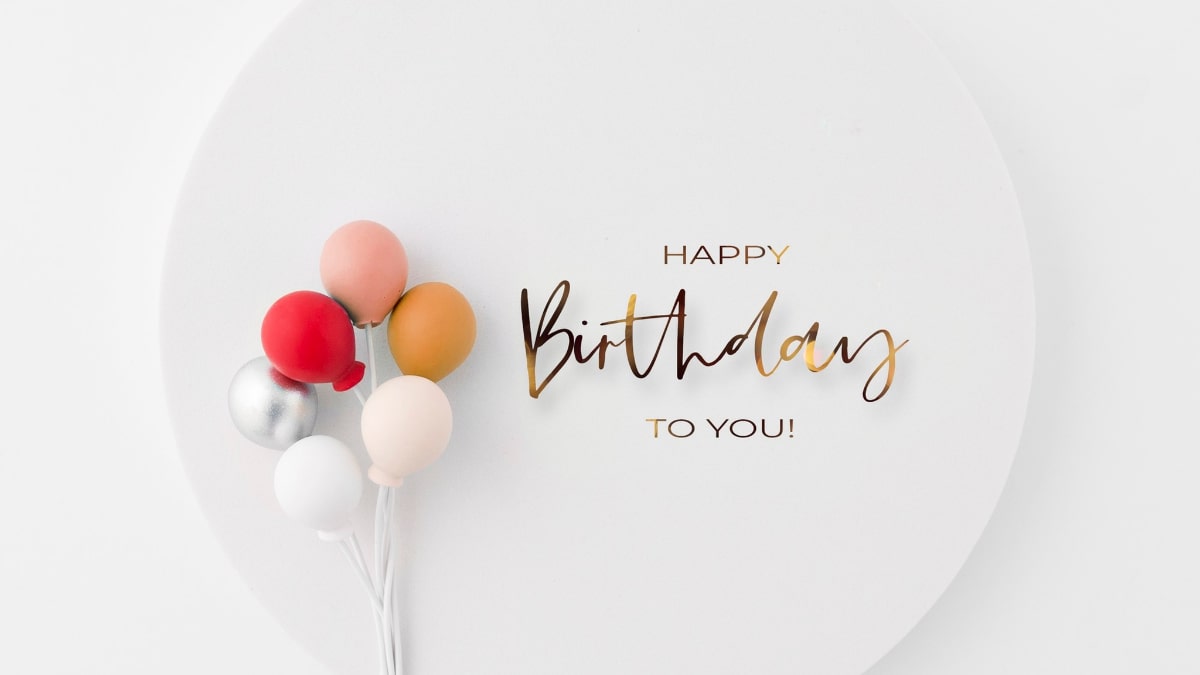 Birthday Wishes for Ex-Wife: Life is indeed a crazy and unpredictable phenomenon. It shows you every phase regardless of how you feel and what you want. A person with whom you take vows to spend the rest of your life gets separated from you drastically and leaves an unfillable void in your life. All the endearing memories, exciting moments, and future plannings become meaningless instantly. However, even after the separation, most of the separated couples have some kind of soft corner for each other. To respect your previous companionship and the fact that once you were married, we bring you a subtle collection of happy birthday wishes for ex-wife that will help you not only in greeting your ex-lover but also set an example that two people can still remain friends even after the separation.
Happy Birthday Wishes for Ex-Wife
Though we have parted our ways, I still consider you as my good friend and always pray for your well-being, prosperity, and success. It's your big day and I couldn't control myself to send greetings to you. Happiest birthday to my beautiful ex-wife cum best friend forever!
There is nothing left between us. However, we still have mutual admiration for each other because we have faced the highs and lows of married life together. You are an amazing woman, and I know you will do pretty good in life. Wishing a joyous birthday to my stunning ex-wife and god bless you!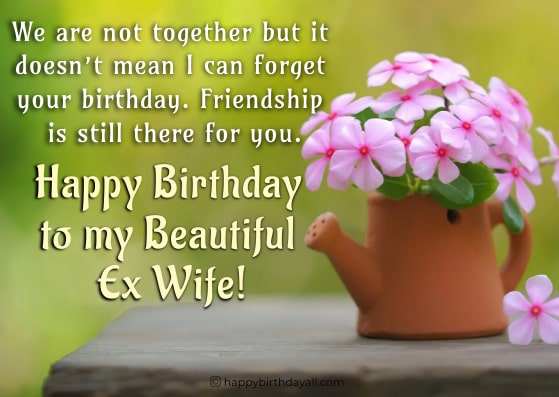 The only thing sustaining our married life for a long time was love. When love vanished, our relationship had fallen apart but I still wonder, where we went wrong? Now is not the right time to discuss these issues as it's your happy birthday and may God shower all the heavenly blessings on you!
You are the first and perhaps the last woman whom I have loved to no limits. You were the essence and the biggest support of my life. I may live without but I can never forget what amazing things you have done for me. Happy birthday to my gorgeous ex-wife! Best of luck with your future endeavors!
Also see: Funny Happy Birthday Images
It's been 5 years since we have separated but you still look so zestful and youthful. May I know what is the secret of your timeless beauty, my ex-wife? Well, I still miss your companionship and affection. On your happy birthday, I wish you new adventures, new relationships, and profound success.
I must say I regret a lot now by taking divorce from such a wonderful woman like you. But I also know you weren't happy with me and there was no point in stretching our relationship. I have some of the most beautiful memories of my life with you which I will cherish forever. Happy birthday, ex-wife!
There was a time when we both were immersed deeply in the ocean of love. We used to think that no force can separate us. But, in the end, our egos and little stupidities ruined everything. I have no hard feelings for you. Happy birthday to my sweet ex-wife. I hope you live life wisely and serenely!
With you, I was touching the sky. Without you, I cannot even take my stand properly. Now, I have realized your true value in my life. But it's too late to get back things to normal again. May you break all shackles and soar high in life. Happy birthday, dearest ex-wife!
When we separated, I made up my mind to never contact you in life. But in my heart, there is a soft corner for you that propelled me to pick up the phone and wish you happy birthday along with oodles of love and best wishes for the future. God bless you with everything you deserve!
Also see: Birthday Wishes for Ex Girlfriend
You have no idea who much I hate the word ex because I don't like to dwell too much into the past. But you are not my past. I still cherish your friendship more than anything else. Let's forgive each other deeds of the past and live guilt free lives. Happy birthday to my ex-wife!
We are not together but it doesn't mean I can forget your birthday. Friendship is still there for you. Wishing happy birthday my beautiful ex wife!
What has happened between has happened. Let go of all past and start a new friendship. And I want to start it by wishing you happy birthday ex wife!
Love was there, love is still there. Being apart doesn't mean I don't love you while these days I miss you much. Wishing happy birthday lovely ex wife!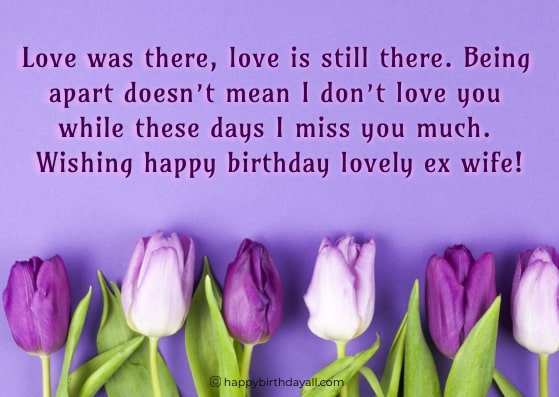 You are still in heart. I haven't married. Something doesn't match between us but it doesn't mean we are not good for each other. Today is your birthday. With all my love wishing you happy birthday ex wife!
With all the flowers and cakes I want to wish you happy birthday dearest ex wife! I wish you find a good match for you again and I also wish you be happy forever!
Also see: Happy Birthday Prayers
Life plays unpredictable. Sometimes those friends don't become good husband and wife. I still love you. With all care and love wishing you happy birthday ex wife!
From the bottom of my heart I wish that you remarry again and I want to see you happy again. Wishing you happy birthday lovely ex wife!
On your birthday I wish and pray you always be safe and sound. May grow abound and have a beautiful life! Wishing happy birthday to my lovely ex wife and a best friend!
On your birthday I miss you and I know somewhere you miss me too. Wishing you happy birthday ex wife! May you blossom again in your life!
None beautiful like you has ever come in my life. I wish May in your life love gets rekindled! Wishing happy birthday lovely ex wife!
You May Also See: