Funny Birthday Wishes for Dad: Birthday wishes should be the perfect amalgamation of happy and funny wishes. If you keep sending only emotional and frisky wishes, the person who receives wishes may get bored of monotony. However, if you add a pinch of humor to your simple birthday wishes, the whole vibes of the birthday celebration and mood of the person change instantly. Funny birthday wishes for father work even well when your father is a bit grumpy and emotionless in nature. Here is the most amusing compilation of funny birthday wishes for dad that will surely bring a sudden burst of laughter to your father and he may feel delighted and proud of your efforts.
Funny Birthday Wishes for Father
My superhero dad, you are not young enough anymore to do superman kind of stuff. If you don't want your back, teeth, and legs to be broken, sit back quietly and enjoy your special day with a dam fine glass of whisky. Happy birthday to the most awesome dad!
I have been thinking for the last 3 days about what funny things to write in your happy birthday card and I couldn't find anything to write. Because nothing is funnier than you in this whole damn universe. Wishing a mirthful and jovial birthday to the most significant man of my life.
Heartiest and mightiest congratulations to my cool dad for hitting the milestone of 50th birthday. Your legs have become like a weak chicken but still, you are so energetic and youthful. God must be very happy with you.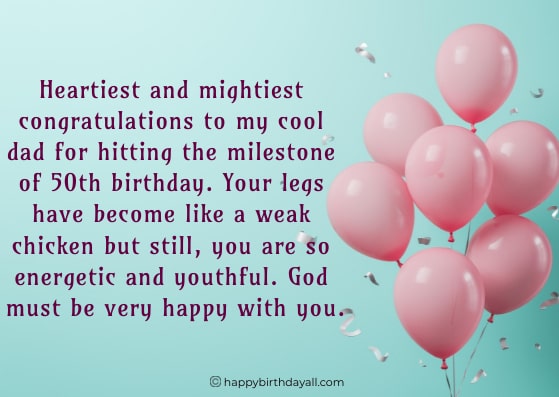 Dear father, it is a natural and fascinating thing to get old and wise respectively. However, you are just getting old and frenzy. You are miles away from being sagacious. Happy birthday to my father who is still a hasty kid by heart. God bless you with the unlimited richness of everything!
To my friskiest dad, I know you deserve the finest birthday wishes and gifts of the world but I am not gonna give you either of them. The reason is you haven't gifted a single gift of my preference on my birthdays. Now is the time to take revenge. Happy birthday, father!
Hey dad, I know how badly you love to party all night long on your birthday. However, this time it is not going to be the same tradition. Cut your cake, eat your food, and go to bed on time if you don't want to walk at night during sleep. Happy birthday to my handsome father!
Hey father, though I am your creation, you are way more intelligent and smarter than me. Is there is something you are hiding for me? Or am I an adopted one? Jokes apart have a cheerful and memorable birthday celebration!
Dear dad, no matter how many frivolous things you do, how many silly mistakes you make, how many times you scold me, you will still be my superhero. I love you my grey hair and white beard man. Happy birthday and God bless you with colossal success.
Hey father, party as hard as you can, as long as you can, and as much as you can on your special day. But don't forget to clean up all the mess early in the morning or my mother will not spare you. Happiest birthday to my frolic father!
May your super special day be packed with booze from your favorite brands, food from your preferred eateries, and babes from Victoria secret. I guess I have wished for you far more than you deserve. Happy birthday father!
Also see: Inspirational Birthday Prayers For Father
Dads are like bread sandwiches that children can eat always wrapping them in breads. Sometimes they look tasty. Happy birthday dad! Love you!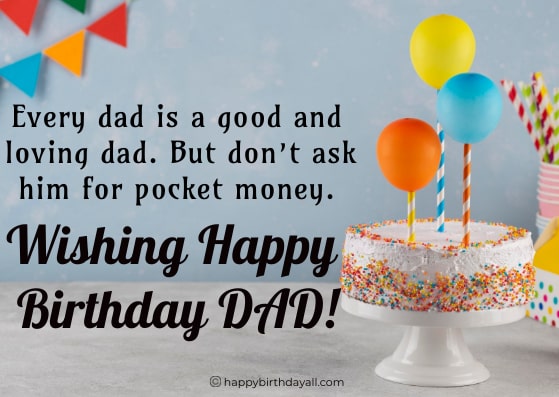 Dads have always serious business with their children, most of the times like a potato getting grilled in an oven. Wishing you happy birthday day!
Dads shout a lot because they are already frustrated with your mother and boss. So have mercy on your dad and bear with his shouts. Actually he loves you. Shouting on you is just another way of loving. Happy birthday dad!
The problem with dads is that they also want to see their sons becoming dad. And from that moment monkey business start. Wishing you happy birthday dad!
There is one thing common between all dads in this world; they all know how to cook a tasty omelette while rest of the food they order online. Wishing happy birthday dad!
Apart from office work dads love to plait their daughters' hairs. Some are really good and some are worst. Wishing happy birthday dad!
Dad is always your friend until you tell him your all secrets and he becomes your father. Wishing happy birthday dear dad!
Every dad is a good and loving dad. But don't ask him for pocket money. Wishing happy birthday dad!
Dads can do everything for their children. But if you don't get high and good grades in your school, they are always behind you. Wishing happy birthday dad! We love you.
Dads are the creature often with unexpressed love feelings for their children. But deep down in their heart a stream of love flows for each one of their children. But they don't express because dads couldn't weep. Wishing happy birthday dad! Loving you always.;
You May Also See: