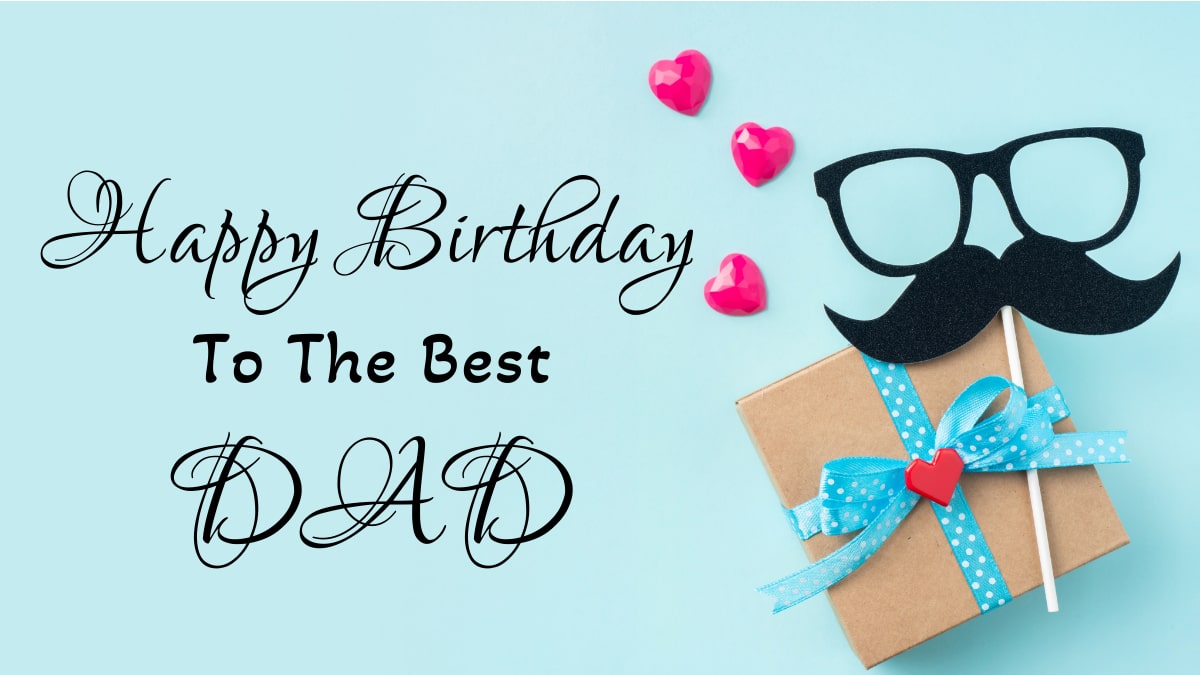 Happy Birthday Prayers for Father: Praying is one of the most serene ways to convey your hearty vibes and thoughts to God seamlessly. One of the most beautiful things about prayers is they have mostly been used to bring waves of good luck, happiness, and well-being in the lives of others. Moreover, sending some prayers on their birthday is a fine way to add divinity and spiritual vibes to the birthday celebration and make someone's special day extraordinary. You can't give much to your father but you can surely pour down heaps of blessings on him by sending happy birthday prayers for father and letting him know how deeply you care about his well-being, success, and happiness.
Best Birthday Prayers for Father
Dear father, you have sacrificed every dream, wish, and desire of your life to nurture your kids and make them fine human beings that you always want them to be. May god divine light and grace fulfill all your dreams and wishes. May you live a fulfilling life till the end. Happy birthday, dad!
There is no denying that God has given me the finest and the most accountable father in the world. You have sprinkled so many happiness and blessings in my life that even God couldn't have done that. I wholeheartedly thank god for making you, my father. Happy birthday father, and God bless you with all the richness and love.
Your greatness and humility as a father are inexplicable in words. You have always instilled the most profound values and ethics in your kids which we are very proud and grateful for. Thank you so much father for showering beyond imagination love and affection on me. May you have an ultra-successful, glorious, and prideful life ahead. Happy birthday to the man with a golden heart!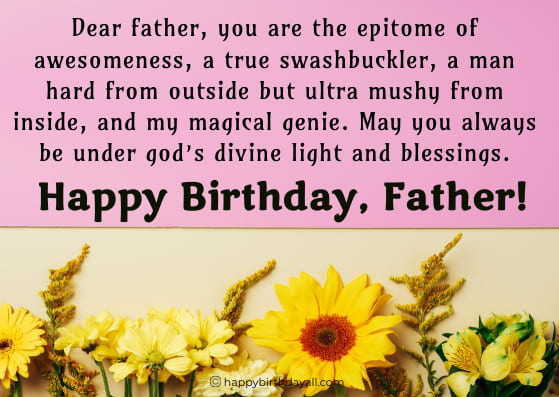 I am thankful to god for pouring down unimaginable and unexpected blessings at every moment of my life. However, I am more thankful towards my father for becoming the medium of those joy and blessings. May God bless you with a ridiculous amount of success and fame. Happy birthday to my handsome dad!
Hey daddy, it's your super big day and I want to tell you that you are an ideal man in every sense. You have been helpful to everyone, you have no rivals, your ambitions and achievements are laudable. May the almighty blessings be with you all day and life long. Happy birthday, God bless you!
Dear father, you are the epitome of awesomeness, a true swashbuckler, a man hard from outside but ultra mushy from inside, and my magical genie. May you always be under god's divine light and blessings. Happy birthday, father!
On this day, almighty showered the mightiest and the loveliest on this planet solely for me. It's my superhero's birthday and I pray the lord to keep my father in great health, physically and mentally till the end. Happy birthday to the most amazing father!
Dear father, You have done beyond your capacity to give your kids a comfortable and happening life. May God fulfill all your crumbled desires and give you strength and resources to live your life to the fullest. Happy birthday to my sweetest dad!
Also see: Birthday Wishes For Godfather
May God keep supplying unlimited courage and strength to my father so that he can continue to fulfill his duties in a proud manner. May you always have a reason to smile and a goal to smash and fulfill your destiny. Happy birthday to my proud father!
Dear dad, not only you are an exemplary father but also a fantastic human being. I want to thank the lord for giving me such a great father and accountable father, and I want to thank you dad for continuously showering the drops of happiness and grace on me. Heartiest birthday to my awesome father!
You are an honest, very determined and emotional man father. You have done everything for us. May a lot of prayers and blessings to you on your birthday! Happy birthday father!
I respect you as a man. I respect you in every way possible. I can't express how much I love you. Wishing happy birthday dear father!
May you always be fit and well! May you live your life as you want! I dearly wish that because you have lived your much life for others. Wishing happy birthday father!
May you always be at peace and rest father! May God give all the blessings and boons that you want! You have done so much service for others and for this world. Wishing happy birthday father!
I know father I haven't always obeyed you but I don't mean I don't respect you. You mean a lot to me. Giving you hugs and wishes on your birthday. Happy birthday father!
Also see: Happy Birthday Wishes For Grandfather
You are a man of honor and discipline. The discipline I have seen you I have never seen in any other man. Wishing happy birthday father! Love you!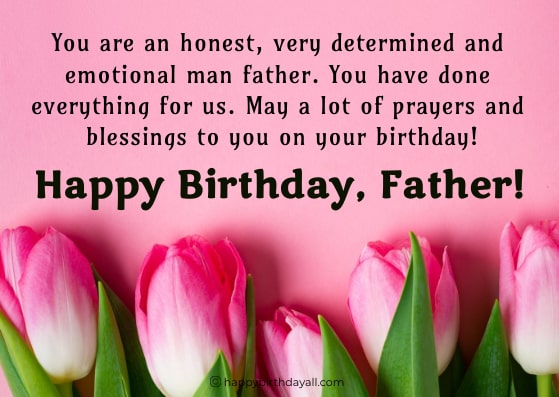 One day I make you proud father. You have done everything for us, not even an iota of thing you left that you haven't done. So much respect for you. I admire and adore you. Wishing happy birthday father!
Every night I pray my father will always be safe and sound. May no evil eye come towards you! May all bad storms not touch you! Wishing happy birthday dearest father! Love you!
I pray you live thousands of years because I want you always be with me. I wish may smile never go out from your face! My dearest father wishing you happy birthday! Thank you for all.
May every wealth and abundance you have that you ever wish for! May love always be in your destiny of your close ones! Wishing happy birthday dearest father! I love you.
You May Also See: