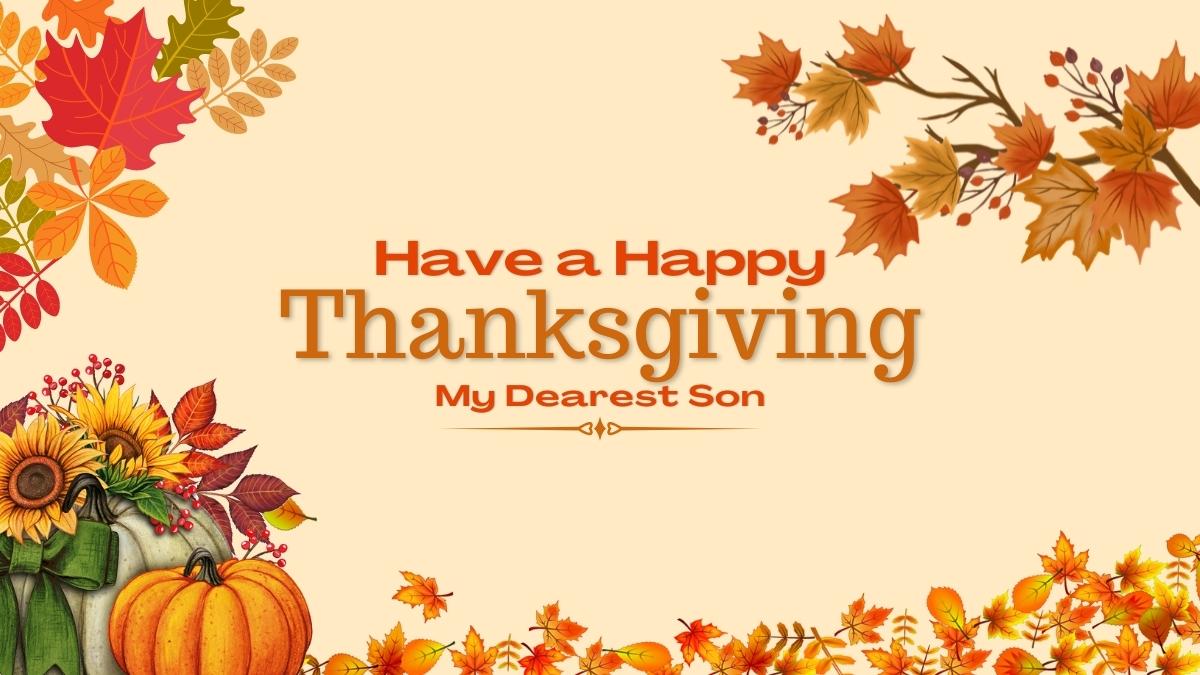 Happy Thanksgiving Wishes for Son: Thanksgiving is one of the most tranquil and unique holidays. It teaches you to be humble and grateful. At the same time, it teaches you to live the wonderful gift of life to the fullest and like there is no tomorrow. For parents, their son is the most precious blessing of god to them. And if your son is beloved, responsible, and obedient, you automatically got umpteen reasons to be grateful for on thanksgiving. This thanksgiving, surprise your son in the cutest possible way by sending him thanksgiving quotes for son that perfectly convey your feelings and love to your beloved kid effortlessly. You can also download thanksgiving wishes for son with images as well.
Happy Thanksgiving Greetings for Son
It's quite obvious to feel grateful when parents have such an obedient, responsible, and successful son like you. Happy Thanksgiving to my son who is really a gem of a person.
Happy Thanksgiving to my dearest son who has made my life so full of love, joy, and all the possible types of happiness. I'll be forever grateful to lord for endowing such an amazing son to me!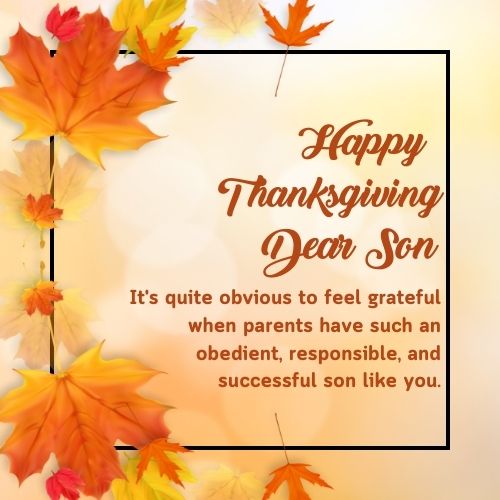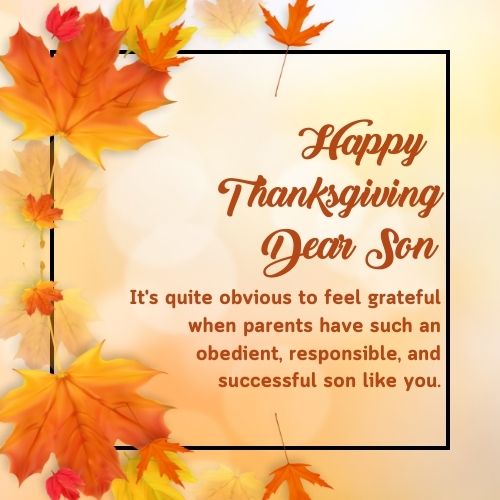 Happy Thanksgiving to my kid who enjoys turkey like a real gourmet! This Thanksgiving, may your heart be as satisfied as your stomach and your wallet be as fat as your grandmother!
Related Post: Religious Thanksgiving Messages
Sending the most touching greetings on Thanksgiving to a fantastic and fabulous son. You have fulfilled all my dreams and ambitions that I could ever imagine. God bless you my son!
Dear Son, Happy Thanksgiving to you with oodles of love and blessings. Even though I may not be setting a seat at the table for you this year, you can be sure that you will always hold a special place in my heart.
My dear son, may your turkey be juicy, your mashed potatoes be warm and sweet, and your heart be as big as this universe to help all needy ones! Happy thanksgiving son and may you have an unforgettable celebration!
Related Post: Thanksgiving Wishes for Friends
A wonderful and marvelous son like you deserves not only full of warmth happy Thanksgiving wishes but also tap on his back for taking the family legacy to the next level! We're very happy to have you as an indispensable part of the family!
We are grateful to lord on Thanksgiving and every other day of the year for giving us a son who is an epitome of sacrifice, love, and selflessness. Greetings on Thanksgiving to our wonderful kid who is the apple of our eyes.
This Thanksgiving, I'll be reflecting on all profound blessings I have in life, especially you, my son. I hope you have a mirthful and exuberant thanksgiving celebration.
Related Post: Happy Thanksgiving in Heaven Messages
You used to sit at my lap when you were a little runt, I can clearly remember. You now have a family of your own, and I know you are grateful to have them just as much as we have always been to have you. Dear Son, Happy Thanksgiving and be blessed!
Sending the most chunky greetings on thanksgiving to my beloved and ideal son. I want you to know that I've always been grateful to have you as my dearest son and I wish you achieve the pinnacle of success.
I wish my notorious but pure heart kid a happy Thanksgiving. Every day, you inspire me to be proud and thankful for the wonderful gift life has given to me in the form of you. Happy thanksgiving son!
Related Post: Funny Thanksgiving Dog Memes
Hey son, huge juicy turkeys, long night games, and big sleeps are traditional Thanksgiving fare. I hope you all enjoy these in heaps. Wishing happy thanksgiving to my lovely son!
I appreciate your laugh, spirit, generosity, and most of all, the man you've grown into. Simply said, I'm in awe of your development. Happy Thanksgiving to the best son ever!
Wishing a beautiful and cheerful thanksgiving to my pious and caring son. I appreciate the love, attention, and assistance you provide to your family and do whatever it takes to keep us happy.
Related Post: Funny Thanksgiving Turkey Jokes
I was aware that I would always have something to be grateful for when you were born. With the passage of time, my gratitude, love, and concern for you have grown by leaps and bounds. I hope you enjoy to the fullest on Thanksgiving, Son.
Hey son, How are you aware that it is Thanksgiving without knowing the date? when the kitchen is emitting scents of poultry! To get you in the mood for the big day, I just thought I'd send you a little dad joke. Happy thanksgiving to my amazing son.
My love for you is as simple and as delectable as a pumpkin pie. To a son who gives me so much to be thankful for and so much to be proud of, happy Thanksgiving and god bless you.
Related Post: Happy Thanksgiving Grandson Wishes
Words cannot perfectly describe my gratitude towards lord for having an extraordinary kid like you. I'm sending you my warmest wishes and the deepest love for this Thanksgiving and the upcoming days of your life.
Dear Son, we are more than enthralled to wish you a Happy and serene Thanksgiving! We have always been grateful to have you in our lives and we continuously pray for your success and prosperity.
I hope you get the final slice of pumpkin pie on Thanksgiving! Don't you think getting the last slice of pie is a victory in itself. Happy Thanksgiving son and may you have an unforgettable thanksgiving eve!