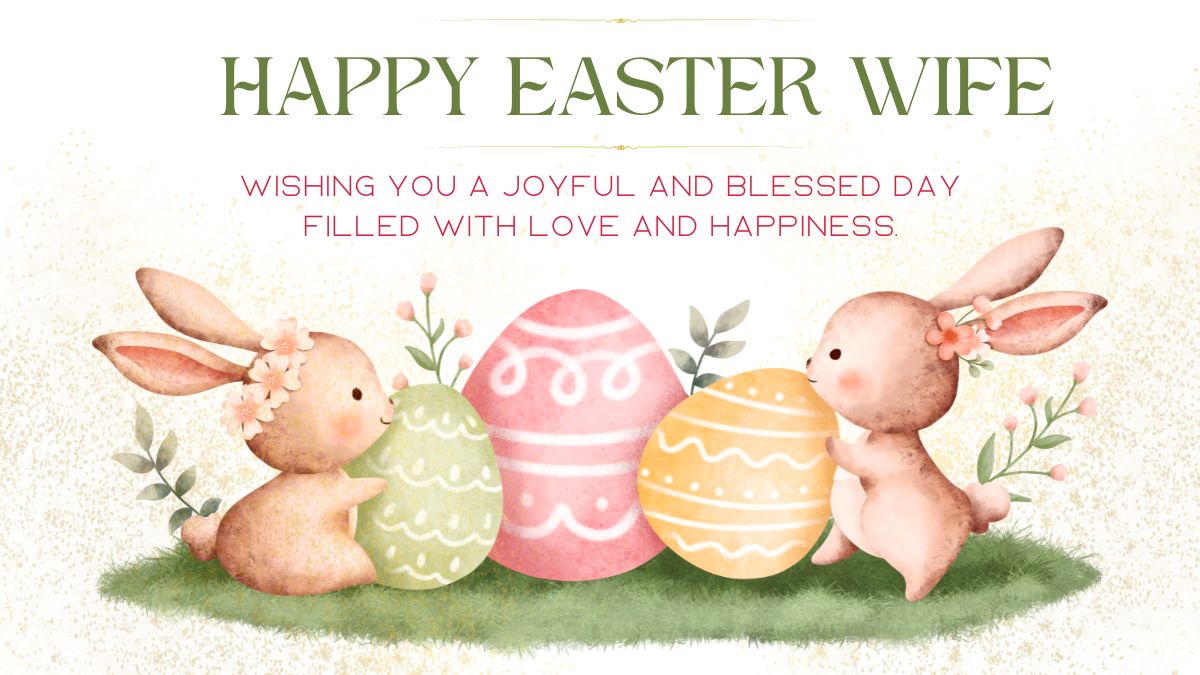 Easter Messages for My Wife: The arrival of spring season means the arrival of enticing Easter festival. Out of all people in your life, your wife is the one who do everything for your selflessly and ensure to blossom every aspect of your life. This Easter, let your wife know what's her value in your life by sending the loveliest happy Easter quotes for wife and the most romantic Easter wishes for wife that will excite her heart like nothing else and surely make her smile for a long time. Checkout romantic Easter messages for wife below and have a gobsmacking Easter celebration with your loved ones.
Happy Easter Quotes for Wife
To the most loving, amazing and faithful Wife in the whole world, Whenever I get a glimpse of you occasionally, I instantly travel back to the moment when I was so enthralled by your beauty and your pure heart and intentions. I adore you more than anyone else and am grateful for your presence in my life. Happy Easter to my wife!
Dear wife, the raw beauty of spring and the timeless charm of your personality are such a wonderful combo! Isn't it? To my sweeter than sugar Wife who is also my motivation, Happy Easter with oodles of love and your favorite chocolates!
Sending the warmest Greetings to my wife on the holy occasion of Easter. You are so damn familiar with both my positive and negative traits. You should thus be aware of my intense love for you and the fact that I don't take your affection for granted. Happy Easter wife!
On the zestful occasion of Easter, I want to express thankfulness to my gorgeous wife for making life so meaningful and vivacious. I know no sweeter woman than you! Happy Easter to my wife!
Hey my angel, You gave my life a completely new meaning just as Easter festival also commences the beginning of a new era. I appreciate all you done for me. Happy Easter to my beautiful wife!
Let's celebrate the joyous occasion of Easter together and give million thanks to God for bestowing such a lovely partner to me. Thank you for everything and happy Easter wife!
Dear wife, let's experience the pristine aspect of life, carve new dreams, and welcome the festival of Easter with zing. By the way, You already brought all of this into my life and turned each day into a holiday. Happy Easter, sweetheart.
The resurrection of Jesus Christ is the ultimate proof that good always triumph over evil and there is an afterlife beyond comprehension. Dear wife, You mean the whole world to me and your relentless efforts to make our home a heaven. Thank you, darling wife.
May the inevitable aroma and delectable taste of Easter cake fill our home along with the robust blessings of Jesus Christ and his glory of resurrection. I am more than thrilled to wish my super cute wife a very merry Easter!
To the woman who is also the undisputed queen of my heart, happy Easter wife, my life. During this charming season of fall, may almighty shower unconditional love, valor, and kindness on you.
To my drop-dead gorgeous wife, I genuinely hope that the heaps of Easter blessings you received last year reside in your life forever. May the blessings of Jesus always keeps you healthy, happy, and fine. To my lovely wife, Happy Easter and god bless you!
Dear wife, I just want to tell you that Every spring leaf carries God's blessing and resurrection promise. I hope you get the gist of this statement and live your life accordingly. Happy Easter to my gorgeous wife!
My beloved wife and perhaps the most loyal friend of my life, may the never ending joy of Easter fill our lives with sheer optimism, positivity, and all the heavenly pleasures. I wish Lord always keep us under his shadow and all the titillating memories of Easter get etched in our memories. Happy Easter to my beautiful wife!
If I am not wrong, god has once more showed a small glimpse of his unfathomable power on this auspicious day. He has risen from dead. I sincerely pray that the riveting bond of love happy Easter!
Dear wife, Let's rejoice today for being so prosperous and blissful all because Christ of the blessings of Jesus Christ. My faith in almighty and undeterred love for you will always be as strong as it is today. Happy Easter to the best and the sweetest wife ever!