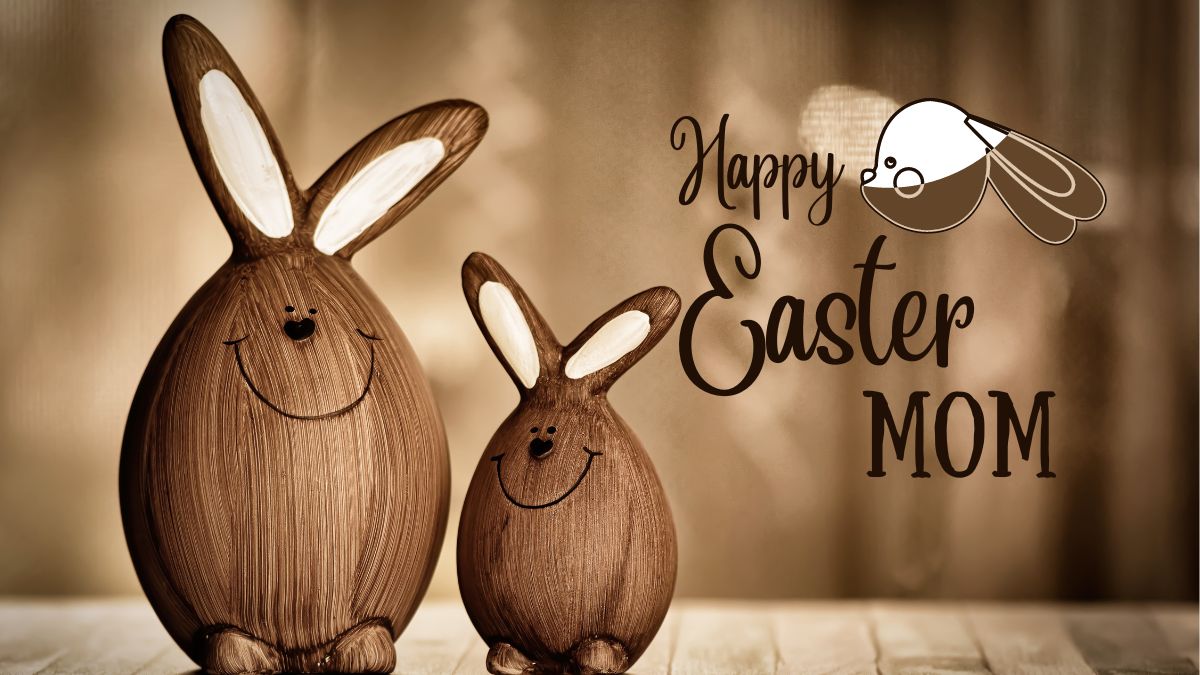 Easter Messages for Mom: Easter festival is on the cusp of arrival and if you haven't amped up your preparation game, you should do it right away. One of the essential rituals of Easter celebration is sending blissful and religious happy Easter wishes to your near and dear ones. A mother is no less than god for her kids. A mother works day in and day out to render the best upbringing and instill the finest values in her kids. She can compromise with everything but not love, pampering, and success of her kids. This Easter, move your mother completely by sending her the most touching Easter wishes for mother and Happy Easter mother quotes that will make her Easter celebration complete and memorable in every way.
Happy Easter Wishes for Mother
It's a sheer honor and immense delight to wish you a blessed Easter, the best mother in the world. May the immense joy and holy vibes of this day fill your heart with pure happiness and love. Happy Easter mom!
Happy Easter to the most wonderful and relentless mother in the world. Your love and upbringing are shining examples of what Easter actually represents and how a person should be in life.
My forever beautiful and lovely mother, this Easter, may you feel surrounded by the holiest blessings of almighty and outrageous love and peace. You deserve nothing but the best of everything in life, Mom. Wishing happy Easter to the best mother ever!
To the best Mom in the world, thank you a million times for being a constant source of inspiration, love, support and comfort. I hope this mirthful Easter brings you all the success, recognition, and joy you deserve. Happy Easter mom!
Happy Easter, Mom! You are the most refreshing and vibrant ray of sunshine in my life, and I am utterly grateful to you and almighty for coming to my life and making it seamless. From the bottom of my heart, happy Easter mother!
Dear mother, may this Easter brings you undying hope, inexhaustible happiness, and blessings of the whole world. You are my ideal and loved beyond measure by every member of family. Happy Easter to the sweetest mom ever!
Happy Easter to my Mom who is the unfathomable ocean of love, compassion, and kindness! Your love and benevolence is a gift to all who know you well. May you always be healthy, frisky, and growing in life!
My heart is shattering all possible boundaries while wishing you a fascinating and exuberant Easter, Mom. May the towering love of family and friends beauty every aspect of your life and may you run after your dreams like a free butterfly.
To the most amazing and incredibly ingenious mother in the world, happy Easter! You are loved and appreciated in the family more than words can express. God bless you now and forever!
Respected Mom, you are the biggest and the sweetest blessing in my life. May this overwhelming festival of Easter brings all the peace, opulence, and compassion you deserve from all.
To the cutest mother, I just want to express that your unwavering and unconditional love and support is a true testament to the spirit of this holiday. Happy Easter mom and May you continue to walk on the path of righteousness and greatness.
My beloved mom. wishing you a Easter full of preaching of almighty, the ultimate truth, and unconditional love of your dear ones. May you feel surrounded by love and happiness today and always.
To the most gorgeous and sagacious mom ever, thank you to the moon and back for always being there for me. I hope this Easter brings you peace and happiness in abundance.
Happy Easter to the most talented and intellectual mom in the world! Your zeal to make everyone smile, love and selflessness inspire me every day. May Jesus's divine light energize your life like nothing else!
To my beloved, selfless, and highly enthusiastic mother, happy Easter! May this auspicious day bring you much needed comfort, peace, and love in abundance. Don't forget to gobble your favorite Easter chocolate eggs!