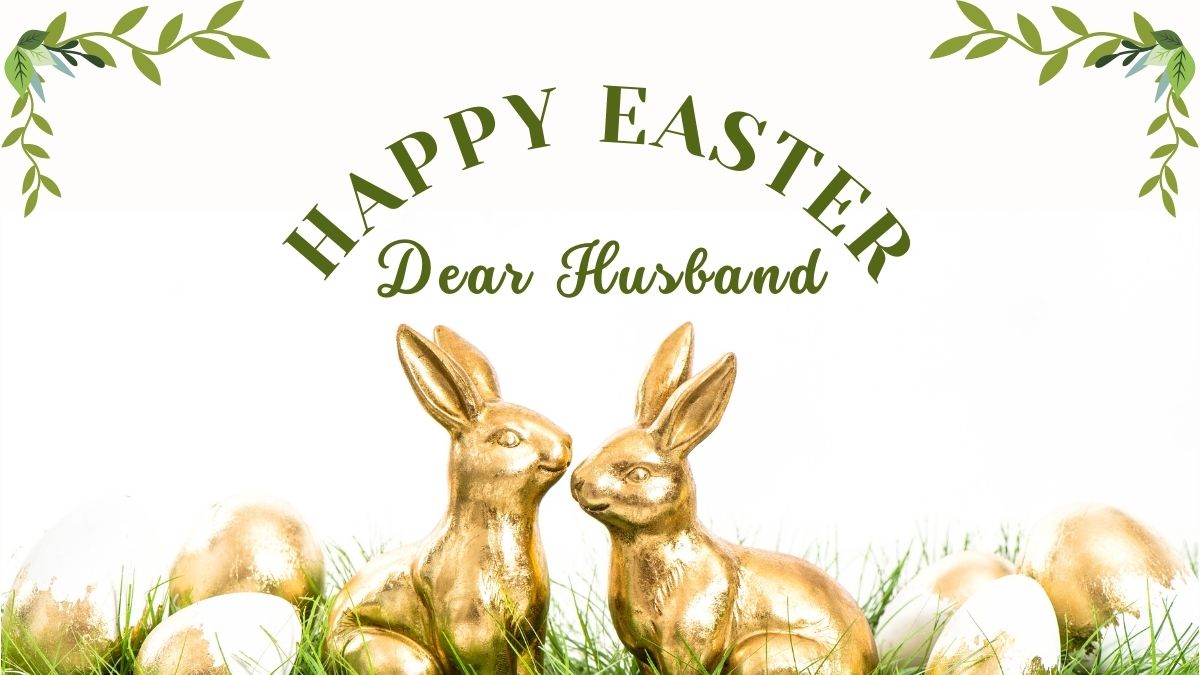 Happy Easter Husband Messages: Easter is just a couple of days away and we can already sense the excitement and holiness in the air. Easter is also the best time to express your love and thankfulness to people who really matter. And whose better than your adorable husband to Kick start Easter celebration by putting your heart via romantic Easter messages? Make your hubby go gaga for you by sending him the most romantic happy Easter wishes for husband and the warmest happy Easter Husband quotes that will surely make his day bewitching and memorable.
Happy Easter Messages for Husband
My joy knows no boundary while sending my lovey-dovey hubby loads of romantic Easter wishes a as we celebrate the soothing spring festival. My dear husband, Happy Easter and may lord protects you from all vicious things!
Dear husband, I sincerely hope you have the most exciting, memorable, and wonderful Easter celebration of all time this year. I am delighted to send you my best wishes for happiness, joy, success, and abundance. Happy Easter, my darling!
It is said that everything that lost its liveliness in the autumn will regain it in the soulful season of spring. Dear hubby, this Easter, may all your life long dreams come true and you don't have to face failure in life. Wishing happy Easter to my supporting and caring husband!
A very mirthful and zingy Easter to the most dashing husband who completes me and my life like nothing else. May you achieve greater heights in life and be stellar wherever you go. Happy Easter husband!
My sweet husband, I genuinely hope that the advent oif Easter morning brings you all the success you deserve and virtues that make you an exemplary man. Happy Easter to my forever sweetheart.
Dear sweet hubby, may this enticing Easter day be filled with all the holiest things and the sweetest surprises that will make you genuinely happy within. Believe in the glory of lord and happy Easter husband!
Let Easter work miracles in our lives by delivering us everything we've been looking for and dreaming of. I am more than excited to send lovely Easter wishes to my forever better half! May almighty keeps us united till my last breath!
Hey hubby, this Easter, let's commemorate the resurrection of Jesus Christ and the beginning of the new phase of our relationship. May we continue to trust and love each other blindly. Happy Easter, husband.
This Easter, dear spouse, may you faith in Jesus consolidates and you believe in the power of almighty. Happy Easter sweetheart and let's savor every moment of Easter celebration!
You are exactly the kind of husband I always imagined myself having. You have a talent for transforming "over easy" into a delicious feast that only the two of us can enjoy. You understand that I'm not exaggerating! Easter greetings!
Sending the classiest greetings and unconditional love on Easter to my adorable husband because of whom my life is better. I still adore you today.
I would like to find you in an Easter egg hunt than simply some random plastic egg with some stuff inside of it. I'm so happy to know you're the real deal! Greetings on Easter, my husband!
Happy Easter to my Mr perfect and a dream man!. May the pious and potent vibes of Easter festival bless our marriage and keep us forever cheerful!
Happy Easter to the most protective and the most helpful husband! You are the perfect man I could possibly ask for! I genuinely wish that as time passes, our love becomes exemplary and inspiration for others! Let's marinate in divine Easter vibes!
To my beloved and beyond perfect hubby, I wish we continue to celebrate this Easter and the rest of upcoming Easter festivals together with utmost peppiness . Together, let's pray and enjoy the best moments of our lives. Happy Easter husband!
On the soulful occasion of Easter, for the rest of our lives together, I promise you're my darling to be a caring wife and a the kind of life partner you always wanted to have! Wishing happy Easter to my dream man!
Without a bit of a doubt, I am the luckiest and happiest girl in the world as i have you as my lifelong companion who is king by heart! You are one in a billion and once in a lifetime companion! Happy Easter to my lovely husband!
Merry Easter to my forever dapper and charming sweetheart! You take such amazing care of me and shower oodles of affection and pampering that no one can do! May God continue to bless our enticing partnership!
To my forever darling hubby, May the mirthful occasion of Easter bring uncountable worth cherishing and wonderful moments in our life and life-transforming opportunities as well. My dearly mushy husband, happy Easter.
Hey husband, I'm hoping that this year Easter festival will encourage us to focus more on our relationship less on the trivial and materialistic things of this world. Happy Easter to my beloved husband. May our dwindling relationships rise again like Christ!