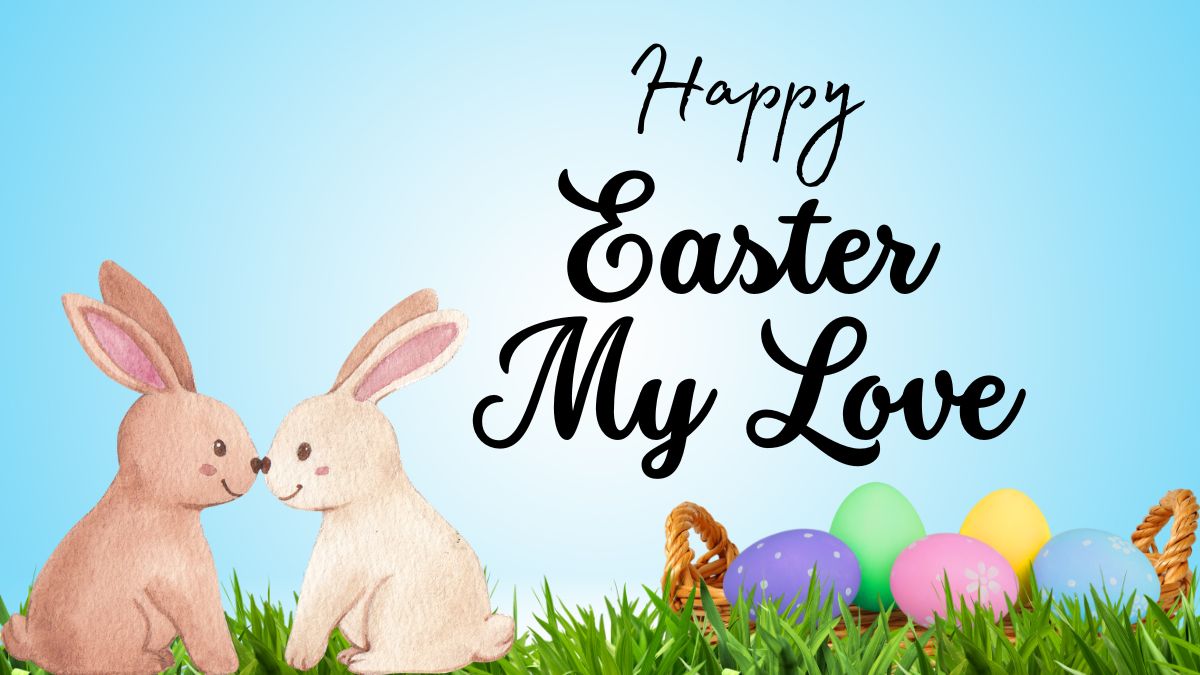 Happy Easter Girlfriend Wishes: Easter is not only the festival of expressing gratitude to almighty but also the occasion of expressing love to your loved ones explicitly. Don't waste this Easter opportunity to open up your heart in front of your beautiful girlfriend and send her the most delightful, religious, and romantic easter wishes for girlfriend that we have stated below. She will literally shed tears as well as jump out of excitement after receiving these beautiful happy easter quotes for her.
Happy Easter Messages for Girlfriend
Dear sweetheart, This priceless and wonderful gift of life was given by Lord to you to savor joy and love, and preach his message everywhere . Let us celebrate the Lord's resurrection with utmost holiness and cheer. Happy Easter girlfriend!
Hey girlfriend, Let the unfathomable and inexhaustible love of Jesus marinate our life with truth, holiness, and sheer joy. Happy Easter, my love! May our love remain intact like the love of almighty for us!
Love is all about giving everything to other and receiving beyond your measure. Let's be thankful and generous with our love and happiness in life because of almighty on this blessed Easter holiday. Happy Easter to the best girlfriend ever!
My beautiful girlfriend, Together, let's pray for the well-being of each other and thank lord for everything good we have in life. I hope you have the happiest Easter ever. Happy Easter to my forever sweetheart!
If I am not wrong, Easter is fundamentally about expressing thankfulness and giving back to society. I want you to know how significant you are to me on this day. I hope you have the most memorable Easter celebration, my dear.
On the soulful and auspicious occasion of Easter, I'm enthralled to sending you oodles of love, joy, and laughter. My dear girlfriend, I hope you have the most stellar and Zingy Easter celebration. Happy Easter girlfriend and stay blessed!
Hey my love, In my big Easter basket packed with all the sweet things, you are the most delectable Easter Chocolate egg. You have my undying love and loyalty till my last breath. Together, let's rejoice at this holy and rare occasion. Happy Easter to my love!.
Hey babe, it's high time to rejoice and celebrate this glorious and glittering festival of Easter because the Lord has risen from the dead and humanity will achieve peace once again. May you experience love, peace, and joy. Happy Easter, my friend.
Every single day, I give a billion thanks to God for bringing you into my life and make it more meaningful and joyous, sweetheart! To my wonderful girlfriend ever, Happy Easter!
Hey love, I genuinely pray that God bless you with impeccable health, bolstered faith, joy, and unimaginable love in the forthcoming year. Happy Easter to my stunning sweetheart!
Happy Easter to my girlfriend who taught me the true meaning of benevolence, thankfulness, and sharing! Being able to spend this imperative day with you by my side makes me the happiest person in the world. You are the best gift of cosmos to me.
Happy Easter to my drop dead gorgeous and utterly kind sweetheart! You are the most precious gift from God to me, and I am honored to be your better half. I cherish you till my last breath and happy Easter girlfriend!
The swoon worthy festival of Easter makes me think of all the alluring things in life like love, hope, and peace, and in your soothing company, happiness and love grow. Happy Easter and let's have a thrilling and enticing option!
To the most endearing person in my life, All I want on this mirthful Easter for us to be each other's unshakable support and be madly in love with each other forever! Happy Easter to the most beautiful girlfriend ever!
My sweetie pie, you are the only person in this existence whom I want to cherish the most in my little life, and I hope our wonderful relationship just gets sweeter, jollier, and stronger as time goes on. Happy Easter to my drop dead stunning girlfriend!
Heaps of Love, prayers, and blessings to the only sweetheart of my life on happy Easter. May our relationship continue to thrive by leaps and bounds,and bring us peace, cheer, and opulence we deserve!
May we always be full of gratitude and never forget how important Easter is and continue to celebrate it with immense pleasure and reverence. Happy Easter girlfriend and may Lord bestows me ridiculous strength to make your world heavenly!