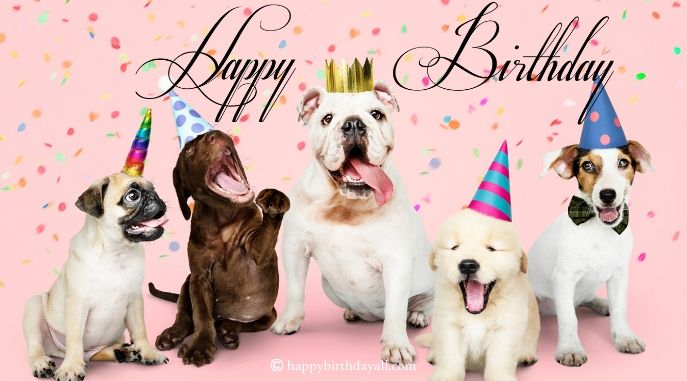 Birthday Wishes for Dog: As there is no companion loyal and loving than a dog, we are more than elated to present a awesome collection of happy birthday wishes for dogs with pictures. If you go back in time, you will find that dogs have always been men's best friend and a watchful protector also. From hunting to surveillance, a dog stands by side of its owner unflinchingly and follows him like a shadow everywhere. We, humans, have forgotten how to love each other unconditionally, however, time and time again, dogs remind us that love is the foremost thing needed to survive by showering unconditional love on us.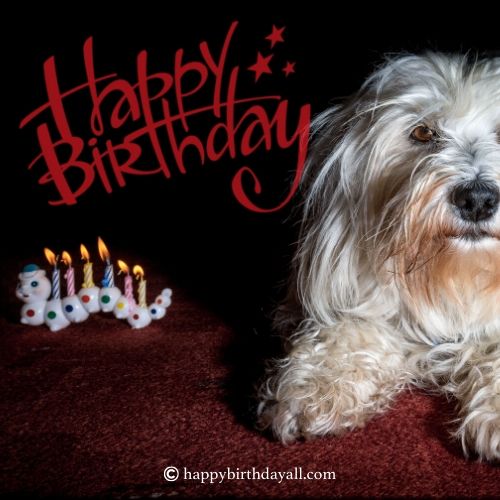 They cuddle with you, they keep your mood high, they protect you from external threats and the list of things a dog does from its owner endless. Can't you even celebrate your favorite pet's birthday by cutting a cake and writing happy birthday wishes for dog for your lovely and furry little creature? Though dogs can't read your written words, they are equally good as humans in reading emotions. On your dog's birthday, make him feels like you are blessed to have him in life by showering innumerable happiness and posting cute happy birthday wishes for dogs with pictures on social media platforms. For your convenience, we have compiled a mesmerizing collection of birthday wishes for dogs with images that will perfectly showcase how much you love your dog.
Cute Birthday Wishes for a Dog with Images
If happiness had a face, it would be 4 paws and a wagging tail. Happiest birthday to the cutest dog in the world.
Happiest birthday to my sweet dog! You are the one who taught me how to love someone without any expectations and conditions in return.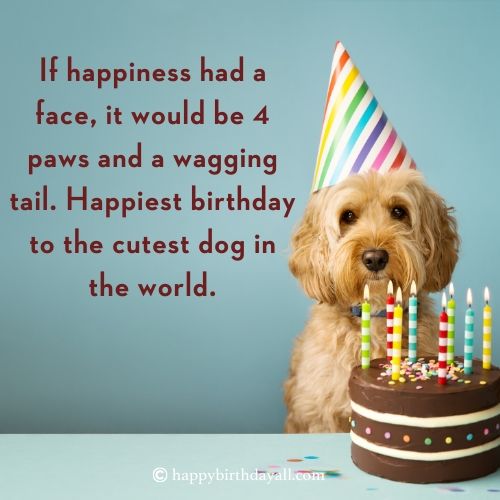 Happy birthday my little furball! You are the one who taught me how to love someone unconditionally without expecting anything in return.
It's my best bud's birthday today! Wishing you a super pawsome and howling happy birthday, doggo!
It's so heart-warming to have a fluffy and cute doggo like you. You are beats of my heart and the love of my life. Happy birthday Woof Woof!
I know you may not understand the words, ''Happy birthday'' exactly but we've always had this connection and you seem to understand me.
Since the day you came to my life, I have never felt loneliness and anxiety. Thank you my little fur toy for filling love in my life. Happy birthday, doggo!
A big shout out to my wonderful dog for making my life truly fabulous! Happy 1st birthday, little Dog.
The most exciting thing about you is, whenever I see your happy face, I get super happy too. Love you my little bundle of happiness and happy birthday!
It's so heart-touching to have a cute doggie like you. You are the love of my life and beats my heart. Happy birthday!
Though you can't understand my language, you can understand my feelings better than most of the human beings. I love you so much my little mushy puppy. Happy birthday, doggo!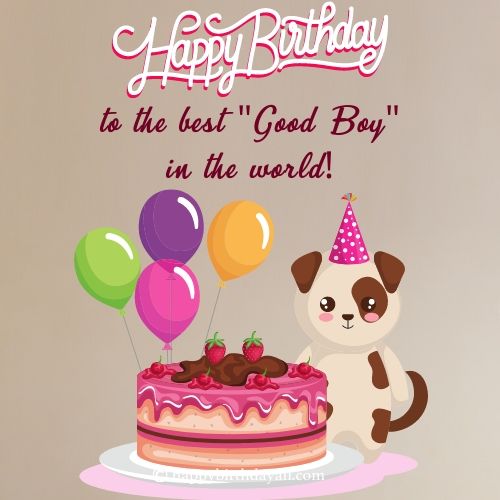 With you, each day seems magical, full of love, and happiness. You can make me smile even on the gloomiest day with your cute puppy face. Happy birthday my cute doggo, my life.
Happy birthday to my four-pawed pal who never fails to cheer me up and put a smile on my face. The happiness you bring to my heart is limitless.
You made my house a home. Your mere presence and wagging tail can make laugh like crazy. And your face lick of mine is absolute love. Happy birthday my best buddy!
Happy birthday! Another year older! Another year more wonderful. Your birthday is nature's way of telling me to shower you with extra pampering. And of course you can count on me to do just that!
You are the first being on the earth who can give me a great therapy merely by wagging tail and licking my face for hours. Happy birthday to the cutest dog in the world!
The most amazing thing about you is how you make me smile anytime I feel down. You are a cool buddy and I just want to say have a birthday with plenty of your favorite bones.
Can't you believe it? My doggo has a girlfriend but I don't. I am gonna invite all the doggies of the neighborhood for the biggest woof party of the year. Happy birthday buddy!
Happy birthday to the most tender-hearted pup ever to exist! I hope you know how loved you are on your birthday, my dear puppy!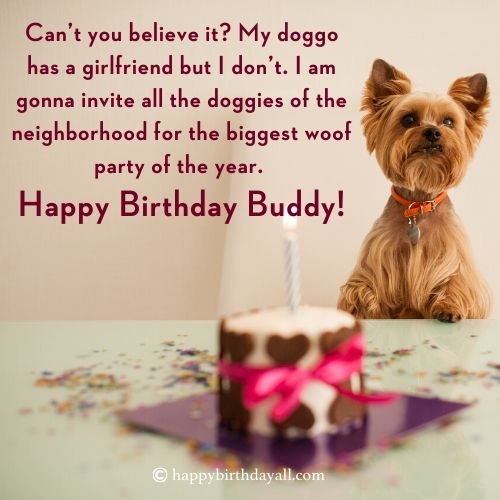 Also see: Happy Birthday Funny Images
Cute Happy Birthday Messages for Dogs
Who needs an alarm when your doggo's barking does the perfect job of waking you up? Thank you for being such a wonderful buddy. Happy birthday to the cutest dog in the world.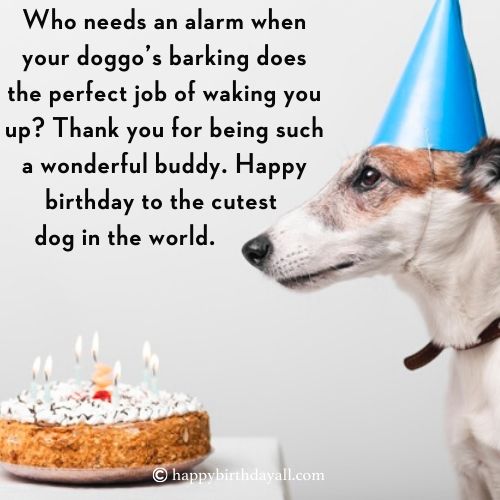 Playing with you makes my dull day full of vivaciousness and happiness. Squabbling with you is the biggest therapy for the depression for me. I love you, my friend with 4 little paws. Happy birthday!
Today being your birthday, I know what will please that canine lust of yours. Meat, meat and a lot of meat!
I have never seen a human being loving someone unconditionally. But I have all the dogs loving their owners unconditionally and immeasurably. Thank you doggo for teaching me the meaning of real love. Happy birthday.
The key difference between a man being a friend and a dog being a friend is, a man can point out shortcomings in you but a dog won't. Happy birthday my fur buddy and thank you for being my best friend.
Today is such a scintillating day for me as it's the birthday of my best friend, my loveliest doggo. I already took an off from the work to celebrate your special day.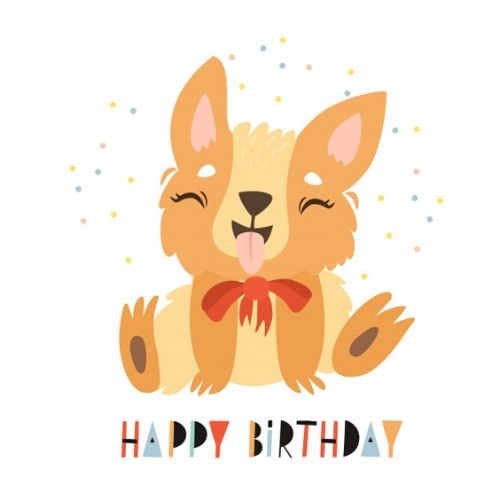 Where most of the human beings find solace in other humans, I find happiness and soothing vibes in your vibrant presence. You are a perfect pack of naughtiness and jolliness. Happy birthday, doggo!
You love licking my face and I love petting your head. This is what I love to do when I don't have anything to do. I don't need anyone when you are with me. Happiest birthday to the mushiest doggy.
Hey doggo, how do you came to know every time when I am about to arrive? I am pretty sure you have some kind of alarm system within you that alerts you in advance. Happy birthday to the cutest dog on the planet.
You are the only being in my life who hasn't judged me at all. That's why I love you more than anything else in the world. Be ready to cut your favorite cake with your little paws.
I have seen humans fighting each other and not patching up because of their egos. But I have never seen a dog fighting with its owner ever. Dogs are the perfect companions in every sense. I am lucky to have you in my life. Happy birthday little furball.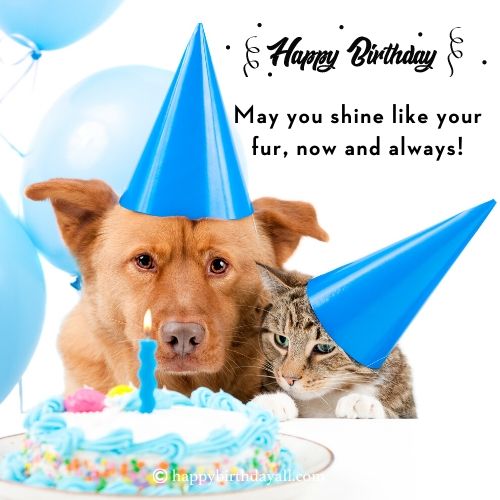 Also see: Funny Birthday Wishes for Brother
Lovely Happy Birthday Quotes for Dogs
Who says a dog is only a pet? For me, you are a soul who is as beautiful as any human being on this planet. Happy birthday my wonderful buddy.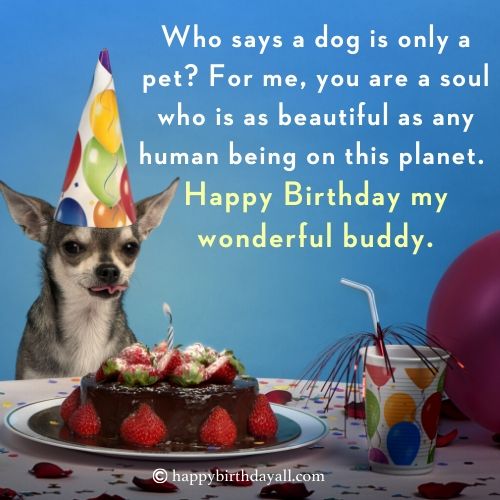 Not only you have showered unconditional love on me when I needed someone badly but also you have protected our home from trespassers innumerable time. Happy birthday to the most loyal friend of a human being.
On your birthday, I am making a scrumptious meat hot dog from my lovely dog. Though every day is no less than a celebration for you, today is even more special. Happy birthday!
During my most terrible times, I only look up to you for comfort and warmth. Your mere presence is the biggest stress buster for me and your happy smiling face is heart-tugging. Happy birthday, love!
I firmly believe dogs are the harbingers for love and cuteness sent by the lord to comfort human beings during their most distressing time. You are an indispensable part of my life. Happy birthday, doggo!
The moment I step into the house after a long hard day, you jump on me to greet in the most cheerful way. You make me forget about life's trials and tribulations. Happy birthday to the cutest roommate.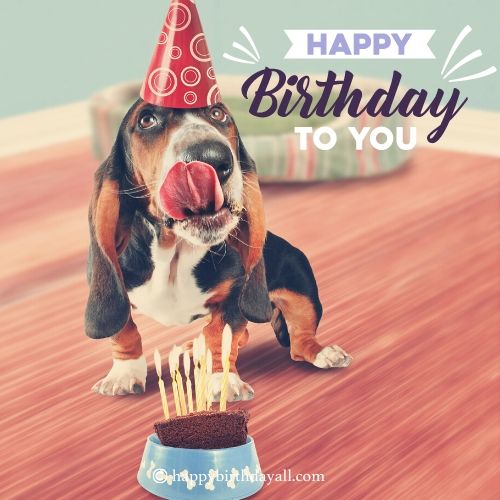 It's been 3 years since I brought you in my life and things have become better by leaps and bounds. Dogs are not just animals, they are an inexhaustible source of love energy. Happy birthday to the best friend of human beings.
The key reason why dogs are the best companions of human beings is that they have unwavering qualities of loyalty, love, and persistence. I am blessed to have the mushiest and the best cuddler in my life. Happy birthday!
Often I get lost in your puppy eyes, get engaged in playing with your wagging tail, and pamper you for hours. Is there anything that is not lovable about you? Have a wonderful birthday, my buddy!
If a dog loves man, he is a good man. If a man loves a dog, he is a good man. Happy birthday to the best cuddler of all time.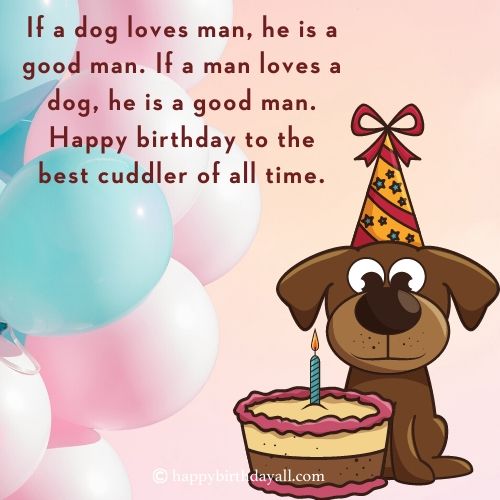 Also see: Birthday Wishes for Sister
Happy Birthday Wishes for a Friend's Dog
Sending the most genuine, loving, and fluffy birthday wishes to the cutest dog in the world.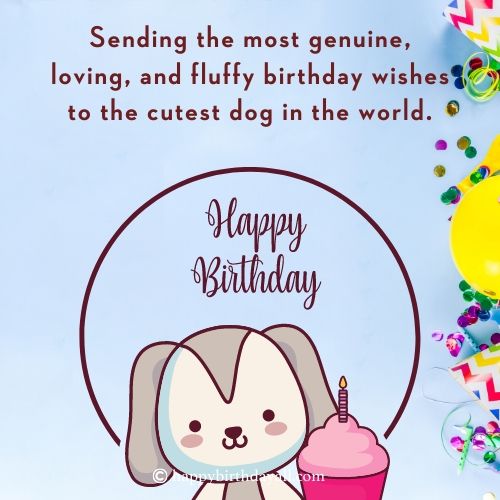 I am more than happy to hear that it's your fur ball's birthday. I vaguely remember we both brought him to your house together. How about throwing only dogs' birthday party for him?
My friend, you are so lucky to have a dog in your life. Having a dog means you have a 24/7 source of love, fascination, and entanglement. Say happy birthday to your dog on my behalf!
It's your dog's birthday and he should be allowed to create as much mess as you can. After all, that's what dogs love to do when they are set free.
When I look into your dog's eyes, I don't see just an animal, I see a beautiful soul bubbling with life and unconditional love for human begins. Happy birthday!
Wishing a fur-bulous day to the happiest dog I have ever seen. I just can't get off from your cute face.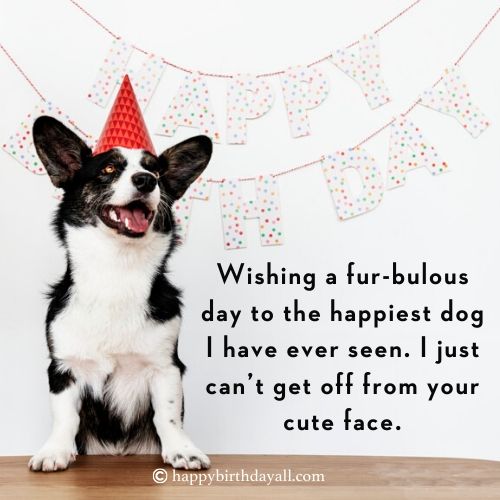 Who wants to Netflix and chill when you have a dog to play and cuddle with thought the day? I wish a fascinating birthday to your cute dog.
I have yet to figure out how dogs manage to shower unconditional love on humans but humans don't show a bit of emotion to them. Happy birthday to the greatest lover in the world!
Before having you, my life, especially weekends, used to be quite boring. Your arrival has injected liveliness in my life and you have taught me numerous qualities that every human being must-have. Happy birthday, doggo, my best buddy!
We, humans, celebrate a birthday by cutting a cake. You will also get to celebrate birthday by cutting a cake made up of your favorite food – Pedigree. Happy birthday my mushy boy.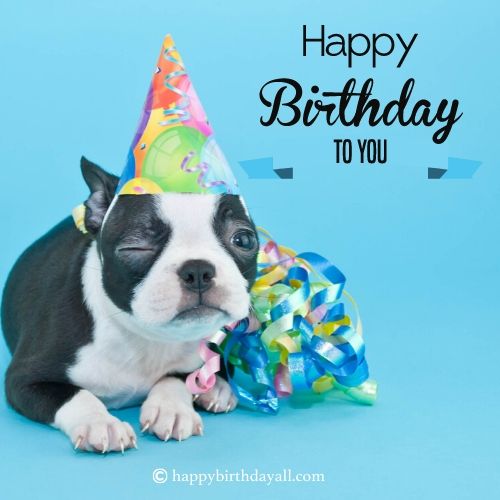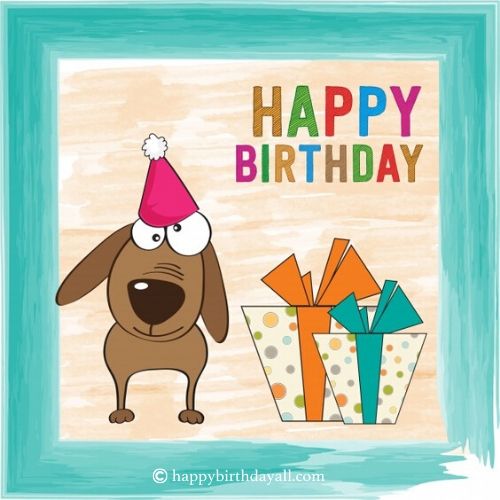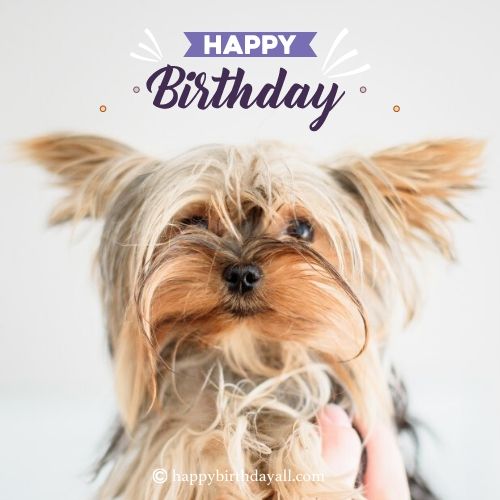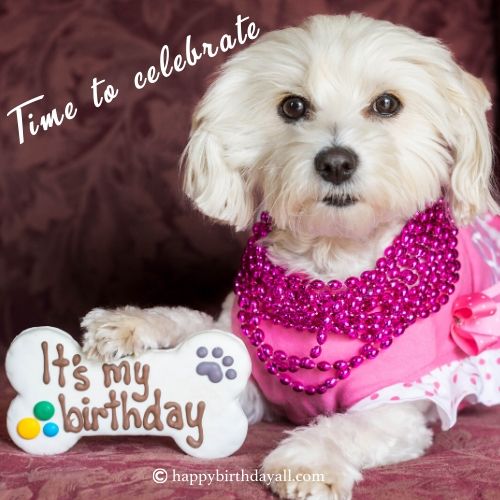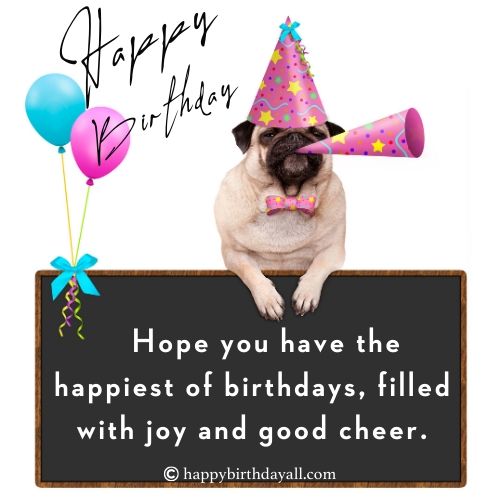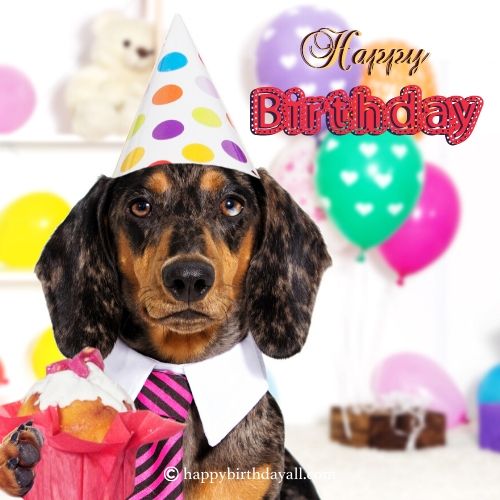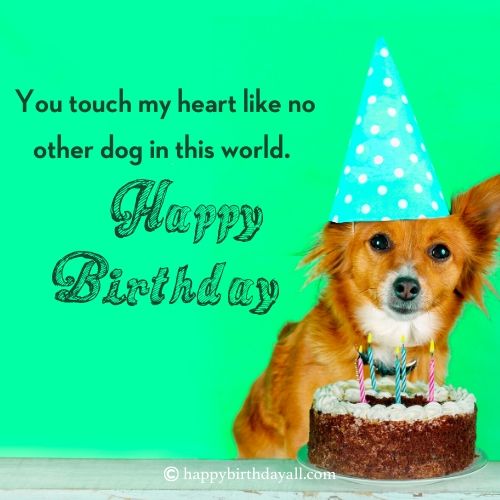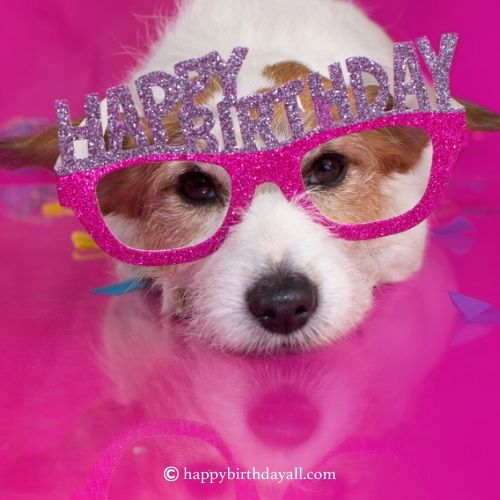 Did you like the above stated happy birthday wishes for dogs with pictures? If yes, then spread happiness to other people by sharing them as much as you can. We humans can express our emotions through various languages. But dogs can express themselves only through the language of love. Care for your little pawsome friend as much as you can, show him that humans are not bad either by little acts of love and kindness. Remember, we don't own the planet. We co-exist with animals. They deserve as much of earth resources as we do. The only way to achieve world peace is by extending our circle of compassion to all the living beings on this planet.