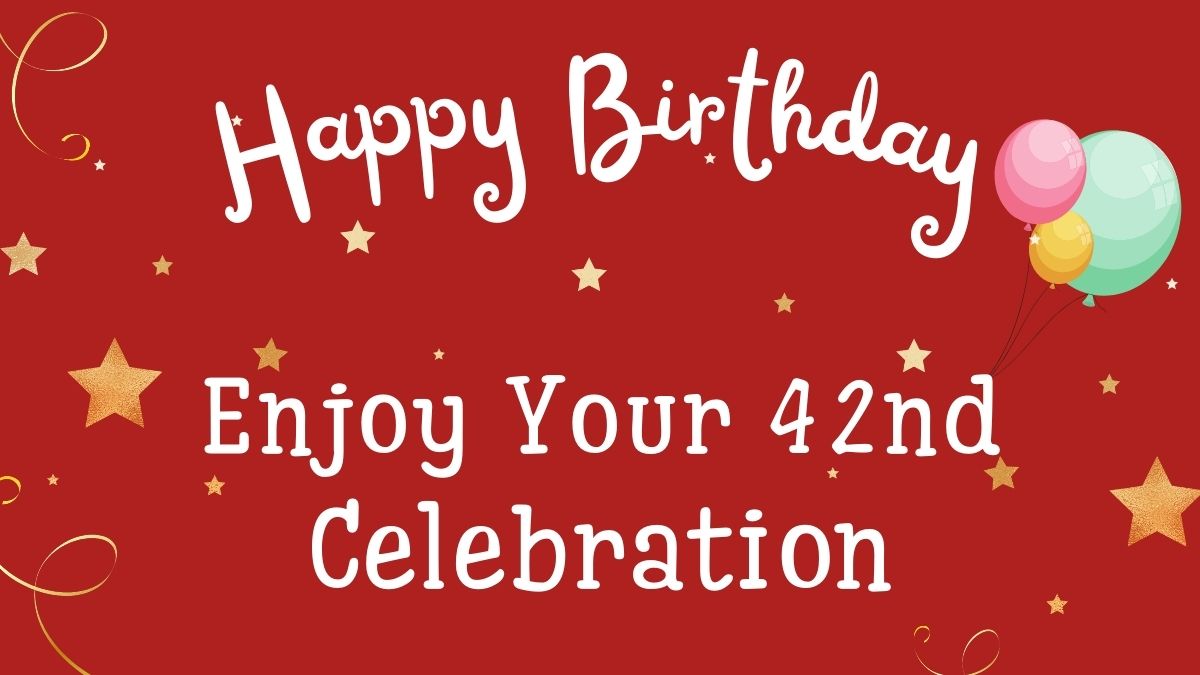 Happy 42nd Birthday Wishes: Living in your early forties is like locking horns with big aspirations and challenges of life. Probably, at the 42nd level of your life, you are mostly surrounded with aspirations to make big in life, the nurturing of your kids, mid-life crisis, some physical problems, and debts as well. However, when the love and unconditional support of your friends and family members are with you, no challenge or problem seems gargantuan enough. Happy 42nd birthday is not some big milestone but it needs to be celebrated as well. Here is an adorable compilation of happy 42nd birthday wishes and quotes that are worth sending to anyone celebrating his or her 42nd birthday.
Happy 42nd Birthday Wishes
Hey daddy, how does it feel like to be in your early forties along with your constant companions like credit card bills, debt, tilted back, and fair fall? Don't worry forties are the new thirties. Happy 42nd birthday to the coolest and the most supporting dad!
Dear friend, 42 is not the right age to flirt with girls, perform nasty adventurous sports, and use dating apps like tinder. Get back on the right track or else your wife will bring a catastrophe in your life. Jokes apart, happy 42nd birthday to my loveliest friend!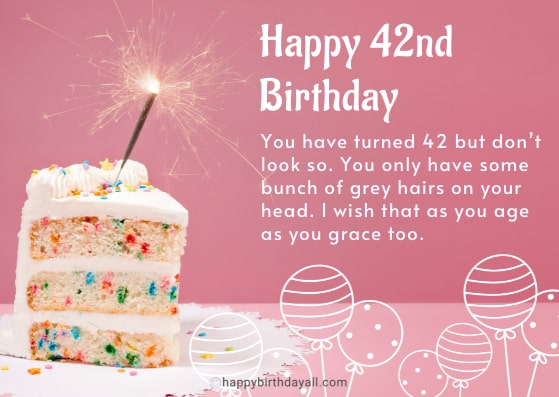 My lovely brother, 42 is the kind of age when you think you have seen the most facades of life but you have yet to experience the best and the worst. May you live long enough to fulfill all your dreams and experience the most beautiful pleasures. Happy 42nd birthday, my bro!
May you have such a thumping and sumptuous 42nd birthday celebration that all the people in their early forties become jealous of your zestfulness to live and celebrate life!
Dear sister, you have turned 42 yet you look no more than a 24 year old girl brimming with beauty and excitement. May you remain forever in good health and continue to smash goals after goals. Happy 42nd birthday to the most wonderful sister ever!
Wishing happy 42nd birthday to my amazing friend! You have turned 42 but don't look so. You only have some bunch of grey hairs on your head. I wish that as you age as you grace too.
Happy 42nd birthday to my good and beautiful friend! You have become a fine wine to which everyone wants to drink. As one ages then it feels time is passing. Pretty nice feeling it is but pretty old too. May you always have rocking life never to be disturbed mundane moods!
Wishing happy 42nd birthday to my love! You still look young, only some strands of grey hairs coming before your eyes that also beautifying you. As you are aging, I am falling in love more with you. May your beauty never die with your age!
Happy 42nd birthday to my closet friend! I don't say you have become old because in your young days you were already old always absorbed in books. But you have best life now with everything you wanted. May your all desires come real!
Happy 42nd birthday to most amazing woman in the world and best friend! You have always been best in everything. So experienced you have become and talented you already are. You have got so much success. I pray you always have peace of mind.
Also see: Birthday Wishes for Big Brother
42nd Birthday Quotes
Hey brother, I can understand that getting old sucks a lot no matter how well you have maintained yourself. However, what keeps you alive and youthful is your passion for something that you would love to do till you die. Wishing a joyous 42nd birthday to my forever dashing brother!
Birthday, be it 42nd or 82nd, should be celebrated with so much vibrancy and enthusiasm that even an old man begins to feel young when marinated in the birthday vibes. Happy birthday to the most vivacious and the coolest 42 years old.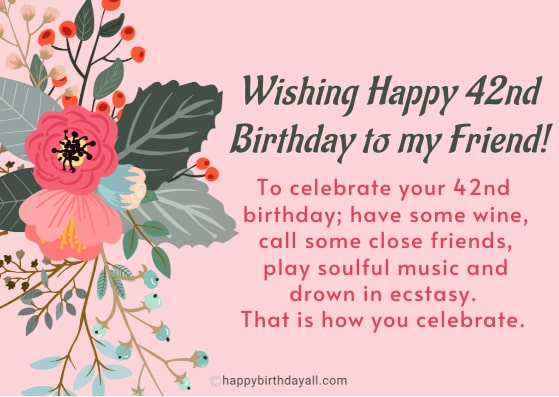 Dear brother, I am and will be forever grateful to God for giving me such a fantastic brother who keeps raising the bar for everyone and taking the family's legacy a notch higher every single day. Happy 42nd birthday to the sweetest brother ever!
It's high time for you, my lovely friend, to stop hiding your wrinkles and pimples and start embracing the natural things that come with aging. I am damn sure you will love all your birthday presents, especially mine. Happy 42nd birthday, buddy!
It is indeed a colossal achievement to spend 42 summers, winters, springs, and autumns with your baby brother and watches him grow into an utter and thorough gentleman. I am super proud of you and happy 42nd birthday!
Don't see your 42nd birthday as 42. See it like you have turned seven years old and gone to your childhood to visit those memories of purity and exaltation. It is only perspective my friend how you see things. Wishing happy 42nd birthday!
Every year of birthday is the accumulation of every year of experience. Some things you let go and something you learn and earn. That's why we celebrate birthday to pass and thank each year gracefully. Happy 42nd birthday to you!
To celebrate your 42nd birthday; have some wine, call some close friends, play soulful music and drown in ecstasy. That is how you celebrate. Wishing happy 42nd birthday to my dearest friend!
Just remember at whatever age you go whether 42, 50 and 60 or even 90; you never forget to blow candles on your birthday and celebrate it. Wishing happy 42nd birthday to you darling!
Every birthday has phase. Your 42nd birthday is about triggering your romance again. While not getting worried in regrets and mistakes, while to celebrate what you have now at this stage of your life. Wishing happy 42nd birthday to you.
Also see: Birthday wishes for Someone Special
Happy 42nd Birthday Messages
Life never gets better or easier with each passing birthday. It's the accumulation of your wisdom and experience over the years that evolves you to compete with unexpected challenges of life. Happy 42nd birthday to my best buddy!
Hey brother, I must say you are aging like the finest wine in the world. The way you have carried yourself, personally and professionally, over the years is commendable. May you conquer all the mountains and have a cheerful 42nd birthday celebration!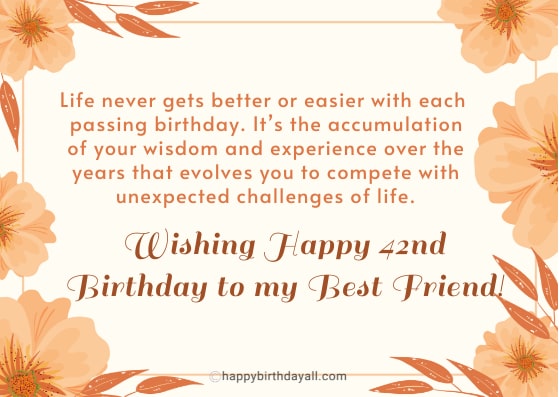 I cannot state in words how blissful I am feeling right now to see my son entering the 42nd level of his life. You have always made me proud and delivered more than expectations. You are the finest son a mother could ever have. Happy 42nd birthday and may you experience the ever-lasting joy of life!
Sending the loveliest, warmest, and the cutest happy 42nd birthday wishes to my forever stunning sister. I genuinely wish all your life-long dreams come true this year and may you retain your charm and bubbly nature till the end.
On your joyous 42nd birthday, I badly want to tell you how I feel about you. When it comes to professionalism, you are terrific. When it is about personal life, you are so caring. And when it comes to giving love, you are unrivaled. Happy 42nd birthday, father.
Happy 42nd birthday to you! Last year we celebrated your 41 and so quickly your 42 has come. You are getting old quickly or your days are getting short. You have lived wonderfully and I wish may you always. Hugs and blessing to you.
Wishing happiest 42nd birthday to sweetest person! So emotional you are and sometimes I think might hurt you. With all my heart I want to say to you, you are kindest, helping and nicest. You are truly a best example of man as written in books. May blessings always pour on you!
Happy 42nd birthday to most adventurous personality! You are never afraid of anything and always love to face challenges in life. Strong you are mentally and physically even at this age. You are so inspiring. May you always be strongest!
Love can happen at any stage of life. Love even can happen at this age. So rather than worrying about what is right and wrong, fall in love again and sprinkle your world with roses. Wishing happy 42nd birthday my dear! May you find ways in love lanes again!
Sometimes you only have to submit to what comes to you. Don't think it should be like this or that while accept it. Because you don't know what is good for you in long run. What is best for you, delivered to you by this Universe. Wishing happy 42nd birthday to my innocent friend!