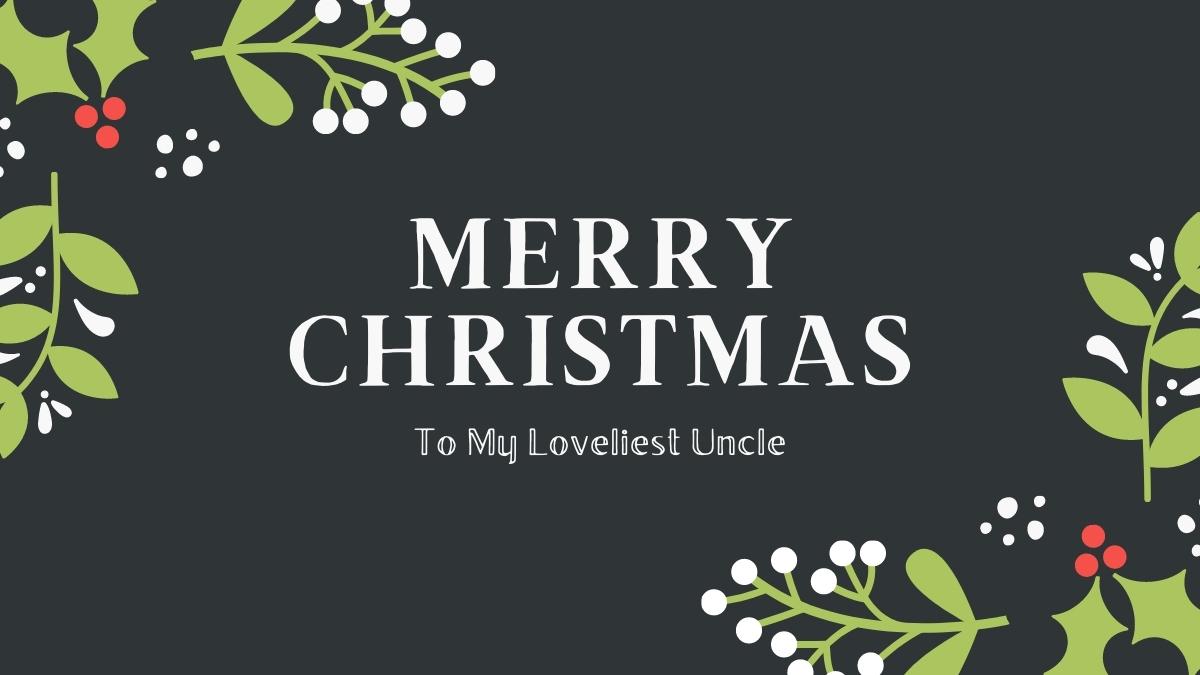 Christmas Messages for Uncle: Fathers may or may not be fun to be around but uncles are the sheer bundle of joy and quirkiness. When your uncle is as fun loving and jovial as you are, your every festival celebration including Christmas is bound to be memorable, mesmerizing, and magnificent. This Christmas, shower heaps of love on your amazing uncle and tell him how lucky you are to have him in life by sending heart touching merry Christmas messages for uncle and Christmas quotes for uncle that will add waves of excitement and joy in his life. Moreover, sending greetings will definitely consolidate your uncle-nephew bond!
Merry Christmas Wishes for Uncle
Being a kid is so much fun when someone has a great and frenzy uncle like you. Every time I see you uncle, I feel like I am more than blessed and going to have a lot of fun on Christmas! Merry Christmas uncle and Happy Holidays!
My loveliest Uncle , I hope you get umpteen alluring and life-changing opportunities and make the most meaningful relationships this Christmas. I love you uncle and I wish you a happy Christmas!
During the Christmas holidays, I prefer and love to spend time with the people who mean the most to me and you are the one uncle who matters the most. I wish my dearest uncle and his wonderful family a very Merry Christmas!
Merry Christmas and Happy Holidays to the jolliest uncle ever! I am terribly missing you this Christmas because this is the first time you are not with me on Christmas! My Uncle, have a great Christmas holiday with your near and dear ones!
Sending the warmest and the heartiest Christmas greetings  to the most endearing uncle and his jovial family. I genuinely wish uncle your Christmas holidays are filled with fun times, cherishing memories, and oodles of my love!
My father like uncle, you always make me smile, laugh, and feel warm and fuzzy all the time. You shower so much happiness in my life that even thinking about you makes me smile and miss you more. I appreciate you just being you only and not try to anyone else! Happy Christmas to the best uncle in the world!
Hey uncle, I genuinely thought about purchasing you a memorable Christmas present. Then I forgot about it and bought something incredible stuff for myself with that money. I am pretty sure you can manage to celebrate this Christmas without my gift! Merry Christmas uncle!
Throughout this Christmas holiday season, I wish you do as much charity as you can, shower love and and affection, and experience the wonderful gift of life only luck ones get. Happy Holidays and merry Christmas to my forever jolly Uncle!
Without your noteworthy presence in my not so happening life, my Christmas holidays wouldn't be the same uncle. You make my life more glittering, frisky, and never let me feel the absence of my father. I love you uncle and wish merry Christmas to you!
Merry Christmas to the most notorious uncle ever! Don't forget to share my heartiest Christmas wishes with your lovely family. I am still waiting for my Christmas gifts and chocolates!
Trimming the Christmas tree, carol singing, gift-wrapping, and cookie and cake baking. During the Christmas holidays, we do everything together and that's the best Christmas gift for me! I'd want to wish my uncle and his incredible family a very Merry Christmas!
Who says you can't enjoy Christmas holidays by yourself? You can but there would be no fun because family makes everything special. The best part of the holiday is spending time with family and weaving beautiful memories for the future! Merry Christmas uncle and thank you for everything!
Dearest uncle, you deserve everything fantastic, opulence, and everything you have desired till yet on this mesmerizing Christmas holiday season! I am more than delighted to wish merry Christmas to my lovely uncle!
On outrageously frolic Christmas season, I wish my pious and dedicated uncle a joyous and vibrant Christmas. May God provide you impeccable health, timeless fame, and ridiculous amount of wealth.
Warmest Christmas greetings to my forever dashing uncle who has always been the an integral part of all my ups and downs, and the forever companion during Christmas celebration. To the moon and back, I love you and merry Christmas uncle once again.
Because I have a really cool and awesome uncle, I am also becoming like you. Girls are also attracting towards me all because of your effective advice. Jokes apart,  Warmest regards to my amazing uncle and aunt. I wish you have the best Christmas celebration of all time!
As long as you are with us to celebrate Christmas, nothing can stop us from making the Christmas celebration hell of an affair. You add so much energy to the surroundings. Merry Christmas to my super energetic uncle!
Hey uncle, your presence in my life is no less than a father. You have guided me on every step and I wish you continue to do so in the future. I wish a merry Christmas to the most wonderful uncle in the world!
Hey uncle, I hope you don't beat the hell out of Santa Claus this Christmas like you did last year. Just focus on your beer and apple pies. Merry Christmas to you in advance.
I feel more than pleased to send merry Christmas wishes to my sweetest uncle whose voice is more melodious than the entire jingle bell song. May Jesus keep showering his grace on you!
The years will come and go but the way your welcome and celebrate the Christmas festival will remain the same; beer in one hand and karaoke in another hand. Merry Christmas to my awesome uncle!
No one sings jingle bell better than you, no one makes Christmas cake better than you, no one injects happiness in any festival better than you. Merry Christmas to the friskiest uncle ever!
Like you take care of me like your own child, I want you to take care of your health so that I can celebrate the Christmas festival with you for years. God bless you Uncle and merry Christmas!
Since my childhood you are my hero. I wish you happy Christmas uncle. Be in the love of Good!
You are an awesome and cool man uncle. I envy you. You are the most lovable member of our family. May you be forever loved uncle! Happy Christmas!
Uncle, you have faith and belief in me whenever I was going down. May you never lose faith and belief in yourself! With God's love Merry Christmas to you!
Christmas festival is the best time to go all blazing guns and no one is better than you my uncle in doing that. I wish you the most exciting and remarkable Christmas festival celebration, my lovely uncle!
To the most beloved and quirkiest uncle in the world, may the charming festival of Christmas brings a lot of titillating, barnstorming, and swash-buckling vibes in your life. Merry Christmas Uncle!
A festival is celebrated with those who are an indispensable part of your life. I am happy to say that after my parents, you are the most pivotal person in my life. Merry Christmas to my dashing uncle!
Dear Uncle, I know I won't be able to make out to celebrate Christmas with you and your family this year but your love, blessings, and warmth will surely reach me. Merry Christmas, my lovely uncle!
To my loveliest uncle, the love you have given to me and the nurturing you have done to me cannot be repaid. May the holiest festival of Christmas bring outrageous joy and immense peace to your life. Merry Christmas uncle!