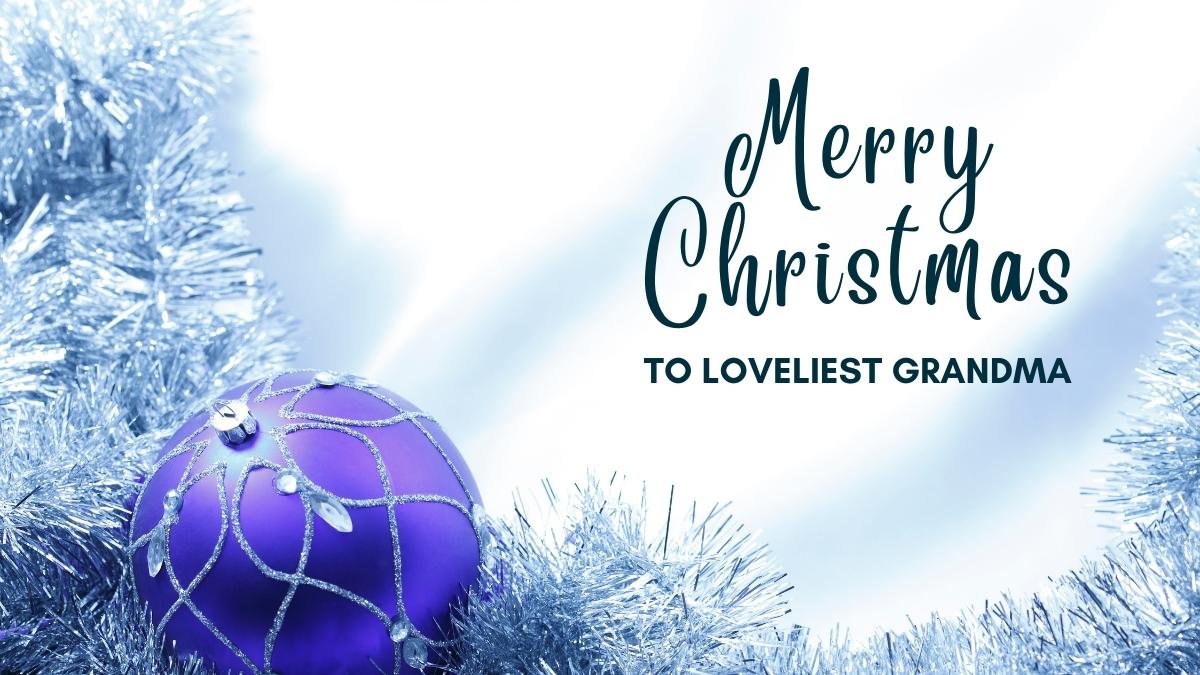 Christmas Messages for Grandmother: No one pampers and spoils kids like grandmothers. They shower double motherly love on kids and create with them some of the most beautiful memories of the Christmas festival and their lives. Moreover, kids also love to spend most of their with grandparents instead of parents because grandparents tell them enchanting stories, make favorite cuisines, and go for long walks with them. Christmas is an exemplary time for grandkids to make their grandmother feel on top of the world by sending her touching Christmas messages for grandma and the Best Christmas quotes for grandmother that will fill her Christmas festival with immense glitter and delight.
Merry Christmas Wishes for Grandma
Happy holidays and merry Christmas to the woman who has my utmost respect, immense love, and undying affection. I've always known that I can count on you whenever I need someone to share anything! Merry Christmas grandma!
Dear grandma, everything positive and good you do will be returned to you a multitude of times! Sending the warmest and the friskiest Christmas greetings to my forever beautiful Grandma!
Hey grandma, there is something extremely important that I always want you to know. Christmas festivals will come and go; my respect and love for you. Happy Holidays and merry Christmas, Grandma!
I want Santa and all the angels of the heaven to bring the sweetest and the forever young grandma in the world heaps of happiness and impeccable health. Merry Christmas grandmother and eat cookies to your heart content.
Dear Grandmother, I am thankful to you from the bottom of my heart for making each Christmas celebration of mine utterly exciting, splending, remarkable, and special for me. Merry Christmas to you and may you always be in a great physical condition.
Hey grandmother, More than scrumptious cookies and cakes, I love your pampering. I cherish you more than the swanky gift you shower on me. Even though I can't even begin to express how much you mean to me, let me just say that you are worth a billion times more to me than any present under the Christmas tree. Merry Christmas grandma and god bless you!
My super energetic grandma, may your Christmas be filled with joy you have never experienced before! Grandma, merry Christmas and have a memorable celebration with family!
I will always be grateful to you, grandma, for showering love and affection that are no less than divine. You are the most sagacious and benevolent person I have ever know! Happy Christmas to the best grandmother in the world!
I've always thought you're a remarkable woman, my true role model. I've always said you are the kindest woman ever. I've always said that you are the passionate human being I have ever seen. I am blessed to have a Grandma like you. Merry Christmas!
Happy Holidays and merry Christmas to the most alluring and notorious Grandma! I wish you Christmas season be filled with pure joy and lots of hot chocolate and your favorite cookies!
Good morning and happy Christmas to the world's most stunning Grandma. This holiday season, may the love of your friends and family hug you like an old cozy sweater.
To a wonderful grandmother and an exemplary woman, merry Christmas with oodles of love and blessings. I hope this season brings you everything subtle and the warmth fo your loved ones. Grandma, you are the real deal.
Happy Holidays and merry Christmas to my amazing grandma and the real fighter. During this Christmas holiday season, your love and affection are more significant than the most valuable diamond.
Merry Christmas to my forever quriky and dazzling Grandma! Our all the past years Christmas memories are the only ones I want to cherish. Sending you my best regards, good luck, and the lifetime of happiness.
Spending time with my godly grandma is one of my most soothing and delighting feelings in the world! Merry Christmas to my mushy and super talkitive grandmother!
Totally mine and as sweet as pie. You are my grandmother, and you are unique in numerous ways! Merry Christmas grandmother!
Dear grandmother, I have a few things to say that I should have gotten off my chest a long time ago. Your love is the only thing I crave in this barbaric world. Merry Christmas to the sweetest Grandma ever!
You have shown us how much we value our families through your love and care. We are stronger now as a result of your generosity and words, both as an individual and as a group. Grandma, we always and during Christmas love you!
Happy Holidays and merry Christmas to the most awesome grandma ever! Wishing you a Christmas holiday season that is as jovial and bright as your attitude, Grandmother. May you never experience illness and happiness always be your constant companion.
My timeless beauty Grandmother, we have carved some of the most mesmerizing and splendid memories of Christmas together like baking cookies, drinking cocoa, distributing gifts, etc. Let's create more pleasant and warm memories this Christmas. Merry Christmas grandmother!
You are the biggest and the most enriched Christmas tree of our family. May you remain healthy and intact till the last breath. Merry Christmas, my sweet grandma!
Even when the Christmas festival is over, we all grandchildren find ourselves wrapped in the tingling Christmas vibes because of you, grandma. May you live long enough to make us feel special every Christmas. Merry Christmas, grandma!
We don't crave exorbitant gifts, cakes, or blingy decorations on Christmas. We crave your pure and divine love that makes our Christmas celebration literally astonishing. I love you grandmother and happy Christmas!
Though you barely have enough money to treat your grandchildren well on Christmas, yet you always leave no stone unturned to make Christmas swanky and magnificent for us. We all adore your fervor to celebrate festivals perfectly. Merry Christmas, grandma!
To my mushy grandmother, may the serene and soulful festival of Christmas keep your inner flame alive and fill your life with the gleam and love of your grandchildren. Merry Christmas to my wonderful grandma!
I had the most astonishing memories of the Christmas festivals with you. A variety of delectable sweets, sipping hot chocolates, stalking decked out Christmas trees, decorating our house, and dancing till we drop. May your Christmas be super cozy and full of worth-cherishing memories!
You are sweeter than Christmas cake, holier than Christmas prayers, lovelier than Santa Claus, and the queen of my heart. Merry Christmas, lovely grandmother!
You are the person with whom I never have to seek wisdom and regular guidance somewhere else. You are the powerhouse of our one big family. Merry Christmas and love you forever!
Love you grandmother. You are always my favorite person. I can't live without you. May you forever keep smiling! Wishing you awesome happy Christmas!
You are an idol for me grandmother. You have raised me up. I didn't have mother but I have you. May no even a single droplet of tear come in your eyes! Happiest Christmas!
You never shouted on me. You have always explained me well everything and instilled in me good values. Dear grandmother you are most amazing woman in my life. Happy Christmas!
You never get tired grandmother. Even in this age you look still young. You are my modern grandmother. Wishing you all the love and happy Christmas!
You are a business woman, mother and my grandmother. You have played every role well. You have always spread love in my life. May in your life always be the love of rain forever be from your dear ones! Happy Christmas!
The real strength is about holding on. You are like that grandmother. You are beautiful and dutiful. Wishing you happy Christmas! May you always be healthy!
Your voice is so sweet and calm grandmother. When you speak it brings peace to me. Love you. Enjoy Christmas well and with mirth. Happy Christmas!