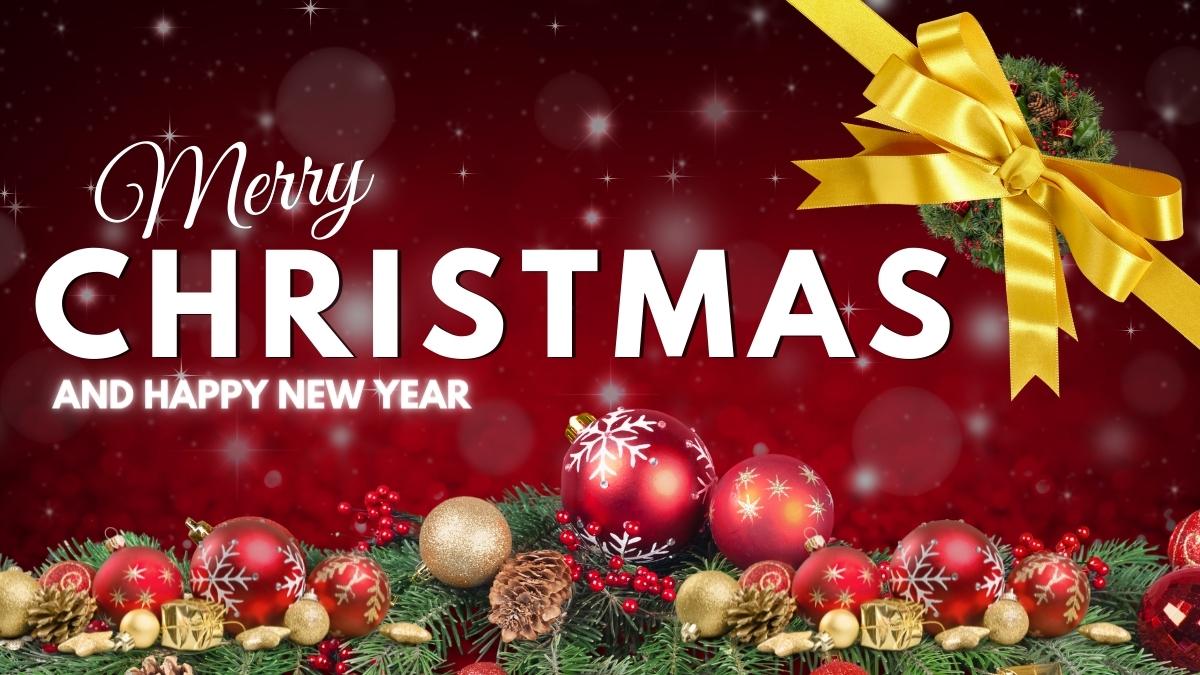 Christmas Messages for Employees: An organization needs literally two things to become a juggernaut in the business realm: a cool and visionary boss, and a team of passionate employees who can turn the impossible into possible. Your employees are your biggest and perhaps the most valuable asset. Treat them with respect, nurture them timely, and provide them with growth, and they will help you to grow your business beyond your wildest dreams. Christmas is on the verge of arrival and your employees deserve to be greeted and get a bonus along with the Christmas holidays as a token of appreciation. To woo your employees and greet them nicely on Christmas, we have jotted down professional Christmas messages for employees and Christmas wishes for staff that will do the job of greeting your valuable employees a happy Christmas perfectly along with announcing bonuses and holidays.
Best Christmas Messages for Employees
May Santa shower you with good fortune , amazing skills and hefty bonus this Christmas holiday season. I wish you and your family a wonderful and unforgettable Christmas celebration. Have a wonderful Christmas festival with your loved ones!
Thank you to everyone of our star employees for your priceless contributions to the immense growth of this organization. May this holiday season bring you and your loved ones outrageous joy and happiness. Have a fantastic New Year's Eve and be safe!
The company is more than thrilled to extend its warmest Christmas greetings to you and your family. Thank you for your dedication and hard work toward our common goals. Unplug, relax, and enjoy a calm Christmas season with your lovely family members. Best wishes for the season.
Our organization is more than blessed to have such a remarkable and dedicated professional individuals. Thank you for all of your hard work and countless hours of overtime, and have a wonderful Christmas holiday season.
For the past couple of years, you all have been excellent coworkers and an unbeatable collective unit. I am aware of it and appreciate your efforts. You all deserve a break, and I hope to see you all completely energized after the Christmas holidays. Merry Christmas and Happy Holidays to all my dexterous employees.
Merry Christmas to all the zestful employees of this prestigious organization! May you all have the restful holiday season you deserve. I genuinely appreciate your tireless efforts for sky-rocketing growth this year.
Our organization is really fortunate to have such a dedicated and pumped up workforce as you guys are. Thank you for all of your efforts and hard work this year. I want to wish you and your family a very Merry Christmas.
To all the valuable employees, thank you so much for your persistence and hard work this year. We couldn't have met so many goals without your commitment, skills, and hard work. Warmest Christmas greetings to everyone!
Working with knowledgeable and passionate people like you makes coming to work exciting as hell. Thank you for all of your efforts and contribution to achieve this year goals. We wish you a very Merry Christmas and a prosperous New Year to your and your family members!
We feel more than honored to extend our sincerest Christmas wishes along with a temptive bonus for a festive and joyous Christmas to our incredible team. Have a safe and joyous Christmas celebration!
We'd like to express our heartfelt appreciation for your dedication and unshakable commitment to the organization and wish you all a Merry Christmas. Eagerly looking forward to see you guys after Christmas holidays!
Dear employees, your dedication and fine work ethics are greatly appreciated, and we are more than delighted to wish you all a peaceful and joyous Christmas with your family and friends. God bless you all and don't forget to collect bonus and gift hampers!
The quality of work you all have provided to us till yet is unmatched and praise-worthy. If all the organizations of the world had employees like you, the world would have been a utopia. Merry Christmas to all the marvelous employees of this organization!
May your Christmas holiday be packed with zingy and heart-tugging moments. May you have the gobsmacking Christmas celebration with all your family members and friends!
There is no home without family members. So as there is no company without good and dedicated employees. Wishing you all happy Christmas!
On such an auspicious occasion, we would like to send grateful Christmas wishes to all our hard-working and cool employees for being such a massive inspiration. Your work ethics and loyalty are widely appreciated!
Sending full of warmth, respect, and blissful merry Christmas wishes to the most diligent, dedicated, and loyal employees ever. May the divine festival of Christmas bring unimaginable success and happiness in your lives!
You guys have given performance beyond our expectations and imagination this year. With such a dazzling yearly performance, I would love to give all of you a performance bonus and blessings with Christmas wishes!
Merry Christmas Wishes for Employees
May the dazzling Christmas spirit bring you peace , happiness as well as all the success you deserve and desire. I'm looking forward to another amazing year of working with you. Merry Christmas to the best employees ever!
May the sparkling Christmas lights fill you and your family lives with utmost positive energy and light. Enjoy your time with your family and live life to the fullest. Merry Christmas to everyone!
I wish you all a great and sumptuous Christmas season full of laughter and new memories with people who matters the most as you decorate the Christmas tree and eat your favourite holiday dishes. Merry Christmas employees!
Respected employees, your perseverance, passion and commitment have contributed significantly to the development of our organization. Your firm faith in the vision of this company is second to none. I am more than pleased to wish all my employees a Merry Christmas filled with relishing moments.
Dear employees, I wish you growth, tranquility, and happiness this Christmas season. Christmas is a time to celebrate and be thanks for people we care about, and I hope you have something to be thankful for this year.
Best wishes for a Merry Christmas and a Happy New Year to the most fantastic and hard working staff in the world! May you all enjoy a well-deserved Christmas break and come back with more zing.
Congratulations to all the staunch and dedicated employees on exceeding your goals this year! You are an indispensable part of our team, and we appreciate all of your contribution and efforts this year. Merry Christmas and a Happy New Year to employees!
To all the awesome employee, Thank you very much for all of your hard work , commitment, and contribution to the rocketing growth this year at our organization. May you have a delightful Christmas celebration with your friends and family.
Dear employees, I truly appreciate your hard work and consider your support as a vital part of the company's ridiculous growth this year. You guys deserve round of applause and bonus as well. Merry Christmas and a Happy New Year to all the exceptional employees of this organization!
Our organization is fortunate to have such a wonderful group of hardworking people. Thank you for all of your efforts, and have a lovely Christmas vacation.
May the Christmas season be filled with soul-nourishing and rejuvenating moments for our employees. Celebration Christmas with utmost peppiness with your families and accept our best Christmas wishes.
Dear employees, your unflinching dedication and assistance have made all the difference this year. Thank you for another amazing year of growth and amazing team work. May the coming Christmas season bring you all the success, growth, and stability in life you deserve.
It is an honor of this organization to have such skillful and prudent employees on board. We wish a happy Christmas to you and your family! Be happy and be passionate!
May the festive spirit of Christmas enter in your mind so that you all can forget about work and focus on how to celebrate Christmas in the best possible way. On behalf of all the authorities, we wish you a bewitching merry Christmas!
May this Christmas injects so much cheer, charm, and choices in your life that you only find an abundance of everything. I am proud to have such a remarkable team in my organization. Cheers to all of you and Merry Christmas!
Every employee is a company's foundation. A brick that makes it strong standing for long time. Wishing every employee happy Christmas!
With dedicated and intelligent employees you can build anything and none can defeat you in the race of success. Wishing my employees a lovely Christmas!
Weeks turned into years but your professionalism and respectful work ethics never dwindled a bit for this organization. It is such a pleasure and honor to have you on board. Have a relaxing and exciting Christmas celebration!
Christmas Wishes For Staff
Heartfelt Christmas greetings and blessings for the entire staff of this prolific organization. I just wanted all to let you know how much I like working with you guys. Merry Christmas greetings to the best staff ever.
May your Christmas be full with pleasure, happiness, opportunity, warmth, and love. Merry Christmas and a hopeful New Year to the best office staff ever!
May the marvelous Christmas season bring you greater success, respect, and accolades you all deserve. Have a wonderful and safe holiday, staff. Merry Christmas to all of you and your families!
Dear staff, Working with you guys have always been a matter of pride, learning, and sheer joy. I want to wish all of you a Merry Christmas with the best wishes for an ultra successful future!
May the delightful and thumping Christmas holiday season bring you good fortune, pure love and prosperity! I am more than cheerful to send Christmas greetings to the most skilful and amazing office staff!
All of the management team wishes you a healthy, happy, and a serene merry Christmas and New Year. Christmas greetings!
Joyful and blissful Christmas greetings to the entire office staff from your beloved manager! Enjoy your vacations, rest well, and we'll see you in the new year for more fascinating challenges.
Dear staff, Whatever your Christmas holiday plans are, we wish all of you a safe and peaceful time spent with people you love. Merry Christmas and a prosperous New Year to the most incredible staff!
I've seen you've been working really hard this year and you guys deserve a jaw-dropping bonus with long Christmas holidays. Your contributions in the growth and development are immensely valued. Thank you, and have a wonderful Christmas.
Let us constantly support each other and share optimism during the time of distress and negativity, dear coworkers. Merry Christmas to my impeccable and supremely talented staff!
It is an honour as well as a pleasure to work with someone as talented as you guys are. I really have learned a lot while working with you guys and I hope you all have a wonderful Christmas holiday season.
Merry Christmas and many thanks for meeting the deadlines to my entire staff. We couldn't have done it without your help and tireless attitude. You guys are the most significant component of our team this year and forever. Once again, Merry Christmas staff and god bless you all!
Thank you to every employee of this company for giving their valuation contribution and paving the way for this organization to the top. Let's pop up some champagne and dance like drunk skunks. May you all have a delightful Christmas celebration!
The position we hold right now in the market, we wouldn't be halfway to here without your relentless work and support. Thank you and have an amazing Christmas celebration!
Another Christmas festival, another year of smashing professional records, and another year of celebrating Christmas in a rocking way with the best staff ever. Merry Christmas to you all! Get tipsy and dance till you drop!
The stature of all the office staff members in this organization is no less than a family member. We highly appreciate your profound standards of professionalism and work ethic. Merry Christmas to all of you!
We will always be in debt to you for sacrificing your valuable time in achieving the sky-rocketing growth of the organization instead of spending it with your kids, family, and friends. Merry Christmas to the most devoted and remarkable office staff in the world!
Each employee of the company from every rank has contributed to the growth of the company. You everyone is special. Wishing you all happy Christmas!
Happy and exciting Christmas to the entire office staff. May in your life candles of light keep burning and show you the right path! May chimes of happiness keep clinking in your life! Wishing the staff happy Christmas!