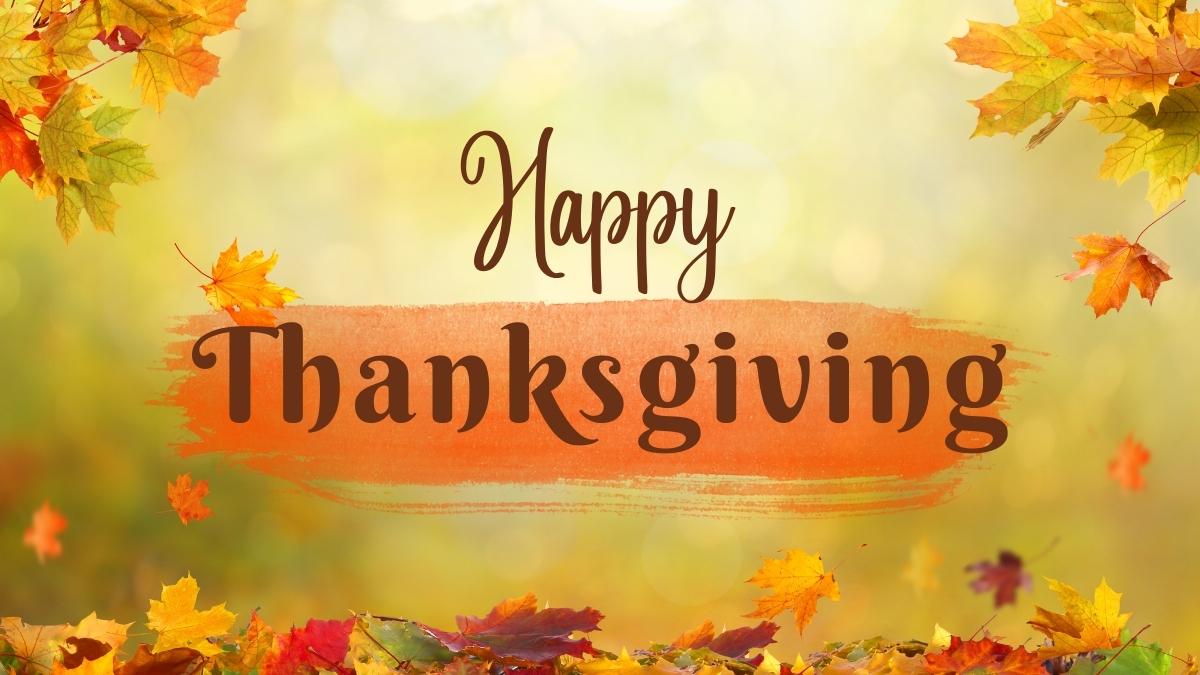 Happy Thanksgiving Sister Messages: Forgetting to wish your sister on thanksgiving is a heinous crime and the punishment for this crime is very severe. You cannot afford to forget to wish your beloved sister on thanksgiving who is also your partner in crime. This thanksgiving, express thankfulness to your sister like no one else by sending her the most beautiful thanksgiving wishes for sister in a stunning greeting card and let her know that she is still the most trusted and beloved person in your life. You can pick the best happy thanksgiving sister quotes from the below-stated collection.
Happy Thanksgiving Wishes for Sister
I feel so jovial to wish a happy thanksgiving to the prettiest sister in the world. Don't you dare to eat all the turkey alone? God bless you with everything divine!
Only a brother can understand how blissful it is to have a caring and supporting sister by his side all the time. May you have a cheerful and scintillating thanksgiving celebration, sister!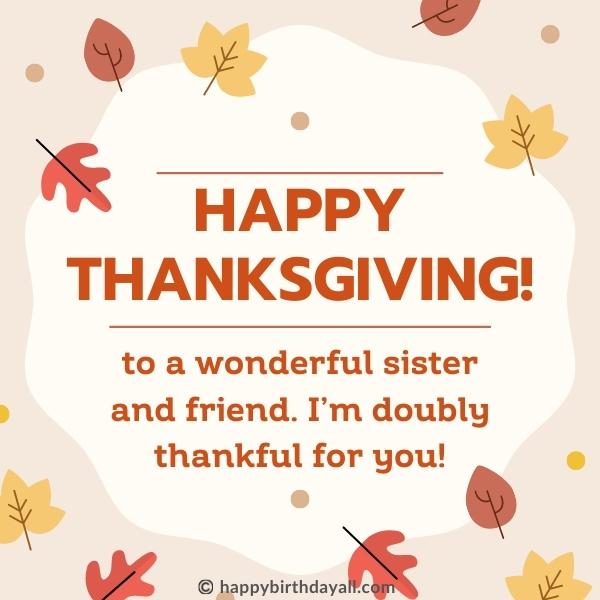 Thanksgiving is not just about expressing gratefulness towards god, it's also about cherishing the valuable relationships in your life and protecting them till the end. I am so glad that you are in my life. Happy Thanksgiving to my beautiful sister!
The vibes of the thanksgiving celebration escalate by leaps and bounds whenever you step in for the preparation and celebration. May god's divine light continue to fall on you and protect as well. Happy Thanksgiving to the best sister in the world!
From the depth of my heart, I wish a joyous thanksgiving holiday to my chirpy sister. Thanks a ton for being so caring and lovely all the time. May god fulfill all your wishes and dreams asap!
May you get so much turkey and wine to eat and drink on thanksgiving that you won't like to eat it til next thanksgiving. Jokes apart, happy thanksgiving to my pretty as hell sister.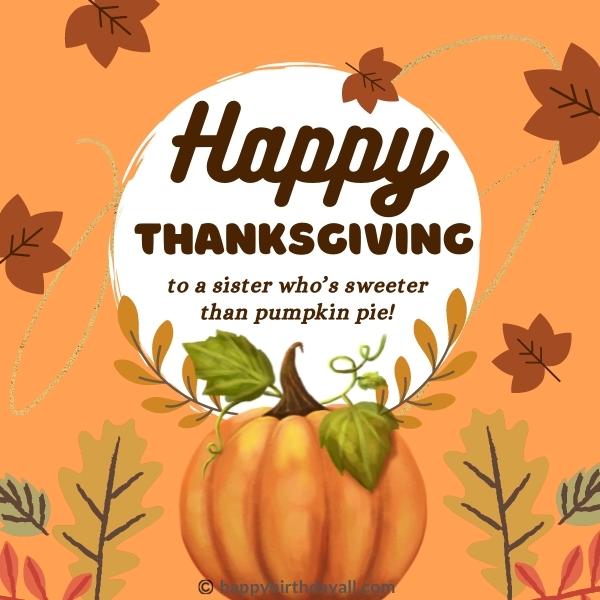 No thanksgiving celebration is frolicking and exciting enough without your presence. You are the one who makes me feel that there is something good about life.
Dear sister, you remind me all the time that there is always something to be grateful for in life. I am thankful to god for giving me such a peppy sister who also showers motherly love in heaps on me. Happy thanksgiving sister and let's celebrate thanksgiving together!
My all-time favorite sister, I thank you a million times for being my life savior so many times. From personal to professional problems, you have a solution for all. I love you and happy thanksgiving sister!
Dear sister, you are like a divine ray of light that only fills the utmost happiness in everyone's lives. On the festive occasion of thanksgiving, I want to thank you for being with me all the time and expecting nothing in return. Have a wonderful thanksgiving celebration!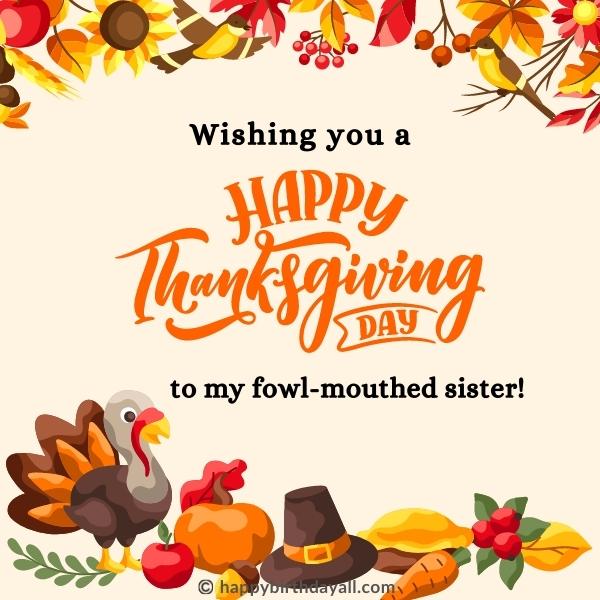 The Lord has blessed my life with countless great things, one of which is you, my cutest sister. Happy Thanksgiving.
Happy Thanksgiving to a beautiful sister and friend. I'm doubly thankful for you!
The gift of having a wonderful sister like you in my life is one of the greatest blessings of my life. Wishing you a Thanksgiving filled to the brim with God's amazing love and blessings.
Whenever I count my blessings, you come to mind right away. Happy Thanksgiving to my amazing sister.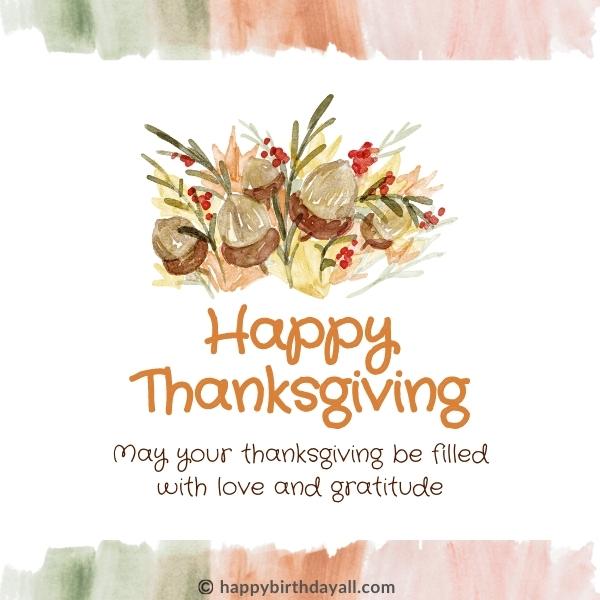 Wishing you a wonderful holiday, precious sister. I can't thank heaven enough for sending you from above to make my existence here on earth a happy one.
I'm so grateful that I get to go through life having you for a sister. Happy Thanksgiving from my family to yours.
May the good Lord bless you with a bountiful Thanksgiving filled with all the happiness your sweet heart can contain. God bless you.
Happy Thanksgiving to my amazing sister. You may not be sitting at the table with me this year, but you will always have a place in my heart.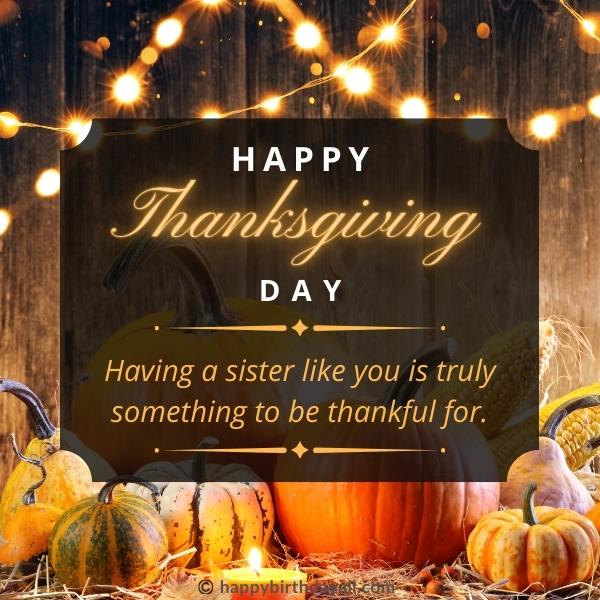 My life glitters more than gold. And you are one of the reasons for that. Thank you, my dear. I hope you enjoy every second of this Thanksgiving to the max!
A Thanksgiving wish for my wonderful Sis. May your holiday season be as lively and lovely as you are.